Have Your Fair Share Of Romance.
Welcome to Perfect Date Night, a weekly feature that acts as your spirit guide for going on a perfect date in what is objectively Texas' best city, Dallas. Each week, we'll give you a night's worth of suggestions for a date night in a specific neighborhood, complete with recommendations for bars, restaurants, concerts, art shows, sporting events or, well, anything, really. Just make sure you include an emoji or two when you text your crush to invite them out.
Date Details.
• When: Friday night.
• Duration: 4 hours.
• Number of Stops: One, technically speaking.
• Modest Estimated Budget For Two: $100.
• Ballin' Estimated Budget For Two: $200.
• Romance Scale: Three out of five hearts.
The State Fair is officially here, and I couldn't be more excited. Despite living here for five years, I still have never been. So I've decided that this is my year to finally eat all the fried foods my heart desires (like I don't already) and pay way too much for rides that end too quickly.
Fortunately, the Fair is bigger and better than ever, even boasting something calling itself the Taylor Swift Experience and 75 free concerts over the month-long event.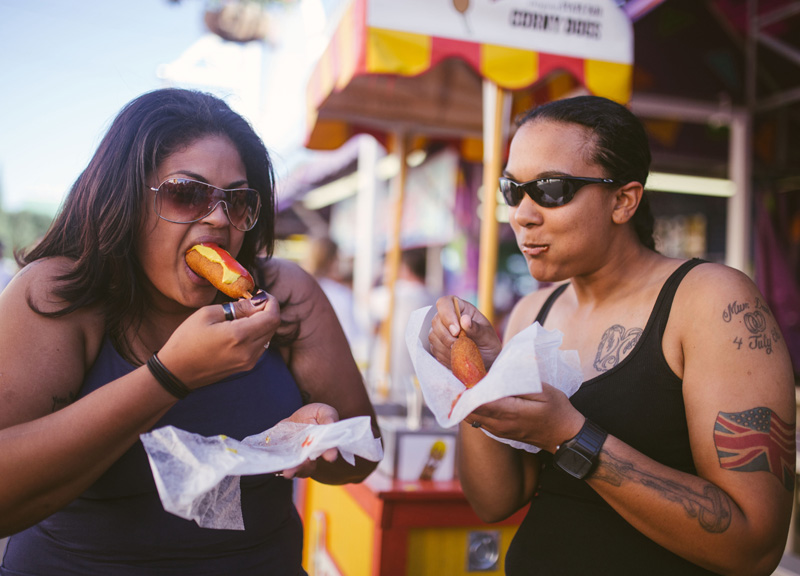 State Fair of Texas (3921 Martin Luther King Jr Boulevard, Dallas). Kicking us off right is none other than North Texas native Kasey Musgraves, with a free concert that is sure to be quite excellent. Buy your Fair tickets online to avoid the lines, and beeline straight for the food. I'm personally excited to try things like the State Fair Cookie Fries, Fernie's Down Home Chicken Pot Pie Pocket, and plenty of fried Jell-O and cannoli. With literally hundreds of things on the schedule for Day 1, there's plenty to do before the show. Jump on a Ferris wheel for a cute insta pic with your boo, attempt to win them a prize from the many carnival games on the midway, and pet some cute farm animals while you're waiting for downbeat.
All photos by Kathy Tran.