Jeremy Biggers Makes A Powerful Statement For The Times With His Legalize Being Black T-Shirt Design
Back in mid-July, we spotlighted four Dallas rappers who were using their music to share some thoughts and spread their insights into modern society's race-relation ills immediately in the wake of the deaths of Alton Sterling and Philando Castille, and the Downtown Dallas shooting in which five police officers lost their lives after an otherwise peaceful protest against police brutality took place.
But the list of local creatives reacting to the issue of our time is hardly confined to musicians alone. Case in point: The multi-hyphenate Jeremy Biggers — a videographer, artist, clothing designer and sometime Central Track photographer — who too felt compelled to speak up against the ongoing injustices.
His chosen method? A T-shirt — a format Dallas excels at, actually. But Biggers' most recent design for his Stem & Thorn brand isn't of toss-off tone that so many tees ready for purchase around town are. No, this offering, bearing the words "Legalize Being Black," cuts more to the core of the struggle facing many black Americans these days.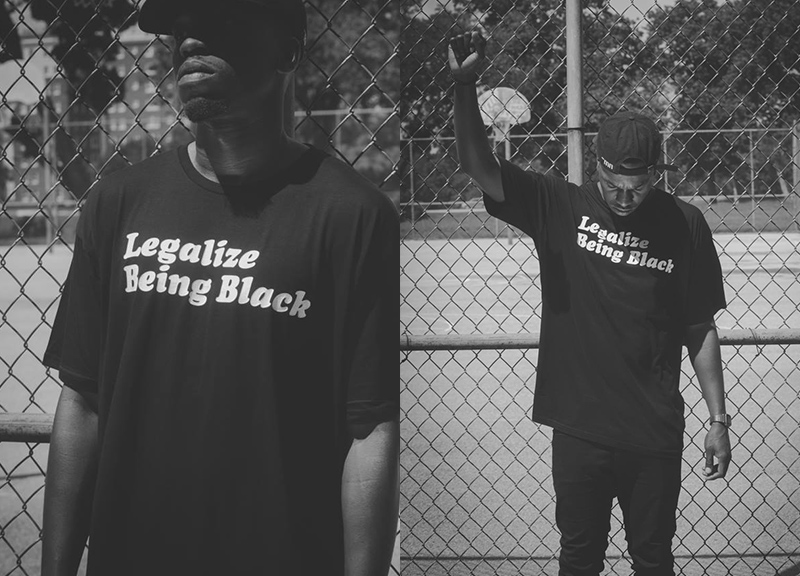 "Legalize Being Black" is, of course, a bold statement in that the color of one's skin should in no way determine the way a person is treated. And yet it's an important message, too, as recent events make it clear that a disparity among the treatment of races still shamefully exists in 21st century America.
That, Biggers says, is exactly what he hopes his shirt says to all who wear it and see it worn.
"I made the shirts in response to the countless unarmed black people that have been murdered for doing routine things — some of the same things — or much less — that we've seen people of other races walk away from with nothing more than a 'have a nice day,'" Biggers says when asked about his design. "[Things like] not using a turn signal or a busted tail light or selling CDs or selling cigarettes or telling an officer that you are licensed to carry a firearm in an open carry state — and numerous other examples. These are never death sentences to any one but black people."
T-shirts shouldn't have to remind people of something so obvious. But in a world as screwed up as ours so often is, where nothing else seems to be making that point heard, maybe they should.
Biggers is currently selling his "Legalize Being Black" shirt through his Stem & Thorn site for $28 each. Get yours here.
Photos courtesy of Stem & Thorn.