At Least 17 Dallas Restaurants Have Closed Since The End Of November. But Are Things Really As Bad As They Seem? Not According To The Math…
The hottest talking point in town this last month or so has been, without a doubt, the sudden influx in restaurant closures across Dallas and the region as a whole. And, let's face it, there sure have been a lot of them.
But how many have there been, really?
Let's see! After scouring our own archives and those of other food-focused publications in town, here's the full list of closures that the media has reported on since the end of November:
Madrina
Good 2 Go Taco
On The Lamb
Hoffbrau Steaks
Bridge Bistro
Luscher's Red Hots
Remedy
Vickery Park (Henderson location)
The Ginger Man (Lakewood location)
Resto Gastro Bistro
Clark Food & Wine Co.
C'Viche
Cacharel (Arlington)
Cow Tipping Creamery
Matt's Tex Mex (Roanoke)
Frankie's (Fort Worth)
Knuckle Sandwich Co.
That's 17 closures in total — or, in starker terms, about one every other day for the past month (plus a few days).
Scary stuff!
Or, well… is it? Part of the fright here has to do with the fact that so many of the above-listed closures — namely Good 2 Go Taco, Madrina, Luscher's, Vickery Park and Cow Tipping Creamery — were critical darlings, the types of places that get ink on the regular. And, one hundred percent, the fact that spots that garner such publicity still can't stay open is definitely a surprising reveal.
But there are a few other things to consider, too.
For one, not all of these places are just going poof, per se. At least three of the above spots (Knuckle Sandwich Co., Remedy and Resto Gastro Bistro) were shuttered with immediate re-branding concepts in mind, a fourth (Clark Food and Wine) was sold to a California-based group that planned on opening a new concept within the same space, and a fifth (Cow Tipping Creamery) is re-branding as a food truck until it can finish work on a new brick-and-mortar spot in Frisco.
Secondly, as we all know, Dallas is a straight food-obsessed town, and while the above stories may have gotten the most attention, they're hardly the only ones that have been written of late. While searching various media outlets from around town to compile the above list, the frank truth is that we saw significantly more items about restaurant openings than we did ones about closures.
We counted news of 32 opening announcements. Here's that list:
Carlo's Bakery (Frisco)
Chili Parlor (Fort Worth)
Heim Barbecue (second Fort Worth location)
Trompo (second Dallas location)
Beto & Son
Hide
Zaytinya (Frisco)
Pegasus City Brewing
Gyu-Kaku (Addison)
Smoky Rose
Freshfin Poke Co.
Chi'Lantro
Gus's World Famous Fried Chicken (Fort Worth)
Pie Tap Pizza Workshop
Knife (second location, this one in Plano)
Mockingbird Diner
Go Fish Poke
Yolk
Fireside Pies Pronto
El Bolero (second location)
American Tap Room
Persona Wood Fired Pizza (Irving)
Benedict's (second location, this one in Plano)
Roti Modern Mediterranean
Zenna Thai & Japannese (Fort Worth)
Zatar Restaurant
Radial Café (Grand Prairie)
Bottled Blond
Wheelhouse
Salsetta
Parlor on Commerce
Huddle House (Fort Worth)
Granted, it's easier for a journalist to find out about an opening than a closing — the latter rarely tends to come with a shiny press release announcing it, although it may come with a somber social media update — and, for sure, the above list includes a lot of suburban newcomers. But, still, even without the suburbs, that's still 17 new spots in Dallas being announced, keeping the plus-minus at a healthy-enough zero.
Anyway, let's look at a visual!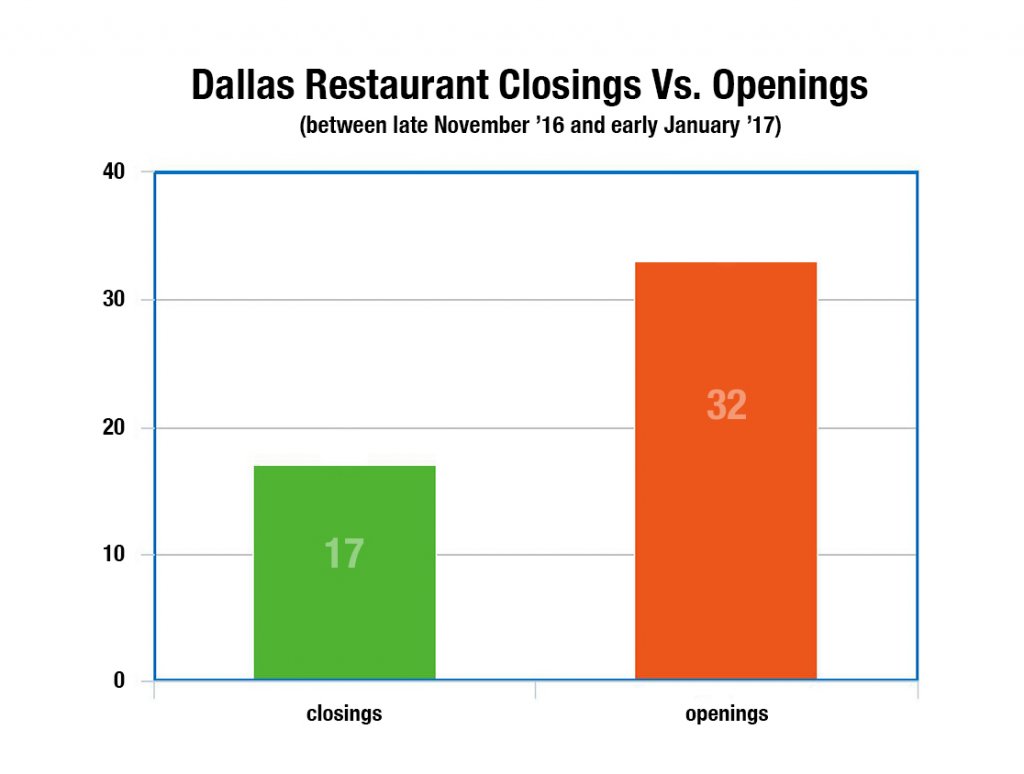 Hmmmm.
So, OK, is the sky really falling or what?
Well, we're definitely amidst a trend of restaurants rapidly closing, that's certain. And even if I poked some fun at her for spotting the obvious, Dallas Observer food editor Beth Rankin was right to point out in an August cover story that a bubble potentially ripe for the bursting was indeed growing in the Dallas restaurant world. She was onto something there. Same goes for Thrillist, which last week made the same observation, but on a national scale. There are valid points in these arguments. It goes without saying, too, that it's heartbreaking to hear of any business' closure. But, y'know, it does happen.
And the more I think about it, the less sure I am that — media hype notwithstanding — there's actually any bubble bursting at all right this second, locally. Sure, the bubble's changing — a lot of Dallas-based restaurateurs are finding new success these days in suburbs like Frisco, thanks in no small part to Jerry Jones' deep pockets — but one strong poke, like the one Dallas has seen this last month or so, does not a bubble burst.
Not yet, anyway. Not if you trust math.
Cover photo by Kathy Tran.