The Thrift-Savvy Reality TV Star Is Selling His Goods At DFW Vintage Swap Meet On Sunday Afternoon, Then Bringing The Party To Dada Later That Night.
For the past few years, the upstart DFW Vintage Swap Meet has developed into a destination for the more nostalgic-minded spenders among us.
The brainchild of North Texas-based thrifting pals Barry McCary and Jason Won — along with a third friend from San Diego, the pair also runs the popular thrift-focused Instagram account Thrift Amigos — the DFW Vintage Swap Meet's quarterly market offerings have been hosted at International Event Center at Royal Lane and I-35E since 2017. There, the event regularly draws some 45 vendors and as many as 1,500 shoppers for an afternoon filled with buying, selling and trading nostalgic collectibles and apparel specifically from the '80s, '90s and '00s.
"It's a pretty crazy event," says fellow swap meet organizer Bryan Coonrod of Beat Swap Meet Dallas, who has been a regular vendor at DFW Vintage Swap Meet since early on. "They've always been really busy in the past, with all these young kids buying vintage fashion and toys and whatnot. It's just a great event to reacquire items from your childhood or things you wish you never threw away."
Featuring various booths offering a wide range of clothing, music, art, toys, video games, tees and all kinds of other goodies priced anywhere from $5 to as much as $400 an item, McCary describes the meet as "an event that was created to build a bridge between vintage collectors around Dallas-Fort Worth."
Meanwhile, this weekend's edition, which will cost $5 to enter, looks to be the DFW Vintage Swap Meet's biggest event to date. On Sunday, March 3, from noon to 6 p.m., the meet will not just play host to a wealth of local sellers, but it'll also welcome a number of out-of-state vendors who are travelling in to get a taste of DFW Vintage Swap Meet's buzzing energy and growing reputaiton. This weekend's event will also see a couple of legit national thrifting icons joining the fold.
Robert Hall, an entrepreneur better known in the thrifting world as "Slobby Robby" and the star of the Netflix reality series Slobby's World that focuses on the hijinks surrounding his Generation Cool vintage shop in Arizona, will be flying in to take part in this weekend's meet.
"Slobby Robby is a back-in-the-day vintage collector out of Arizona, but the Netflix show really raised his profile," McCary says. "He's definitely a character. It starts, even, with the sound of his voice. He's just a very enthusiastic guy."
Another enthusiastic thrifter with his own share of notoriety, the popular YouTuber Paul Cantu, is also taking part in the festivities. Better yet, they'll both be acting as vendors at Sunday's event, with their booths specifically being placed on the venue's stage so as to deal with crowd control.
After the meet, the good times will continue on into the evening with an after-party featuring Slobby Robby that's set to go down at Dada from 10 p.m. to 2 a.m. Featuring Dallas DJs KMOR and Mutemor, and hosted by the Faded Deejays crew's Ekzile, the party will cost $5 to get in.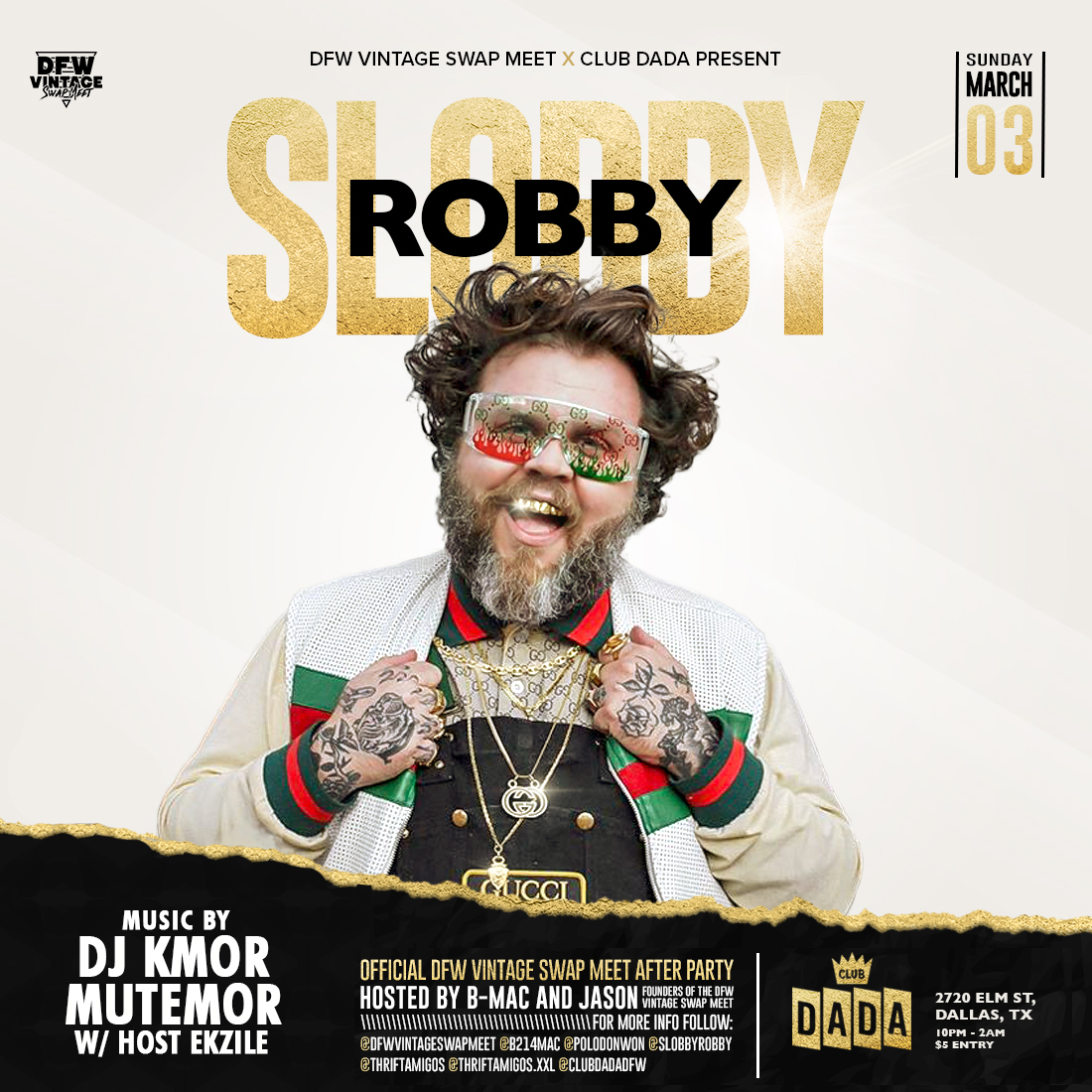 Coonrod, for one, expects things to get pretty wild at Dada, even though it's taking place on a Sunday night.
"Slobby Robby is a party guy," he says. "For sure."
Really, though, it looks like the whole weekend should be quite the high-energy, swag-filled, throwback-embracing time.
Says McCary: "We're just extremely excited for it all."