After 14 Years On Greenville Avenue, The Venerable And Acclaimed Record Store Is Packing Up Shop And Moving To Garland Road.
Dallas' revered and beloved and insert-your-own-glittering-adjective-here record store Good Records announced this week that it's bidding the Lower Greenville home it's resided in for the last 14 years adieu.
The shop's final day at its current home of 1808 Greenville Avenue will come this Sunday, March 10.
On Monday, March 11, the shop will formally relocate to Casa Linda, taking up residence at 9026 Garland Road, which has, since 2016, been the home to the store's sister business, The Good Pagoda, which always felt more like a record store than a gift shop, anyway.
At 6 p.m. that same day, this new Good Records location will host its very-first in-store concert– acclaimed singer-songwriter Steve Earle will perform songs from his new album Guy, and even sling copies of that release in advance of its official late-March arrival — to serve as a promise of sorts that Good Records' always welcome in-store performance offerings, which helped Good Records establish itself as a music-lover's destination in Dallas dating all the way back to its earliest days in Deep Ellum at 617 N. Good-Latimer Expressway, will continue. Good Records' final "Live From The AstroTurf" showcase at its Lower Greenville location will feature ex-Midlake member Eric Pulido performing songs under his E.B. The Younger moniker at 1 p.m. on Saturday, March 9.
While we have no doubt that the ethos of Good Records will remain as the shop heads east to its new digs, we have to admit becoming a little overwhelmed with nostalgia when we consider the number of great performances Good Records hosted on its green turf-covered stage on Lower Greenville over the years. Beyond this past weekend's Jeff Tweedy performance or the still-doesn't-feel-real time that store co-owner Chris Penn convinced the original Alice Cooper band to use his shop as the venue for a one-off reunion, it was the sheer volume of these shows that really stand out in our minds. After all, there's a reason why, for the better part of a decade now, we've been openly referring to Good Records as "the best stage on Lowest Greenville."
If we had to be more specific about the events that are making us wonder why it's suddenly so dusty in our office, then we'd have to point to Good Records' annual combination anniversary party and Record Store Day parties, which have long reigned as tops in the city thanks to Penn's knack for booking out-of-towners alongside big-name local draws and up-and-coming you'll-soon-knows.
In a phone call this afternoon, Penn promises that Good's combined Record Store Day and anniversary festivities will indeed continue at the new location, but may be smaller this year given Good Records co-owner Tim DeLaugher's duties with his old Tripping Daisy band that same date (April 13) at the 10th annual Homegrown Music & Arts Festival. Penn says a lineup for the new location's Record Store Day offerings will be released in the coming weeks. But, more than this year's deal, Penn says he's looking forward to next year's bash, which will honor Good Records' 20th anniversary of operations in Dallas.
"You know damn well we're gonna blow it out next year," he says with a laugh.
In the meantime, as Robert Wilonsky's scoop on this week's news points out, the move to Garland makes a lot of sense for Good Records, as the demographics of both Lower Greenville and Casa Linda have shifted greatly in recent years. For the triumvirate behind Good Records (Penn, DeLaughter and Julie Doyle), the move also makes a lot of sense given the lease they had with Good Pagoda, plus the new location's proximity to DeLaughter and Doyle's Lounge Here restaurant.
As for what to expect? More of the same, mostly — with more of a focus on vinyl in terms of stock, given recent physical media spending trends. Racks to house those wares, Penn says, are already in place. In the coming days and weeks, Penn and his staff will be installing the same light rails, neon sign and outdoor record signs that customers have come to expect from Good. The new spot will also indeed boast an AstroTurf stage — this one colored both green and pink — along with a couple new installations that will nod to its previous Lower Greenville and Deep Ellum homes.
To help make the move a little easier on himself and his crew, Good Records' second annual Rock & Roll Garage Sale, which will still take place as scheduled at the Lower Greenville shop on Sunday, March 9, from 11 a.m. to 7 p.m., but its deals have been extended to include all days leading up to what will now constitute as a bon voyage to the current address. The deals are, to put it mildly, impressive, with new CDs running just $4, new vinyl costs cut some 50 percent and used vinyl going for 60 percent off sticker price: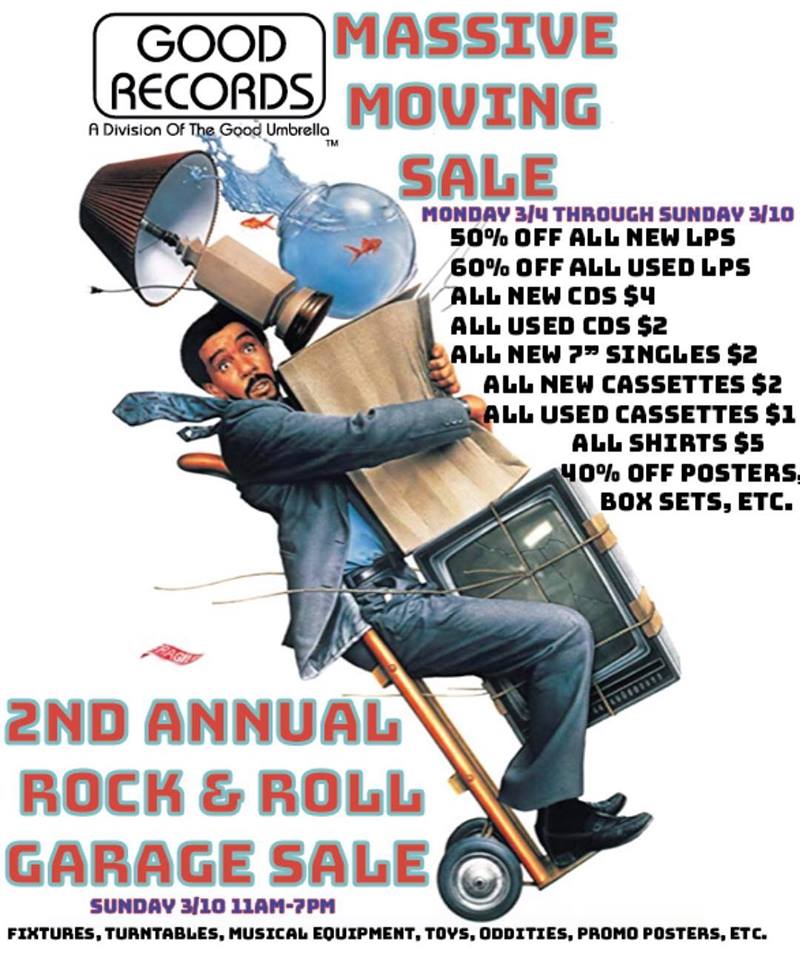 In an email sent out to newsletter subscribers, Penn, DeLaughter and Doyle express excitement over joining their future Garland Road neighbors — The Kitchen Studios, Humble Pies, Hypnotic Donuts, Zound Sounds and Curious Garden, among them — as partners in shaping their new neighborhood.
On the phone, Penn is clear that the move was motivated more by a desire to leave Lower Greenville than as some sort of indicator about how the record store business is doing as it rounds the two-decade mark. Plus, as he and his partners learned the last time they changed locations, moving can be a very healthy thing for a business when done smartly.
"It's reinvigorating and refocusing us already," Penn says. "It really is. Plus, the truth is, a record store is more than just four walls. It's about what's inside. I've been working in record stores since '93 — I'm a real lifer at it — and I really believe that."
And that much, he promises, will travel with him, his employees and his stock on the 11-minute drive to their new home.
"I saw someone else say this, and I'm gonna steal it," Penn says. "But Good Records is a spirit. It's more than just a building."