The 2019 Homegrown Music & Arts Festival's Lineup Finds Organizers Playing What They Call The "Greatest Hits" Of The Fest's Decade-Long Run.
Update on March 26: The below story has been updated to reflect the entire lineup.
* * * * *
After a decade of rocking Downtown Dallas each spring, the organizers behind the 10th annual Homegrown Music & Arts Festival are, in their own words, "playing the hits" this year and inviting a pair of past headliners to return for a couple encore performances.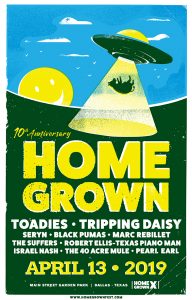 Taking place on Saturday, April 13, the 2019 edition of the fest will be co-headlined by two giants of the North Texas music scene: Toadies, which headlined Homegrown in 2014, and Tripping Daisy, which reunited after 18 years to play the 2017 event.
(The only act to have previously twice-headlined Homegrown is Neon Indian, which topped the 2011 and 2016 bills.)
It makes sense that Homegrown is sticking to what it knows works well for its 10th go: Last year's Explosions In The Sky-headlined affair may have ended up a good time, but it almost didn't even happen; a few weeks before the fest, organizers publicly expressed concern that low ticket sales were forcing them to consider cancelling — something not even rain had been able to do in prior years.
With juggernauts Toadies and Tripping Daisy carrying the load, interest should be higher for this year's offering. Three additional Homegrown alums returning to play one of this year's two stages will also shoulder some considerable weight: After going on hiatus in 2016, the revered Denton indie folk outfit Seryn will reunite at this year's event; the always great live stylings of the spicy Houston soul act The Suffers are also returning; and Houston singer-songwriter Robert Ellis is coming back as well, albeit this time performing his new Texas Piano Man material.
A strong batch of Homegrown first-timers nicely round out the rest of 2019's as-ever All-Texas bill: Austin pysch-rockers BLACK PUMAS; Dripping Springs-sprung singer-songwriter Israel Nash; the mad Dallas improvisational electronic beatsmith Marc Rebillet; Dallas R&B/soul revivalists 40 Acre Mule; and psyched-out Denton favorites Pearl Earl.
And, yes: The always dog- and family-friendly event will once again this year be hosted among skyscrapers at Downtown Dallas' Main Street Garden Park, with kids 10 and under getting through the gates free. Adults will have to pay, of course: Tickets, which go on sale at 9 a.m. today at this link, range from $49 to $89 a head.
Fair price, considering the lineup and the fact that Homegrown always ranks among the best Dallas days of the year.
The 2019 Homegrown Music & Arts Festival Lineup:
Toadies
Tripping Daisy
Seryn (Reunion)
Ben Kweller
Black Pumas
Jonathan Tyler & The Northern Lights
Robert Ellis (as Texas Piano Man)
The Suffers
Israel Nash
Marc Rebillet
Jackie Venson
Pearl Earl
40 Acre Mule
Oscar DeLaughter