The Statler's May The Fourth Be With You Disco Ball Will Celebrate All Things Star Wars, With A Portion Of The Proceeds Going To Peter Mayhew's Charity.
For the better part of a decade now, Dallas DJ Willie Trimmer has circled the date of May 4 on his annual calendar.
A massive Star Wars fan, Trimmer has done all he can each year to throw a massive Star Wars-themed party on this punny date relating to the franchise — so much so that he was throwing bashes of this sort before it even became a formally Lucasfilm-embraced deal back in 2011.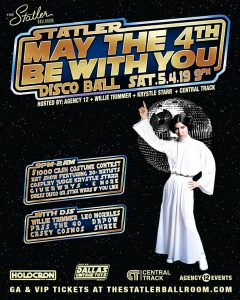 Tomorrow night in the ballroom of at the The Statler hotel in Downtown Dallas, Trimmer will again be hosting an all-out celebration of all things regarding a galaxy far, far away.
Called the "May The Fourth Be With You Disco Ball," the 21-and-up party will feature Star Wars-themed art show featuring the worsts of 10 regional artists, movie-style Star Wars props, cosplayer hosts and characters roaming the grounds, and six of Dallas' top DJs spinning disco and disco house music to get the dance floor popping. There will also be a costume contest for attendees dressed in either disco or Star Wars attire, with $1,000 worth of prizes up for grabs.
In other words: It looks to be his biggest such offering to date, which is why we here at Central Track are proud to be among the event's co-presenters.
We're also proud to announce today that this event will aim to do some good as well.
Last night, the news broke that Peter Mayhew, the actor played Chewbacca in the films, passed away earlier this week at his North Texas home in the town of Boyd, just north of Fort Worth. He was 74 years old.
The 7-foot-2 Mayhew was regarded by many as a gentle giant, and rightfully so: In addition to making regular appearances at fan conventions (he was slated to appear at this weekend's Fan Expo Dallas festivities, which has now turned what was to be his dedicated autograph area into a memorial of sorts) and had become deeply involved in charity work in his later years, even going so far as to establish a nonprofit in his own name that is "devoted to the alleviation of disease, pain, suffering, and the financial toll brought on by life's traumatic events."
In line with the celebratory tone of the May The Fourth Be With You Disco Ball, and in celebration of the joy Mayhew helped bring into every Star Wars fans' life, the organizers of tomorrow night's event have decided to donate a portion of the night's proceeds (tickets to get in start at $20) to his Peter Mayhew Foundation.
Head here for tickets and more information.