When Leon Bridges, Bobby Sessions And Other Big-Name Dallas  Musicians Want To Step Up Their Fashion Game, They Turn To This Oak Cliff-Based Designer.
Photos and video by Jessika Hardy.
A metallic-stained, vintage leather jacket hangs on the wall of Travis Austin Customs like a canvas.
Adorned with the words "Voodoo Child" across the back and six gold stars along the collar, the jacket serves as both a tribute and a reminder of what brought clothing designer Travis Austin to Dallas — the connection he felt to legendary Oak Cliff musician Stevie Ray Vaughan.
"I came to Oak Cliff specifically for that reason alone," he says. "I wanted that artist connection to Stevie — right where he grew up."
Austin began designing clothes four years ago while still working in the food and beverage industry in California, before moving to his wife's hometown of Oak Cliff just 18 months ago. And apparently that's all the time he needed to catch the eyes of North Texas music scene breakouts such as Leon Bridges, Bobby Sessions and Ryan Cabrera with his individualistic designs.
Austin's brand, Travis Austin Customs, focuses on authentic, re-imagined leather and denim jackets, wide-brim hats and band t-shirts, all of which he handcrafts and tailors himself. His design approach follows the idea of "One of One" — a phrase he adds inside every piece of clothing, along with his signature — meaning nothing he designs is ever remade. It's such an integral part of his methodology that's he's even got it tattooed on his arm.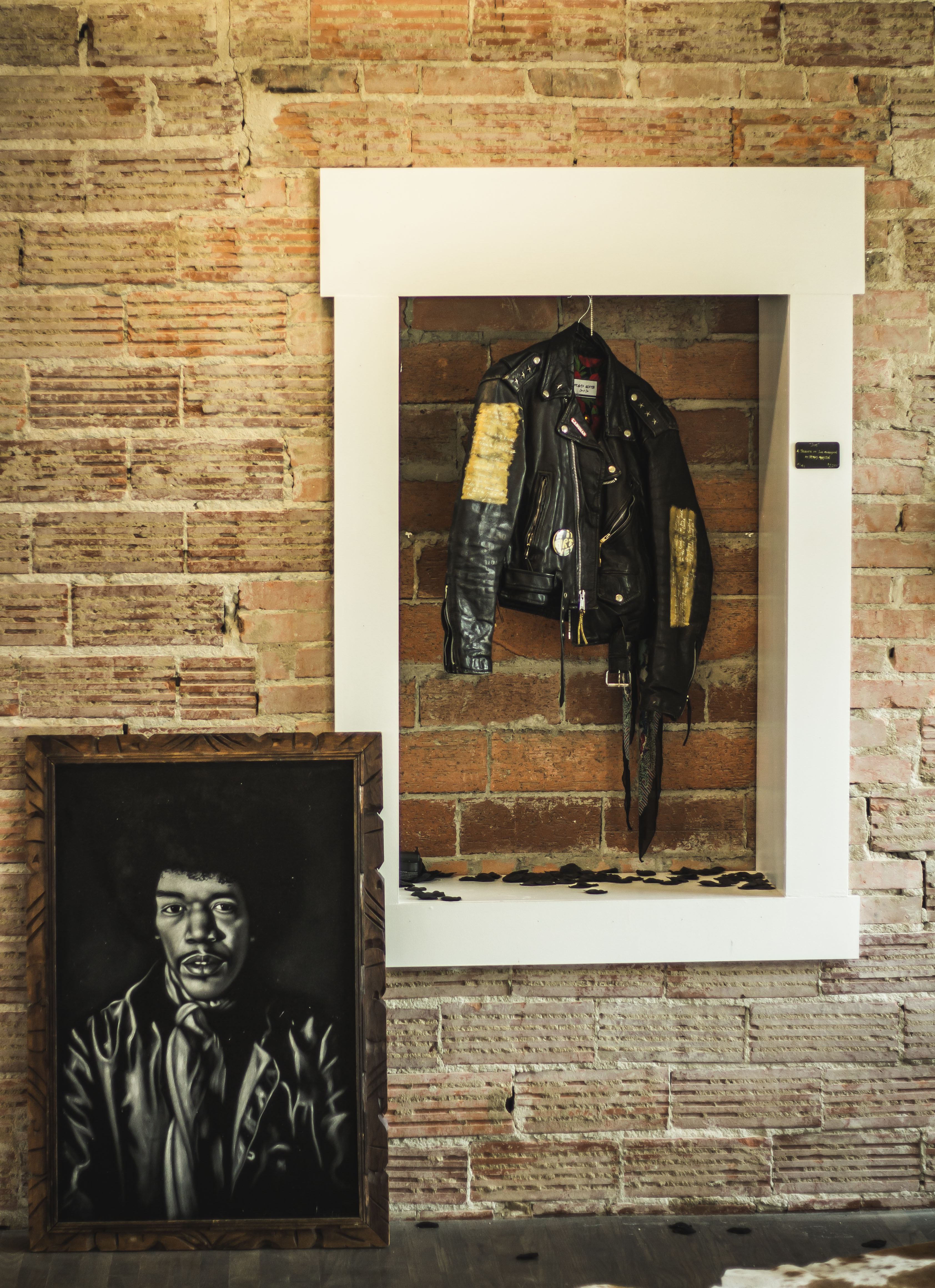 That mindset immediately appealed to Dallas blues artist Bryce Bangs, who was in the market for one-of-a-kind hats when he recently met Austin at his Bishop Arts showroom.
"I saw a hat when I first went in there that I fell in love with," Bangs remembers. "I was like, 'Holy shit, I need this hat.' That was a pre-made [hat that Austin] made for himself, but [it] was the first one I got from him."
Bangs was quick to soon commission Austin for a second piece, allowing the designer total creative freedom.
"I gave him the creative license to do whatever he wanted," Bangs says. "And it's one of my favorite hats that I got."
Austin's rock 'n' roll design aesthetic doesn't limit his clientele, however. He's worked with rappers, pop stars and country singers, and the designer says his interpretation of "rock 'n' roll" is less about the confinement of labels and more about allowing artists to contextualize their stories through his clothing.
"To me, rock 'n' roll is an attitude, a culture that drives from style back in the late '60s and early '70s where it all began," Austin says. "If I can take that attitude and that style — that confidence — and sew it into all my clothing, that's rock star clothing."
Every commission starts with a one-on-one consultation with Austin, allowing him to understand an artist's personality before putting it to fabric.
"[We] really just talk to them as an artist, the stories they want to tell, where they're at in their career and where they want to go, style-wise," Austin says. "[Then it's all about] how we can be a part of it and how we can contribute to extending their voice and their platform."
Among those voices is Grammy award-winning Fort Worth singer-songwriter Leon Bridges. Bridges and his fellow Panther City collaborators Brandon Marcel, Xeus, Abraham Alexander and Keite Young tapped Austin for custom jackets to present themselves as a solidified unit at their "New Years In The Funk" showcase in Fort Worth this past December. Each jacket was emblazoned with their respective nicknames, along with the words "The Funk" and Fort Worth's 817 area code lining their sleeves. In a nod to his roots, Bridges also had Austin embellish his jacket with panther claws.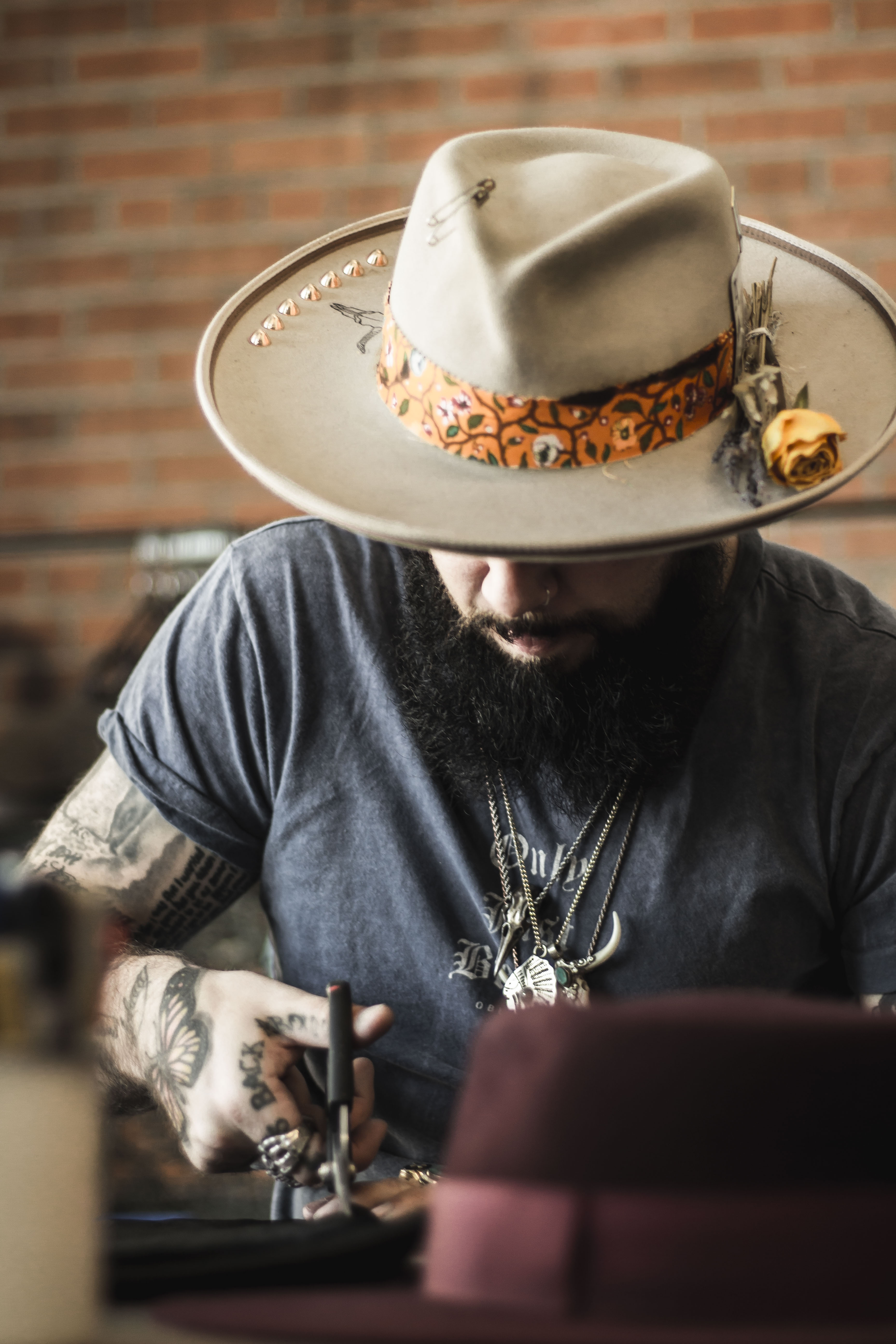 During his "Everything's For Sale" tour in May, rapper Bobby Session wore a Travis Austin Custom leather jacket during his hometown show at the House of Blues. Austin considers the jacket, adorned with Sessions' nickname, "The Legend of Dallas" to be his most emotional piece to date. The inimitable piece, with two cross guns spraying the color red, symbolizes the blood and injustice Sessions' family –and many other black Americans — have experienced in this country.
"There's one point in [Sessions'] set every time he performs where he relates his music and his story to part of his life — a tragic part of his life that took place here in Dallas — and watching the power of that part of his performance resonated with me as I was creating this piece for him," Austin says.
Sessions' message inspired Austin to write the names of 15 black men who were victims of unarmed killings in America on his custom jacket, leaving Sessions carrying their names with every performance.
As for Austin, he hopes he can continue to take what he's learned here in Dallas these last few years with him as his considerable reach within the market starts expanding outside of it.
Later this summer, Travis Austin Customs will open a second showroom, this one in Nashville. Austin aims to turn this new space into national showroom and retail flagship where customers can purchase his new, ready-to-wear line of leather jackets and hats. The new space will also feature a cut-and-sew denim operation.
In the fall, he'll add open a third showroom in Chicago just before hosting a November fashion show he's hosting here in the city where he's made his name.
"Our hope is, after this production and all the people that are going to come in for this event, that [the fashion show] really brings a lot of attention to this area," Austin says. "We want it to help some young designers or young artists have the platform that maybe we didn't have, and maybe we can be a part of creating."
Visit Travis Austin Custom's website for more information about the designer's efforts and to stay up to date on his fashion show and showroom expansions as it comes.