Girl Scout Cookies Are Sold By Kids, But That Doesn't Mean There Aren't Ways In Which You Can Enjoy Them With An Adult Beverage.
You guys. It's Girl Scout Cookies season.
Before you start: Yes, it is a season. Consider this: It only comes around once a year, and people look forward to it. So, yeah: A season.
But, we should note, there are some changes afoot this time around. Well, one big change, at least. The Girl Scouts of North Texas' sales method has changed somewhat. Now, rather than having to hit up Barb, your less-than-friendly co-worker, to score a stash from her darling daughter, you can just roll by most any shopping strip in the city on any given weekend and snag a box (or, say, 10 boxes) from a cute little Daisy standing out front with her troop.
It's true: You no longer have to order the boxes and wait weeks to receive them.
All troops in North Texas now head to a "secret" location and pick up as many boxes of real-life Girl Scout Cookies as they think their troop could sell. Then, the Girl Scouts hold booth sales all over the DFW area to get these bad boys into your hands and mouths as quickly as possible.
See Also:
• THE GIRL SCOUT COOKIE CONSPIRACY. // The Girl Scouts Are Lying To You: Different Girl Scout Districts Very Much Serve Different Cookies.
• GIRL SCOUT COOKIES… AS ALCOHOL SHOTS? // Why Just Eat Your Girl Scout Cookies When You Can Add Some Alcohol and Drink Them As Shots?
In celebration of this new "instant gratification" method of obtaining your favorite seasonal snack — and with National Girl Scout Cookie Day coming up on Saturday, February 8 — we figured it was high time we put together a list of ways for you to pair Girl Scout Cookies with some more adult fare: beer and wine.
Here goes.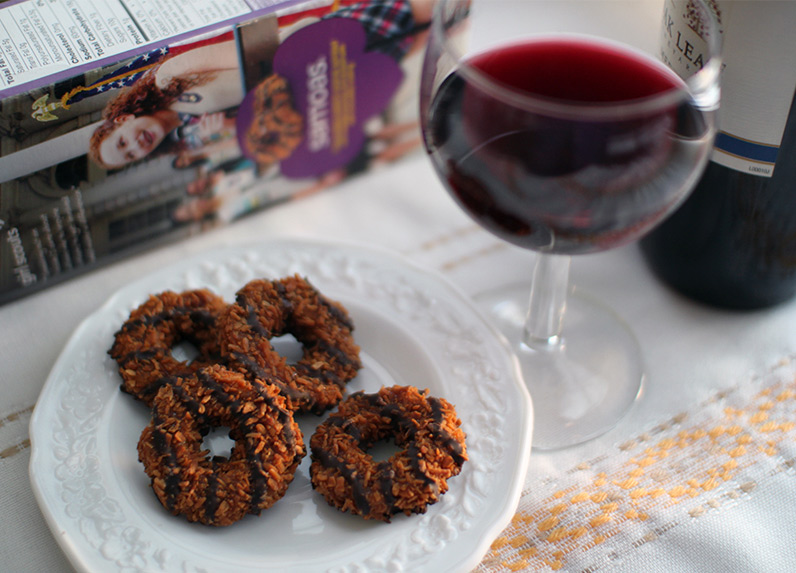 Samoas.
• A crisp cookie coated in caramel, sprinkled with toasted coconut and striped with a dark chocolate coating.
• Paired best with a red dessert wine such as a Port, or an 8.5 percent ABV heavy ale, like a Founders Dirty Bastard.
Thin Mints.
• A crispy wafer covered in peppermint oil infused chocolate.
• Paired best with a Syrah (red) or a 9.5 percent ABV imperial stout, like a Great Divide Yeti.
Tagalongs.
• A crispy cookie layered with peanut butter and covered in chocolate.
• Paired best with a fruity red wine such as a Zinfandel, or some sort of Belgian ale, like a Duvel Belgian Golden Ale.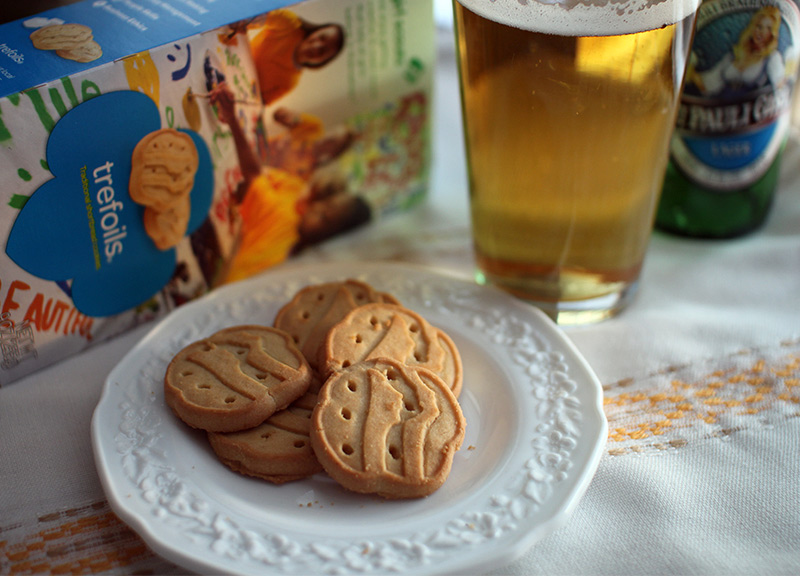 Trefoils
• A traditional shortbread cookie.
• Paired best with a Pinot Noir, or a pilsner, like St. Pauli Girl Lager.
Do-si-dos.
• A crunchy oatmeal sandwich cookie with creamy peanut butter filling.
• Paired best with a sweet white wine, like Moscato, or a 10.5 percent ABV imperial stout, like Founders'.