Why Just Eat Your Girl Scout Cookies When You Can Add Some Alcohol and Drink Them As Shots? Time To Step Up Your Game, Folks.
As we told you last year in our Girl Scout Cookie beer and wine pairings post, the Girl Scouts of Northeast Texas organization has really stepped up its game these past couple of years. From the implementation of online ordering and sidewalk sales to the introduction of gluten-free options, this crew is really outdoing itself these days.
See Also:
• THE GIRL SCOUT COOKIE CONSPIRACY. // The Girl Scouts Are Lying To You: Different Girl Scout Districts Very Much Serve Different Cookies.
• WHICH BEERS AND WINES PAIR BEST WITH GIRL SCOUT COOKIES? // Girl Scout Cookies Are Sold By Kids, But That Doesn't Mean There Aren't Ways In Which You Can Enjoy Them With An Adult Beverage.
And, naturally, we thought we should do the same. That's why, this year, rather than just tell you which kinds of alcohol you should be drinking with each Girl Scout Cookie offering, we figured we'd just go ahead and show you how to turn your cookies into drinks themselves.
That's right: Girl Scout Cookie shots.
Granted, making these may not earn you a mixology badge. But you'll definitely earn a little notoriety with your friends for the effort. Plus, it's just a fun thing to do — presuming you do it responsibly, of course.
The Fresh Girl. (Thin Mints.) 
Ingredients:
• 1/2 oz. of Irish cream
• 1/2 oz. of Kahlua
• 1/2 oz. of peppermint schnapps
• 1 or 2 drops of green food coloring
• 3 crushed Thin Mint cookies
Directions:
1. Combine all liquids in a cocktail shaker filled with ice.
2. Coat the rim of shot glass with crushed Thin Mints.
3. Pour mixed shot into glass.
4. Shoot that sucker.
The Coco Nut. (Samoas.)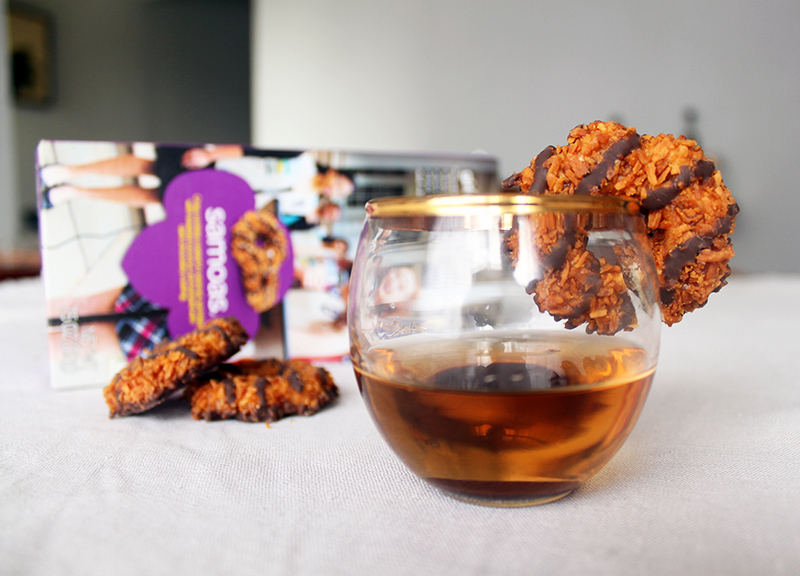 Ingredients:
• 1/2 oz. of vanilla vodka
• 1/2 oz. of coconut vodka
• 1/2 oz of caramel vodka
• Chocolate syrup
• 1 Samoas cookie
Directions:
1. Combine all three vodkas in a cocktail shaker filled with ice.
2, Pour your chilled liquor into a shot glass.
3. Drizzle in a little chocolate syrup.
4. Garnish it with a Samoas cookie.
5. Bite and swallow… in that order.
The Nut Job. (Tagalongs.)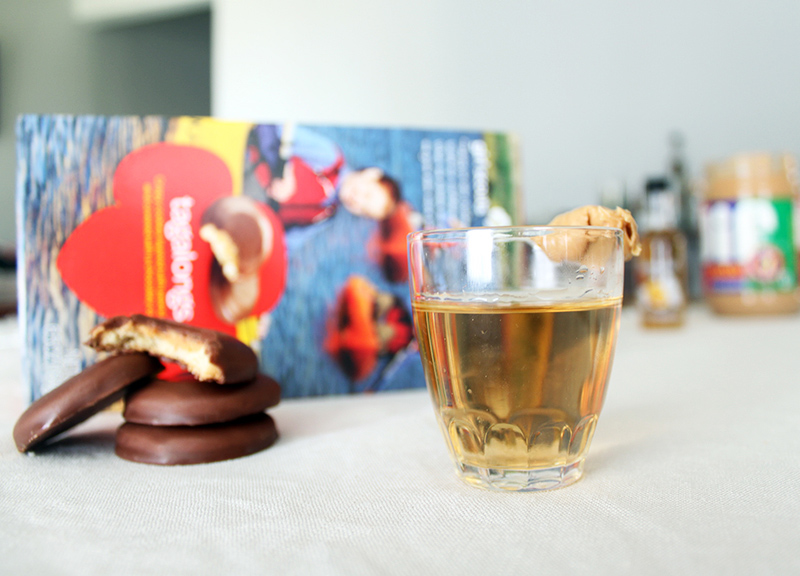 Ingredients:
• 1/2 oz of butterscotch vodka or schnapps
• 1/2 oz of peanut rum creme
• 1/2 oz of chocolate liqueur
• Peanut butter
Directions:
1. Combine all liquors in your cocktail shaker and pour into shot glass.
2. Place dollop of peanut butter on rim as a garnish.
3. Shoot!
4. Come to the realization that this tastes just like a Tagalong.
5. Wistfully smile to yourself.