Dallas Fashion Designer Charles Smith II Accuses Forever 21 Of Ripping Off His "Do Not Touch" Collection's Concept For New Bralette.
Three days ago, almost immediately after Instagram model Rosa Acosta posted to her 1.3 million followers a no-doubt-sponsored a video in which she applied a stretch mark cream to her well-defined abdomen, Dallas fashion designer Charles Smith II's own Instagram's message folder immediately started blowing up with congratulatory notes.
"It was from, like, totally random people," Smith says this afternoon. "People I didn't even know were hitting me in my DMs, telling me they saw the clip and congratulating me."
The excitement centered around the fact that Acosta was wearing a bralette in the clip that bore the slogan "Do Not Touch," just as is the case with most every piece in his 2016-debuted, soon-to-be-released collection of the same name.
One problem: Although Smith's collection indeed includes bralettes bearing those words, the bra Acosta was wearing was not his design. Rather, it was an offering from the national mall retail staple Forever 21.
Smith says he has no doubts about what happened. He alleges that someone at Forever 21 saw his concept and, as the company has done to a number of other designers over the years, borrowed it. And so, in a rant posted Sunday afternoon to his social accounts, Smith made his conviction known and publicly accused the company of stealing his idea.
"Of course all those people who messaged me on Instragram thought the design was mine," Smith said when reached by phone this afternoon.
His argument is based on the fact that, while his collection is not yet available in full for the public to purchase — he says he is in the process of setting up his online store for the new collection to launch possibly as soon as later this week — the work has been visible since the late summer 2016 when he started to promote his fashion show formally debuting the line on October 3, 2016.
Furthermore, he argues that his line wasn't exactly a secret, with its release having been covered by local Dallas media outlets, some of which centered around the fact that a portion of the sales surrounding his "Do Not Touch" line was meant to go toward a scholarship fund for students in the Dallas Independent School District who wish to pursue a career in the creative arts. (Although the entire collection is not yet up for sale, hats embroidered with the "Do Not Touch" slogan are currently available for purchase here, with 100 percent of those items' proceeds going toward the scholarship fund.)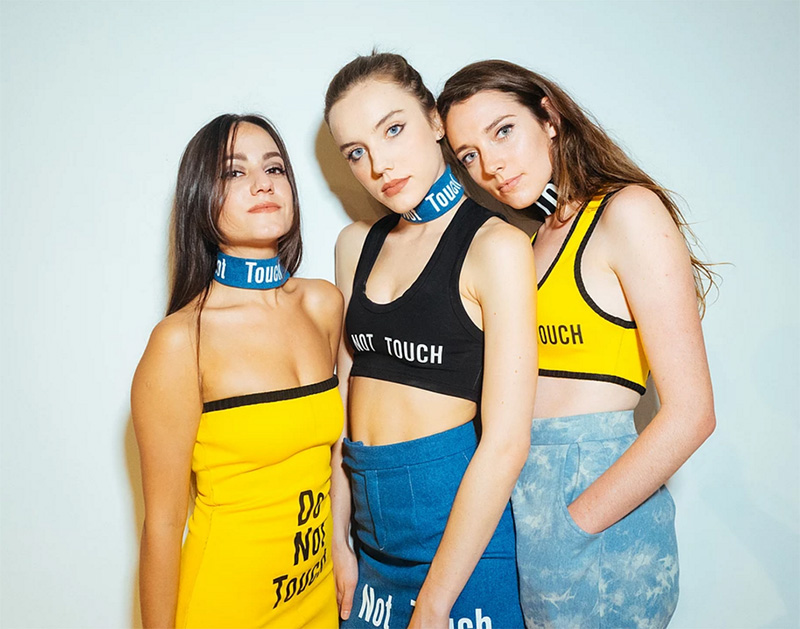 A promotional photo for Charles Smith II's "Do Not Touch" line, courtesy of the designer.
Forever 21's history with such shady practices just confirms Smith's suspicions, he says.
"This doesn't just happen to me," Smith says. "This company does shit like this all the time, especially to emerging designers."
The fact that they produce their items in bulk, Smith says, is what makes their alleged thievery especially nefarious. Whereas Smith's "Do Not Touch" bra is handmade with a athletic poly neoprene fabric and retails for $280.00, Forever 21's nylon, polyester and spandex blended bra retails for just $3.99.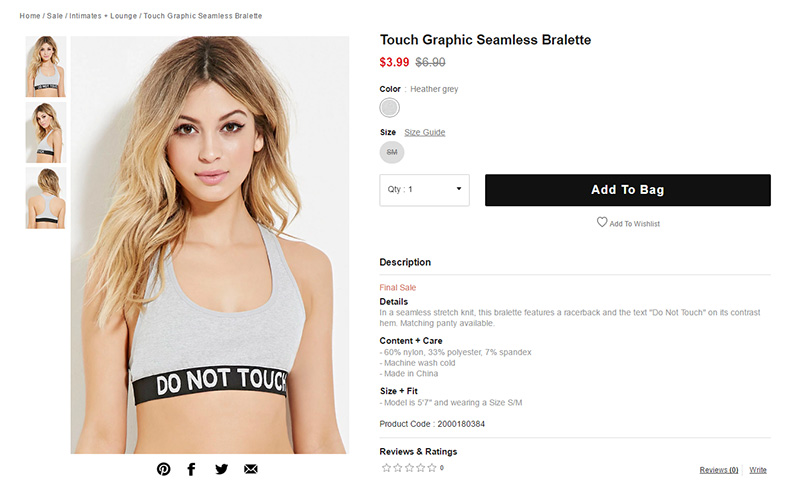 A screengrab of bralette for sale on the Forever 21 site.
For now, Smith is collecting a paper trail of his history with his "Do Not Touch" concept so he can prove that he was working on plans for the design since at least January 2016. He had already begun the process of trademarking his idea, he says. And he also says he has been in touch with legal counsel about how best to proceed.
"I knew when I came up with the idea that it was a good one," Smith says. "I knew that it was something someone was going to try to copy. But, obviously, everything's especially urgent right now."
Well, for Smith, anyway. We've reached out to Forever 21 for comment on Smith's accusation of theft, but have yet to hear back.
For his part, Smith's not sure we will. And, for now at least, he's fine with that.
"I'm going to humiliate them," Smith says. "They're going to pay."