Your Dallas Stars Could Use A Resurrection After Their Latest Fruitless Road Trip. Luckily, Miro Heiskanen Is Fitting Right In As The Stars' Newborn King.
Your Dallas Stars are really good at losing on the road! After impressing the Central Division with a four-game win streak, Jamie Benn and The Bois imploded in enemy territory with a four-game losing streak to match.
Yeesh!
Yeah, it was a rough week for Your Dallas Stars, without a doubt. But there were some positives, too!
Rookie Denis Gurianov, for instance, is finally getting some time in the lineup — and dude looks like a player. He's speedy, he's confident with the puck and he doesn't shy from the physical aspect of the game. We likey!
Meanwhile, Valeri Nichuskin looks like a much better option now than he did in the first month of the season, While he is still scoreless, his skating has strikingly improved and he's playing with a renewed purpose, setting up linemates and driving play.
But the best news of all? That would be the early Christmas present arriving in the form of Jolly Ol' Saint John Klingberg's return to the ice, which is expected to happen later this week. It's a Christmas miracle, indeed!
But before we can unwrap Klinger's gauzed hand, we must take a look back at hockey week that was and the hockey week that will be as part of our duties here at Forechecking™.
Last Week in Your Dallas Stars.
• Darkness Music at Anaheim Ducks, 3-6.
Batman movie equivalent: Justice League. A three-act presentation, with one quality act sunk by two stinkers. Something you will likely never watch again.
Dallas meandered through a listless first period here soundly getting out-shot and turning the puck over so Ben Bishop got plenty of opportunities to see the puck. The inexperienced defense really showed its age in this one as Gavin Bayreuther, who has actually been a pleasant surprise for Dallas, looked all out of sorts and was constantly careless with the puck. A particularly egregious turnover of his was quickly pounced on by the Ducks as the opening period ended with the Stars lucky to only be down by one. Cue the second period, which has been the Stars' bread and butter dating back to last season, during which unlikely scorer Blake Comeau scores on an odd-man rush with a butter smooth pass from Devin Shore as Dallas' domination in the middle frame was cheer-out-loud worthy once more. Then the jeer-worthy final frame ruined the fun as Ben Bishop and The Bois turned a 3-1 lead into a 3-6 loss in the span of 20 minutes. It was…  embarrassing. Tyler Seguin's post-hitting streak continued to rear its ugly head throughout this one, and the Ducks remain the only team Seguin hasn't scored on in the NHL yet. Shame! On the bright side: Miro Heiskanen played very well! He is pretty good, eh?
Miro Heiskanen has six points in his last six games. He also has a cannon of a shot as well. #GoStars pic.twitter.com/WnUEN3xf9t

— Dallas Stars (@DallasStars) December 13, 2018
• Darkness Music at San Jose Sharks, 2-3.
Batman Movie equivalent: Batman v Superman. A very boring first act improves somewhat in the second, but not enough to keep you watching until the end.
Ugh. West Coast start times, amirite? Heh. Dallas tediously battled its long-time rival in a passionless first period here. Both teams were content to casually skate around the SAP Center throughout this one — and with about as much urgency as a grocery shopper on a Sunday afternoon. Your Dallas Stars managed to put three — yes, three! — shots on net, with this first not occurring until after the 10-minute mark. San Jose didn't fare much better, throwing five pucks at Anton Khudobin to end the futile first frame. Things finally picked up a bit after Julius Honka engaged in actual play around the Sharks' net, clanging a cross-ice pass from a patient Val Nichuckin off the post before Radek Faksa swept the puck in for the first goal of the game. Hey, all three players involved in that play were former first-round picks! That's fun, right? Well, the fun was over shortly after that as the Sharks finally awoke to rattle off three unanswered goals, taking the lead and eventually icing the game to improve their home record to the best in the league. Miro Heiskanen would finally flex his wrist-shooting prowess late in the third period, but I'm not sure anyone saw it.
There is life again, thanks to Miro Heiskanen's lethal wrist shot. The Stars are within one now.

SJS 3 – 2 DAL pic.twitter.com/JfuwlDdztd

— Dylan Nadwodny (@dnadders) December 14, 2018
• Darkness Music at Colorado Avalanche, 4-6.
Batman Movie equivalent: Batman Returns. Garish and uneven, with mixed performances. Entertaining throughout before ultimately disappointing.
Another game at Pepsi Center — and another loss. The Stars had the luxury of spending the night in Denver before this contest, watching the Avalanche lose a hear-breaker in overtime in St. Louis. Dallas did its best to capitalize on the team playing its second night of a back-to-back by allowing five goals in the first period. Yeah, take that! Luckily, Stars video coach Kelley Forbes and Jim Montgomery were sharp enough to successfully challenge two of the goals and take a three-goal deficit to the locker room after the first, giving the sleepy Stars a chance to come back in the game. And they did! Bishop replaced Dobby in net and the team managed to claw its way to within two goals after the second frame compliments of Esa Lindell's shorthanded tally and a Tyler Seguin rebound goal. Finally, the game devolved into some cheap physical play before the Avs top line took over to secure the victory for Colorado. Yes, again. Remember last week when we had a Mohawk bet on the outcome, and mentioned that Jamie Benn would talk about a lack of effort in the post-game interview? Uh….
"You've got to play a full 60 minutes in this league to win games and we didn't do that tonight." pic.twitter.com/muFKzY9WGm

— Dallas Stars (@DallasStars) December 16, 2018
• Victory Green™ vs Calgary Flames, 2-1.
Batman Movie Equivalent: Batman Begins. A much-needed reboot after a string of terrible outings, highly entertaining.
The red-hot Flames would engulf the Stars in Calgary, but luckily Jim Montgomery's squad got to take on the Pacific Division leader at home. Looking like a completely different team at home than on the road, Dallas dominated the opening frame and kept pressure in the Flames' zone exclusively. Then Jamie Benn gave the Stars a 1-0 lead for his 268th career goal — good for fifth in Stars history. Truth be told, the puck tipped off the Calgary defender's stick and into the net but, shh, let's not ruin the fun over semantics! Wayne Gretzky had many dubious secondary assists when playing at home, so we can let our captain have this one! Radek Faksa would later extend the Stars lead to two on a patient backhand over netminder and fellow Czech David Rittich. After celebrating, Faksa skated past Rittich and appeared to mouth something to his countryman — something very supportive and encouraging, we imagine. Bishop eventually left the game briefly after taking an elbow to the chin, and the combination of Dobby and Bish allowed zero goals — the first time in Stars history that the team's pulled off a combined shutout.
Faksa with the backhand fake out. #GoStars pic.twitter.com/kArWES17Zm

— Dallas Stars (@DallasStars) December 19, 2018
NHL Hitz PRO Player Of The Week.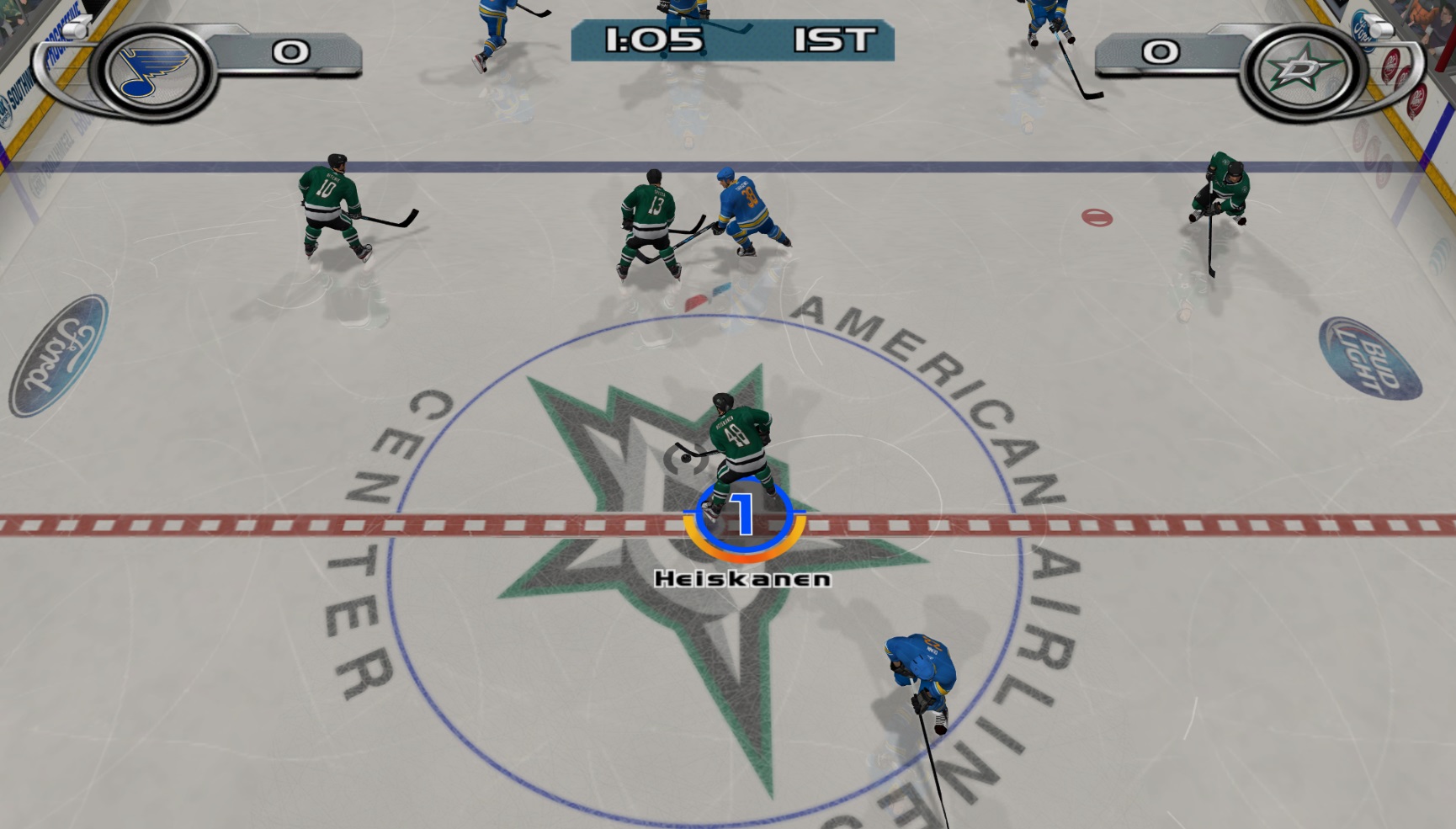 Miro, Miro on the wall: Who's the fairest of them all? The 19-year-old phenom continues to impress in his first season in the NHL, absorbing the minutes and duties of the fallen John Klingberg nearly seamlessly. Better yet, Miro Heiskanen is starting to find his offensive groove. We suspect the coaching staff has encouraged Miro to shoot more often, too, as we're seeing the defender unleash his remarkably powerful wrist shot from the blue line to great effect. Another perhaps underrated aspect of his toolkit is a heavy slap shot and an ability to catch-and-release the puck quickly enough to get shots to the net. We were undersold on his shooting ability, folks! His seven goals and 10 assists on the season are impressive, and we aren't the least bit concerned with his -7 plus-minus, which was mostly racked up on that awful recent road trip. He's already one of Dallas' best players and quite possibly their most consistent player. With Klingberg's return imminent, Jim Montgomery is in the enviable position of alternating the two on the back end. Hell, the Stars may even win on the road with that combination!
This Week In Your Dallas Stars.
• Thursday, 12/20, at 6:30 p.m. vs. Chicago Blackhawks (HOME): It will be interesting to see the ratio of fans in red to Victory Green™ throughout the stands at the American Airlines Center for this one. With the Blackhawks plummeting to the basement of the Central after a decade of dominance, is the bandwagon empty?
• Saturday, 12/22, at 6 p.m. at Minnesota Wild (AWAY): The Wild are wandering aimlessly through the wilderness of the Central. They are not bad, but they are not good. They are not contenders, nor are they likely to miss the playoffs. Dallas needs a W here.
• Sunday, 12/23, at 6 p.m. vs. New York Islanders (HOME): It's a Christmas Eve Eve matchup against the inhabitants of the Barclays Center! SIKE! The Islanders have temporarily returned to Nassau Coliseum for the remainder of the season, thrilling all the jabronis of Nassau County. Much like the Wild, the Islanders are meandering about in the middle of the pack of their division.
Flip it. Stick it. See ya later, bye. — LehtMoJoe
P.S. Merry Christmas and happy holidays to each and every one of you! And, remember, Christmas ain't Christmas without a lil swag. Good night, everybody!