It's Now Or Never: After Three Straight Wins, Your Dallas Stars Suddenly Find Themselves Firmly Back In The Playoff Picture.
Like Elvis before them, Your Dallas Stars have been taking care of business of late.
Fresh off a successful road trip in which the bois in Victory Green™ pulled six out of eight possible points, the team is finally finding ways of beating teams that they, well, quite frankly should.
As the season progresses through it's final full month of regulation hockey, Dallas must take advantage of opponents that are firmly on the wrong side of the playoff bubble, lest they become one. Per usual, Dallas' shining goal-tending duo is to credit for dragging the team through this three-game winning streak, which puts the team one point shy of tying the Blues for third in the division — and, for the moment, firmly in a wild card position.
Let's take a look back at a Victory Green™-filled week and preview the week to come.
Last Week in Your Dallas Stars.
• Victory Green™  at Los Angeles Kings, 4-3 (OT).
Stars fans and players alike knew this contest was about as much of a "must-win" as you can have in February. And, many thanks to contributions down the lineup, the Victory Green™ was secured against the lowly Kings. Ben Lovejoy and Blake Comeau registered two assists a piece as Roope Hintz scored his fifth goal of the season in OT to pull off a come-from-behind victory where Dallas clawed its way back from three different deficits. Like a Quentin Tarentino movie, it wasn't pretty, but it's dramatic finale made it worth staying up until midnight to watch. Dobby surrendered three goals on the evening but was once again able to make "that save" at the right times to give Dallas a chance of usurping the Kings. Yes, his denial of Dustin Brown on the breakaway was massive!
Good eyes by Fedun and nice touch by Seguin to get the Stars back in this game. #GoStars pic.twitter.com/fyY6SKtzUl

— Dallas Stars (@DallasStars) March 1, 2019
We like him: Taylor Fedun had a beautiful assist to Tyler Seguin gets the Stars on the board. The mid-season acquisition off the scrap heap has been effective on the third pairing for Dallas, and has above average vision and playmaking ability from the backend. Monty would be wise to keep the Princeton alum in the lineup.
• Victory Green™ at St. Louis Blues, 4-1.
Welcome back, Cap! Jamie Benn returned to the lineup here after a two-game absence with an upper body injury — and to take on his favorite opponent, no less! The rejuvenated Captain led the Stars' offensive charge by registering the team's first hat trick of the season, and the team as a whole just maintained its jump on the Blues who played the night before in Carolina. Ben Bishop in net had a relatively easy night, facing only 30 shots instead of the usual 40-plus, thanks to a smothering Dallas defense that kept Vladimir Tarasenko off the scoresheet and restricted the dangerous sniper to just two shots the entire game. The Stars snapped the Blues seven-game home winning streak to wrap up a four-game road trip with six out of eight points. Better yet, the W put them in control of the first wild card spot in the West. Nice!
Dang, Benn got him good on this one 👀 #GoStars pic.twitter.com/HgriEPhVgR

— Dallas Stars (@DallasStars) March 3, 2019
C'mon Comeau: Blake Comeau got called for high sticking early in the first, only to see the infraction overturned after a short deliberation between the on-ice officials. We've never seen that before! Credit Blake, then, for his tenacity and desire for delinquency as the veteran winger would proceed to commit the next two penalties of the game and finally enjoy some peace and quiet alone in the sin bin.
The officials just took away a penalty from Dallas. They called this high-stick and took it away following the whistle.

I've never seen this before and I've been watching hockey my whole life. pic.twitter.com/2hyPMvzyBn

— Cristiano Simonetta (@CMS_74_) March 3, 2019
• Victory Green™ vs New York Rangers, 0-1.
Losing Zuccorello to the Stars via trade made Henrick Lundqvist cry, and losing Zuccaorello to injury made us cry. Alas, neither player participated in the Stars' final game against the Rangers this season, and with the playoffs no longer a possibility, the Rangers fielded the NHL's youngest roster against Your Dallas Stars. New York's exuberant youngsters pushed a north-south game in the first period, casually trading high-quality scoring chances against Ben Bishop and rookie Alexander Georgiev, respectfully. John Klingberg notched the games only goal early in the second off a slick pass from Miro Heiskanen, giving Klinger goals in back-to-back games for the first time since October. Radek Faksa would later take a nasty hit along the boards that put the Stars on the power play for a fruitless and extended sequence, but the real heroes of the contest were Ben Bishop and the penalty kill.
Another wicked wrister for @johnklingberg and that's goals in back-to-back games! #GoStars pic.twitter.com/zJk3rBzgnM

— Dallas Stars (@DallasStars) March 6, 2019
I don't feel tardy: Alexander Radulov was a healthy scratch after arriving late to a team meeting, joining previous offenders Tyler Seguin, Cody Eakin, John Klingberg and Erik Cole with that distinction. Rad's absence was apparent during the Stars' extended power play sequence, as Dallas squandered a late five-on-three with some very lackluster puck movement and very little net drive.
NHL Hitz PRO Player Of The Week.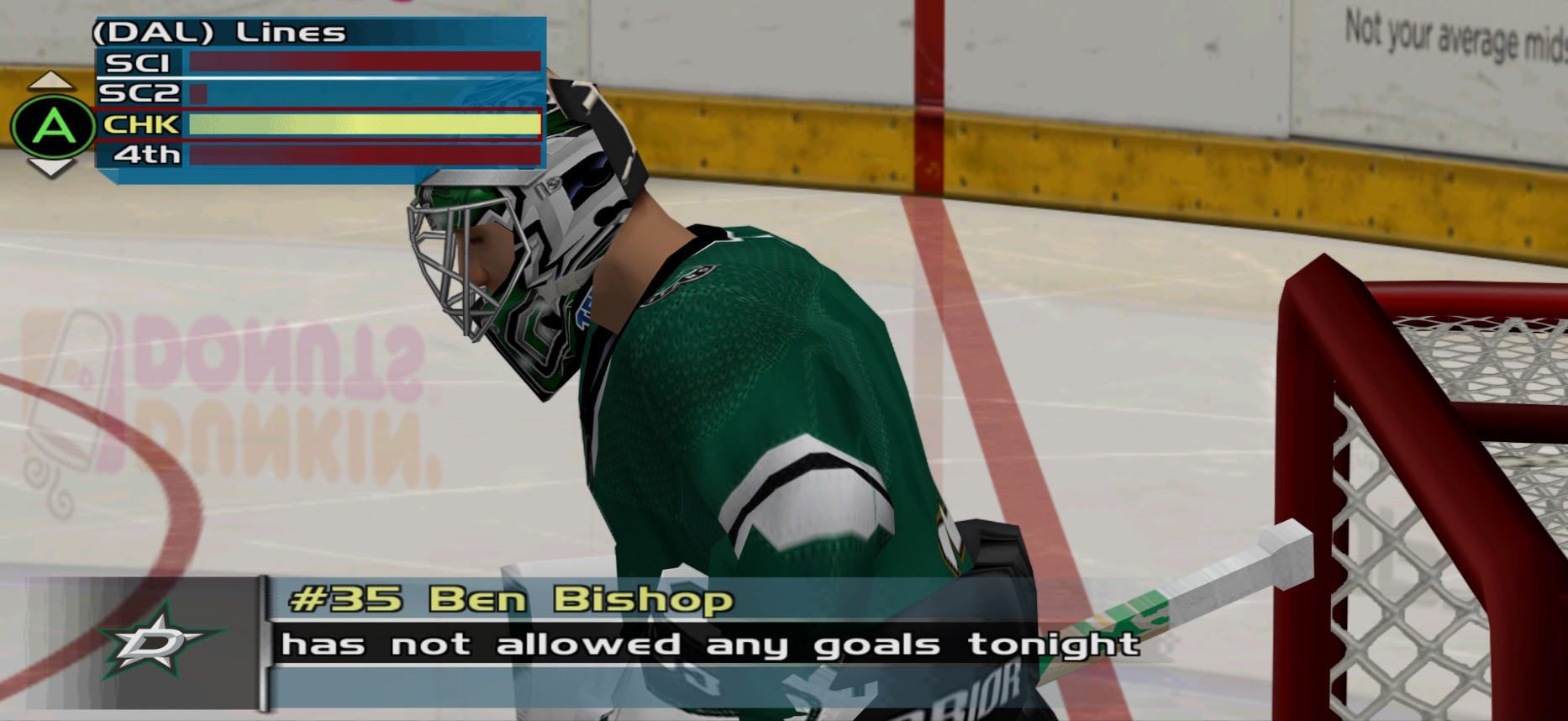 Benjamin Manning Bishop III is once again our NHL Hitz Pro Player of the Week — to no one's surprise. Bishop was impressive in net this week, registering his fourth shutout of the season against the New York Rangers and stopping 29 of 30 shots against the Blues. Sporting a sparkling .928 save percentage (the highest of his career), Bish currently only trails his former protégé in Andrei Vasilenvksiy and the Blues' phenom Jordan Binnington in that department. Razor Reaugh put it best after the win over New York: "Stars hockey 2019: Hard scoring, hot goaltending."
This Week In Your Dallas Stars.
• Thursday, March 7, at 7:30 p.m. verses Colorado Avalance (HOME): A huge tilt between Central Division foes vying for a wildcard spot. The Avs are nipping on the Stars' heels after putting together a solid month of play.
• Saturday, March 9, at 7 p.m. versus Chicago Blackhawks (HOME): How many obnoxious Blackhawks fans will pepper the AAC now that Patrick Kane and company are nearly out of the playoff picture?
• Tuesday, March 12, at 6 p.m. at Buffalo Sabres (AWAY): It's Round 2 of Heiskanen vs. Dahlin, the battle of the wunderkind defensemen! The Sabres are poised to miss the postseason but boast a healthy home record. A possible trap game for the Stars? Hope not.
Flip it. Stick it. See ya later, bye. — LehtMoJoe