Your Dallas Stars Are Trying To Implement Some New Offensive Concepts This Season, And They Already Appear To Be Paying Off For Jason Spezza.
This week, during a light stretch in the schedule, Your Dallas Stars earned two out of a possible four points. And that? Well, that's just OK.
The good news here is that all this extended time between games means new head coach Jim Montgomery is getting lots of practice time in which he can work with his new players on his desired gameplans. We'd already heard the coach had been lamenting in the press that he felt as if he'd maybe been introducing too many new concepts too quickly to the roster, so we imagine he's viewing this stretch as a welcome learning period.
This off-ice time is additionally beneficial since Alexander Radulov, Val Nichushkin and Stephen Johns have been rehabbing some early-season injuries. In the case of the Russians specifically, that means they won't miss too many games.
Hey, so maybe this week hasn't just been "OK," but rather "OK!" Let's take a deeper look…
Last Week in Your Dallas Stars.
• Darkness Music vs Minnesota Wild, 1-3.
Well, this was frustrating. The oldest roster in NHL came to town to play a "relentless" Stars squad fresh off the heels of a road trip where they were held scoreless. One would think Dallas would impose their will in a bounce-back game, right? Nope. The Stars' only nationally televised game of the season so far opened with a lackluster first period, with Minnesota content to bottleneck the neutral zone and allow goaltender Devin Dubnyk to clean up the rest. The Stars did, however, push the tempo in the second frame (as they often do), and opened the scoring with a unicorn goal from none other than Jason Spezza, who gave a deft tip to a point shot by Miro Heiskanen. But, in shades of last season, Dallas collapsed in the third and eventually surrendered the game-winner from a behind-the-net bank shot off of Esa Lindell's cup — and we ain't talkin bout Stanley, folks. With this loss, the Stars' skid extended to three games.
Soft hands score goals. #GoStars pic.twitter.com/DYyobYRXdd

— Dallas Stars (@DallasStars) October 20, 2018
• Victory Green™ vs Los Angeles Kings, 5-3.
The Kings are off to a surprisingly languid start to their season. It's weird; the addition of Russian superstar Illya Kovalchuck has not offset the inexplicable downturn of what had been one the west's best defensive teams. In thi one, Dallas pushed the Kings' losing streak to five games. Better yet, they managed to do so with — gasp! — depth scoring! With Radulov in the press box, Jamie Benn and Tyler Seguin a bit quiet on the scoring front, and Monty shuffling up the lineup after GM Jim Nill called Justin Dowling up from the Stars' AHL affiliate, the team found enough offense to counter the very desperate Kings. Los Angeles even outplayed your Stars for long stretches of the game, including the second period and the later stages of the third. But Ben Bishop managed to keep the opposition at bay with some highlight reel saves to help the team bend and not break, as some unusual suspects took advantage of their chances at the other end. Blake Comeau and Tyler Pitlick picked up their first goals of the season, Spezza notched a rebound off a heavy shot from Dowling, and Klingberg continued his terrorizing of opposing goalies with his point shot.
— Dallas Stars (@DallasStars) October 24, 2018
NHL Hitz PRO Player Of The Week.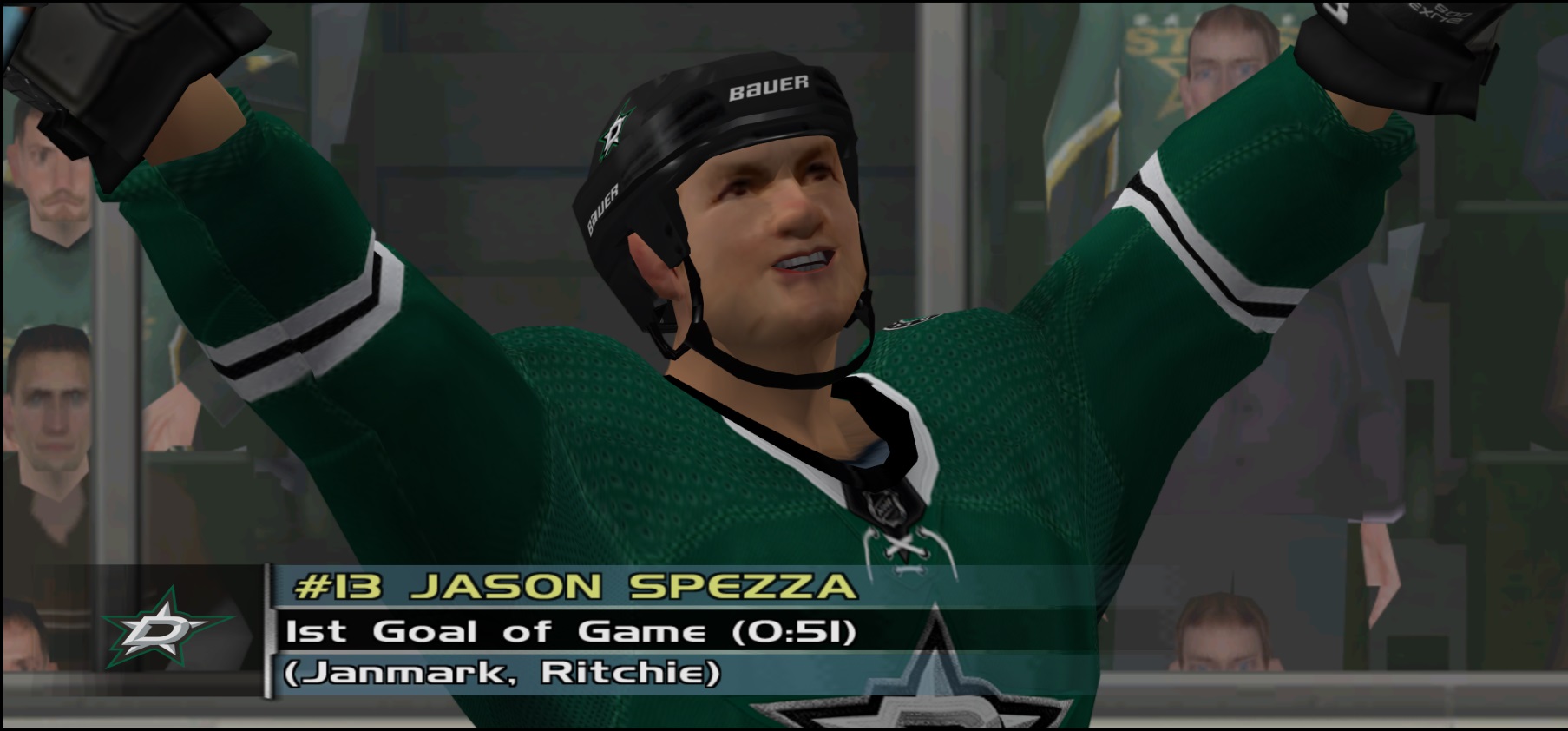 Well, well, well! Look at who we have here! It's Jason Spezza, who has been playing pretty good little hockey here lately, people! Some may even say he's playing like a second-line center! After a dismal season under Ken Hitchcock, "Grapes" now looks like a much more comfortable player. No longer tasked to play a heavy defensive game, Spezza is focused on bringing what he does best to the team. His playmaking and passing ability are still as sharp as ever, and even though he's one of team's slower skaters, he confesses he never had a step to lose in the first place. Through eight games, he's scored two goals, has five assists and is getting copious amounts of time on the Stars' first power-play unit. Most impressive is his prowess in the face-off circle, as his 64.5 percent success rate is the best the NHL. Damn! If Spezza can keep this up throughout the season, he will quickly exceed his output from last season and give Dallas some much-needed offense down the lineup. Now, if only he was paired with a scoring winger…
This Week In Your Dallas Stars.
• Thursday, October 25, at 7:30 p.m. versus the Anaheim Ducks (Home). Those plucky Ducks have been playing well without some of their big names in the lineup! This should be a tough match-up for the Stars, even at home in the friendly confines of the AAC.
• Sunday, October 28, at 4 p.m. versus the Detroit Red Wings (Away). It's a nice matinee tilt against a once-mighty nemesis! The Wings finally won their first of the season this week. But, listen, it's going to be a long year for Detroit. So sad.
• Tuesday, October 30, at 6:30 p.m. versus the Montreal Canadiens (Away). This one's a spooky match-up against a surprisingly good, and healthy Canadiens squad that's sitting atop their competitive division at the moment.
Flip it. Stick it. See ya later, bye. — LehtMoJoe
Cover photo by Lisa Gansky via WikiCommons.