Too Little Too Late, But The Young Stars Are Finally Playing Their Best Hockey Of The Season.
Led by the "New Triplets," the Dallas Stars are a fast-and-furious squad that have quickly become the darlings of the hockey world this season. Thus, we welcome you to Forechecking™, our weekly Dallas Stars column that looks back at the hockey week that was, and then the hockey week that will be.
Your Dallas Stars are nearly mathematically eliminated from playoff contention, but don't tell the boys in Moral Victory Green
™
that. Jamie Benn and company continue to play tough and passionate hockey, fueled by the frustration of frequent failure, many punches have been thrown and checks have been finished with ferocity. The captain will stomp your head in if you start a fight with him
you thug scum, bunch of cowards
! Anyways, excuse me ladies and gentlemen. Your Dallas Stars are playing very well and getting looks at young players that may crack the lineup for realsies next season. It's quite fun to watch, honestly.
Last Week in Your Dallas Stars.
• Moral Victory Green™ at San Jose, 1-0.
I'm not gonna lie. If you told me at the start of the year that it would take Your Dallas Stars 72 games to win a 1-0 game, I woulda been so faux angry, my head woulda nearly popped off my body like the cork on a $7.99 bottle of Cook's Champagne. We have (single hand clap) ladies and gentleman, perhaps the most 1998-like Dallas Stars win of the year.
Idiocracy: It was tax payer sponsored Military Indoctrination Night, er, Military Appreciation Night at the AAC. Watch as a dog is lowered from the rafters because… 'Merica!
DOWN FROM THE RAFTERS! ??? pic.twitter.com/n9Rde9stR6

— Dallas Stars (@DallasStars) March 21, 2017
• Loser Point at Chicago Blackhawks, 2-3 (OT/SO).
Well damn! Stars lose the match in a shootout but this was quite the entertaining meaningless late season game! Ales Hemsky lit the lamp twice as the boys in Moral Victory Green™ pumped 44 shots on net and, in general, markedly outplayed the red hot Blackhawks. Hemsky, Jamie Benn and John Klingberg showed great chemistry in the offensive zone and were the only line able to slip the biscuit passed Chicago netminder, Corey Crawford, who was, without a got damned doubt, the reason why Chicago picked up two points. Kari played well, five-on-five defense played very well, and the Stars' forechecking was a delight. Hell, even overtime was entertaining with chances galore for both ExoSquads (loved those toys growing up). The shootout is where things fell apart for the Stars, as only Tyler Seguin was able to score, and Kari, well…
"You reach, I teach."

-Patrick Kane to Kari Lehtonen #Blackhawks pic.twitter.com/2k1IyOV9Kw

— Cristiano Simonetta (@CMS_74_) March 24, 2017
And so that does it for the season series against Chicago. Last year the Stars won 4 out 5 against 'em. This year they done got swept. You see this Alec Baldwin? Turn back now. You son of a… piece of garbage. I hate you!
• Moral Victory Green™ vs San Jose, 6-1.
The NBA battles with the issue of resting marquee players on back-to-backs. Meanwhile, the NHL honey badgers on with crazy, nasty ass back-to-backs without benching its stars. While the Stars were thrashing around the 'hawks in Chicago, the Sharks were resting comfortably in Dallas awaiting tonight's game. Is it fair? No! AND I'M NOT GOING TO GO ALONG WITH IT! I'M NOT GONNA GO ALONG WITH IT! Dallas capitalized on some really odd decision making from the San Jose defense and goaltending, and lit up the Sharks in one of the most positively lopsided games of the year for Lindy Ruff. Jason Spezza in the lineup got some fourth line minutes on the wing with Adam Cracknell at center. Having a $7.5 million player on the lowest line worked like a charm as Spezza notched three assists and Cracknell scored his first-ever career hat trick! How fun!
A little bit of grit, some sweet passing, and taking advantage of a great opportunity. Adam Cracknell's first career hat trick. pic.twitter.com/JqpC6Q0Kqd

— Dallas Stars (@DallasStars) March 25, 2017
• Moral Victory Green™ at New Jersey Devils, 2-1.
Free game of the week on NHL.com, sweet! Also the fourth game in seven days for Your Dallas Stars. Damn, Lebron would be having a conniption fit right now. Dallas had a strong start, controlling play in the offensive zone and testing Devils netminder Keith Kinkaid on high quality chances. Stars fans watched all that hard work go for not as John Klingberg turned the puck over, allowing Blake Coleman to rush in and roof it over Kari for his first NHL goal. Bad Klinger!
Fun Fact: Like Frito Lay, Blake Coleman is from Plano, Texas.
Late, late, late in the third, Ales Hemsky collected his own rebound and slid it past Kinkaid low to knot it up 1-1 and send the game to over time. A power play carrying over from regulation gave the Stars a four-on-two PP where Tyler Seguin sniped a wonderful wrister for the game winner and a nice cap to perhaps the Stars strongest week all season. Cool stuff.
Of note: The Devils have missed out on the postseason five years in a row. We also saw Tyler Seguin singing along to Joan Jett's "I Love Rock and Roll" and John Klingberg mouthing along to that "Olay Olay Olay" song.
Unofficial Sega Genesis NHL 94 Player of the Week.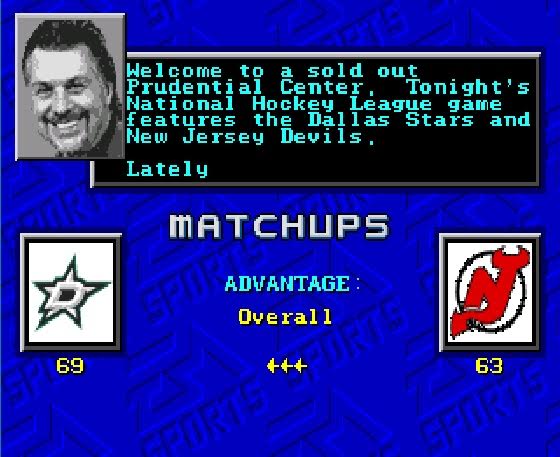 Release the Cracken
! We here at Forechecking
™
ain't the only ones who have extolled the virtues of depth forward Adam Cracknell, but we sure as hell was the first. BET. The injury replacement signee late in the off-season has earned himself consistent playing time and a contract extension next year for his smart play — particularly in the offensive zone where he controls the boards with confidence. Don't believe us? Watch how Adam keeps his head up in the corners while battling a defenseman or two, looking for where to shovel a quick pass, while pinning the puck to the boards with his skate. It's the little things in hockey that are beautiful. As is the big things. As is all things. Got damn, what a wonderful game!
Injury News.
Good Ol' Patrick Sharp is set to have season- (career?) ending surgery. Sucks. But GM Jim Nill told reporters Sharp will always have a home in Dallas if he wants one. Said Nill: "If he comes back, he wants it to be Dallas. He thinks he's a Dallas Star."
This Week in Dallas Stars.
The road trip continues with Jamie Benn taking on Jordie Benn and those luxurious Montreal Canadiens Tuesday night. Maybe we can finally have resolution to the oft discussed "Which Benn is better?" debate. Thursday night is a match-up against Seguin's old flame the Bruins. Then more games, Saturday against the Hurricanes and Sunday against the Lightning. Wow, that's a lot of hockey. AARRGHGH ARRHGHARH  We are under attack! ARGAGH RAAAAH  We know it! But we have excellent conditioning! We're coming for you Eastern Conference, we know what you're doing! arghh, I'm sorry.

Flip it. Stick it. See ya later, bye. — LehtMoJoe

Cover photo via the Dallas Stars Facebook page

.