Don't Look Now, But The Stars Are Becoming A Team You Can Bet On.
Led by the "New Triplets," the Dallas Stars are a fast-and-furious squad that have quickly become the darlings of the hockey world this season. Thus, we welcome you to Forechecking™, our weekly Dallas Stars column that looks back at the hockey week that was, and then the hockey week that will be.
Hey, 'member how we done made a bet that Dallas would acquire four out of a possible six points last week, and then how y'all would buy the Forechecking™ crew Spawn action figures if they did since y'all thought they wouldn't? Well, Your Dallas Stars came through clutch and won two out of three games. We want these damn Spawn action figures ASAP or else we me gonna tell you all about the insane ending to the new Stars Wars: Rouge One movie. (Spoiler Alert: They recast Darth Vader to appeal to younger audience,)
Last Week in Your Dallas Stars.
• Victory Green™ vs Anaheim Ducks, 6-2.
In a game where the final score is 6-2, you'd expect a reasonable amount of dominance from the winner, but not here, no. Antti Niemi may as well have been the only player in Victory Green™ for the first 40 minutes of the contest, keeping the Stars alive during penalty kills, odd-man rushes, breakaways and bouncy floaters from distance long enough for Dallas to experience some puck luck for a change. After trailing Anaheim 2-1 early in the third period, something happened, something so extraordinary and unlikely that unless you saw it in person, you'd think it impossible. Dan Hamhuis scored a power play goal. Yes, you read that right. The elder defenseman whom most forgot was on the team, scored the game tying power play goal one foot from the Ducks' net. Guess what else? It was his birthday, too! He turned 34 years old as Niemi turned away 34 shots on net! Coincidence? The final frame was highly entertaining for Stars faithful, as nearly every shot seemed to find the back of the net, including Radek Faksa's 150-foot shot into an empty net. Damn, it feels so good! Stars open the home stand with an unlikely win where they outscored their mistakes.
Of Note: Curtis McKenzie was playing so well last week that the hockey gods rewarded him with a patented 2016 Stars injury. Welcome to the team, you shy barista! Jamie Benn took a baffling faceoff penalty late in the second to put the Ducks on a 5-3 man advantage. He done reached down and grabbed the puck and swatted it . That's a hand pass. Thems is illegal, 'specially during a faceoff. He scored later anyway, so whatevs.
• Darkness Music vs New York Rangers, 0-2 .
Man, it was a good game. Through 45 minutes, this was a tightly contested affair with Niemi and future Stars goaltender Henrik Lundqvist matching each other save for save. "King" Henrik got his bell rung early in the contest as Cody Eakin slammed into the side of the Rangers goaltender on a routine play behind the net, sending Lundqvist's crown flying and his body to the ice. For his efforts, Eakin was given a five-minute major penalty (and subsequent four-game suspension). Not a great way to treat a future teammate! The game-winning goal occurred during a cavalier Jamie Benn play on the PP, sending a no-look drop pass directly to Rick Nash, who raced towards Niemi on the breakaway, burying a blazing wrister shorthanded. And that was that. Stars couldn't score worth a hell and that's all the Rangers needed before icing the game with an empty net goal to make it 2-0.
Of note: Mike Modano interrupted the TV broadcast of this game, showing Razor and Craig Ludwig pictures on his phone during play. Speaking of, due to the broadcast shuffle with Dave Strader being unavailable for play by play duties this year, Luds has moved from studio analyst to in-game color, and has been great. Was never a big fan of his subdued "I can't wait to get the hell out of here" approach in the Duncanville High School presents Into the Woods intermission studio efforts, but his insight during the game is really solid. Being a hockey nerd, I'm often looking away from the puck to watch the unsung details of the game, and often Luds will quickly pepper the play with references to such moments. I love it. Yes, I enjoy watching Adam Cracknell body up on two defenders in the offensive zone while Klingberg misplays the puck on the blue line.
• Victory Green™ vs Philadelphia Flyers 3-1.
Another early Saturday battle against a Flyers squad on a 10-game win streak. Meanwhile, Dallas hasn't won more than two in a row all season. Well, pooh! The Flyers opened the scoring after some back-and-forth play in the opening segment. Taylor Leier scored his first NHL goal after beating Klingberg to a juicy rebound. This is following Klingberg snapping his twig during a wrister leading to an odd man rush, déjà vu! Poor sweet young Klinger, why you no good this year? Stars fans, and apparently Jason Spezza, were irritated as hell at yet another wompy start for the Stars. Our beloved second-line center/sometimes first-line winger responded with a series of physical shifts and a fight that inspired the Dallas faithful. This was Spezza's first fight since 2008, and only the fourth of his career. In previous posts, we mentioned how Spezza was passive aggressively hitting the opposition's goaltender's in the face with slapshots, and now he is finally mad enough to punch the opposition's skaters in the face. That's true Canadian leadership! The Stars respond to the Spezza's physical play as Radek Faksa scored on a huge Roussell rebound that Darryl Reaugh professed to be "like a big chunk of sourdough, [where] he comes in and sops up the gravy." Adam Cracknell followed suit in the third as he shoveled the puck in from yet another rebound opportunity for the eventual game winner. Dallas kept their foot on the gas and played a nearly perfect third period, winning puck battles with regularity and keeping the Flyers attack mostly perimeter. Philly did get on the power play, though, for the first time in the game as a mad scramble in front of Niemi resulted in a the fourth-best home PK in NHL (how?) going to work. Niemi was a bit lucky with a couple of pucks off the post, but that's part of winning in this league. A thrilling ending, a great game and two more points.
Of note: The Flyers have been skating this uni and I don't know if I like 'em or not. The belligerent name plate and garish orange is perplexingly charming, like Steve Buscemi.
 Unofficial Sega Genesis NHL 94 Player of the Week.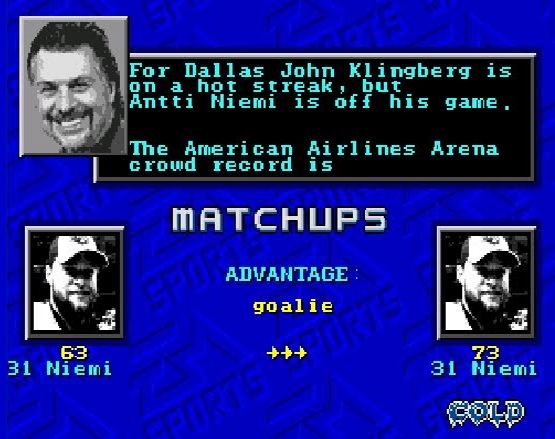 Barry Melrose is really losing it.
Niemi put in a hell of a week in net, giving Dallas an honest chance at winning every contest as Antti continued his home dominance this season. On the real, though, he looks slow. His lateral movements are labored and seemingly several ticks behind the play but doggone it, he's making saves. The Stars have had many problems this year but respectable goaltending 'aint one of 'em.
This Week in Dallas Stars.
Should we make yet another bet ? The Stars will host two games at home with week as they welcome the Blues on Tuesday and the Kings on Friday. Just like last week, I'm putting my money on the Stars getting another points. The winner gets this.
Flip it. Stick it. See ya later, bye. — LehtMoJoe
Cover photo via the Dallas Stars Facebook page.