Overtime Sucks. Overtime Sucks. Overtime Sucks.
Led by the "New Triplets," the Dallas Stars are a fast-and-furious squad that have quickly become the darlings of the hockey world this season. Thus, we welcome you to Forechecking, our weekly Dallas Stars column that looks back at the hockey week that was, and then the hockey week that will be.
Your Dallas Stars currently sit 5th in the Central Division, and with a goal differential of -14. That's the bad news. The good news? Your Dallas Stars are getting healthy forwards back into the mix, welcoming Cody Eaves, Patrick Sharp and Jason Spezza back into the fold. Also, Kari Lehtonen has given Dallas some consistent quality goaltending of late as the team managed to pick up points more often than not.
Oh, there's more bad news, though. The scourge of injury has now hit the defensive group with Johnny Oduya being placed on IR. Why can't we catch a sexy break?
I said we're gonna get through this, we're gonna get through this!
Last Week in Your Dallas Stars.
• Lose Point vs New Jersey Devils, 1-2 (OT).
As a kid, my family would take road trips down to Galveston during summer break. We would make tar-stained sand castles, get stung by jelly fish and collect anything that resembled a seashell. It was fun! On one occasion, we decided to take the trolley for a ride along the seawall when a woman cruising along on her bike decided to pedal behind the cart and shout "Galveston sucks! Galveston sucks! Galveston sucks!" Though befuddling at the time, I now empathize with her as I find myself shouting "Overtime sucks! Overtime Sucks! Overtime Sucks!" But only in my head, and not at strangers riding in public transportation. This was another OT loss, but Patrick Eaves and Antoine Roussel extended their scoring streaks — up to a career-high seven games for Rossel. Alas, Dallas surrendered the game winner 44 seconds into the extra frame. Overtime sucks! Overtime sucks! Overtime sucks!
Of Note:
'Member when we used to Feel the Vern
? Before the organization cast him aside for slightly younger, promising and "electable" players? Well, good ol' Vern Fiddler made his return to the AAC where Stars fans and the production crew gave the elder depth center a wonderful tribute in thanks for his service the past five seasons in Dallas.
Good dude
.
• Victory Green™ vs Colorado Avalanche, 3-2 .
You know the old saying, if at first you don't succeed, try try try try try try try try try try try try again! Avalanche netminder Semyon Varlamov — if that is in fact his real name — carried into the contest an NHL high 11 game winning streak against Dallas dating back to 2013. Cheese and rice! If the Stars are want be a championchipchip team this hisstoorric season, they can't keeeeep lose streaking like that, NO!  Lindy Ruff opted not to hold practice the day before, and skipped out on the morning skate to preserve some energy for a team that has played nine games in the last two weeks. And it worked, kinda! Dallas jumped to an early lead as Johnny Oduya opened the scoring with a wildass slap shot that ricocheted off an Avalanche defender's knee and into the net. Hey, they don't ask how, just how many, and for Oduya, it's just his first of the season. The power play units tacked on the final two goals for Dallas as Brett Ritchie fired a wrister from the slot after some wonderful puck movement, and scorching hot Patrick friggin' Eaves buried a fake slap shot pass from co-assist leader in the NHL, Tyler Seguin. Dallas skaters followed up that wonderful opening period by playing crappy as hell. It was a 40-minute highlight reel of Kari Lehtonen getting Salt-N-Peppered by a determined Avalanche squad, making some of the most marvelous stops of his career It had the home crowd singing, "What a mighty good man!" or something. It sucks to see your team struggle, but it's awfully nice when you get superb goaltending, that's two more points, baby.
"I thought it was embarrassing." — Lindy Ruff
Of note: Return of the Ninja! Cody Eakin made his season debut after a "Mysterious" knee injury during training camp left him on the team's injured reserve. The Ginger Ninja™ showed no signs of rust as his speed and tenacity were in mid-season form. I'm sure there will be some downshifting later this week in play, but it was great to see Cody off to a solid start.
• Darkness Music vs Edmonton Oilers, 5-2.
The poopoo-head Oilers snapped Dallas' five-game point streak (it's modest, yeah, but gotta take what we can get) as Connor McDavid scored his first NHL hat trick. The budding superstar had gone 10 games without a goal heading into the contest, but notched a goal each period as Edmonton largely outworked Dallas along the boards and were excellent in clogging up the neutral zone, thwarting zone entry for our heroes in Victory Green™. Eaves and Benn scored a power play goal apiece to cut a 4-0 lead in half during the middle frame, but Dallas was never really close in challenging the inevitable outcome. Patrick Sharp made his return to the lineup as Johnny Oduya maked his exit, taking Sharp's spot on IR after leaving the game late in second period. Julius Honka and Esa Lindell got the call up from Austin to fill out the roster, quickly up I-35.
Unofficial Sega Genesis NHL 94 Player of the Week.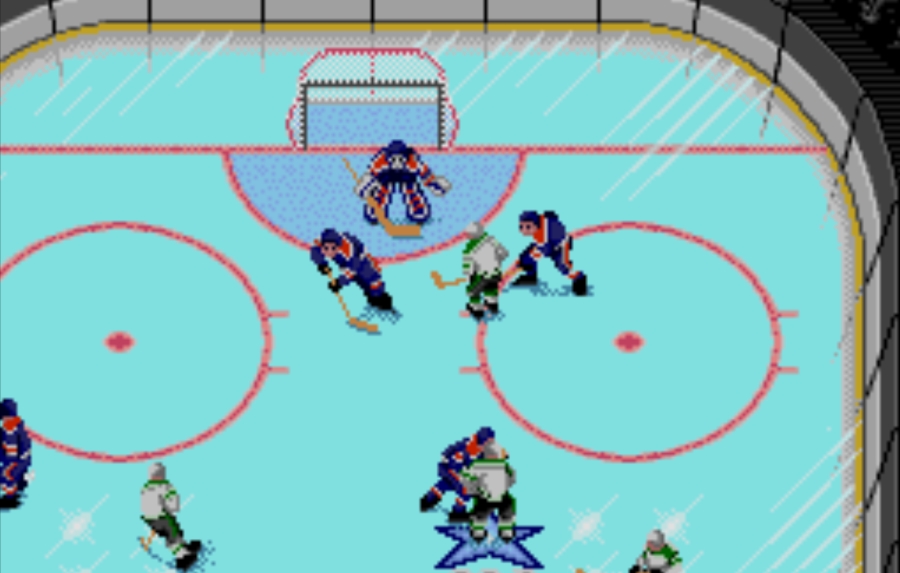 Patrick friggin' Eaves is on a five-game goal streak, the longest of his 12-year career. In just 18 games this season, Patty is just two points shy of last season's injury riddled total of 17 goals. His utility has been key in holding together the forward crop this year, spending most of the season on the top line and getting ample power play time. How wise of Jim Nill to re-sign the UFA this summer.
This Week in Dallas Stars.
Minnesota hits town tonight, in a 7:30 start at the AAC. Then, it's off to Nashville on Wednsday and then back to battle the Canucksat home on Friday. All of these are very winnable, so let's try to win 'em. And let's maybe try to do it in regulation. Because lest we forget, overtime sucks, sucks, sucks for Your Dallas Stars this year.

Flip it. Stick it. See ya later, bye. — LehtMoJoe

Cover photo via the Dallas Stars Facebook page

.