Dallas' Eight Rotating Defensemen Experiment Is Proving Less Than Effective.
Led by the "New Triplets," the Dallas Stars are a fast-and-furious squad that have quickly become the darlings of the hockey world. Thus, we welcome you to Forechecking, our weekly Dallas Stars column that looks back at the hockey week that was, and then the hockey week that will be.
Your Dallas Stars continue to wade through the shark- and duck-infested waters of the NHL with respectable effort. Floating a Frankensteinian lineup filled with kids, castaways and questionable coaching conclusions, Jamie Benn and friends look to don their floaties as they attempt to stay afloat in the Western Conference.
Speaking of forced metaphors: The NHL season is a lot like the four-disc special extended edition of The Lord of the Rings: The Two Towers released on November 18th 2003, starring Elijah Woods, Ian McKellen and directed by King Kong's Peter Jackson; it's long, arduous, and ends with giant trees hurling rocks at goblins at a big ugly building.
I've written myself into a corner and I'm just going to abandon ship here, sorry about everything.
Last Week in Your Dallas Stars.
• Victory Green™ vs Winnipeg Jets, 3-2.
This Winnipeg team is pretty darn good. An imposing back-end capable of wearing down the opposition and some top-end talent developing nicely at forward makes the Jets a team ready for take off. There were some words of discouragement between the two clubs at center ice during warm-ups, along with some stick checking at the Stars logo, which set the tone for the contest. Dallas, overall, gave a solid effort, with especially effective special teams play. And they were buoyed by an Antti Niemi's performance that minimized rebounds and second chances (welp, aside from a really silly turnover that put the Jets on the board).
"It wasn't that he was tested in bunches, but he had to make some huge saves for us. Breakaway saves, there was a couple game-changers." — Stars coach Lindy Ruff .
Outside of a second period that saw the Jets win all but two face-offs and tilt the rink towards Niemi, there wasn't much to complain about from our heroes in Victory Green™. Tyler Seguin scored on a supple wrister, and Patrick Eaves notched a power play goal that marked the 100th of his yeoman's career. The game came to a frenzied end in the closing minutes as Winnipeg pulled their goaltender for the sixth straight time this season, eventually scoring on a 6-on-4 opportunity to bring the game to within one with merely seconds left. It don't matter none, ain't enough time for that. With the win, Dallas salvages the home stand with a 1-1-1 record.
Of note: Justin Dowling made his NHL debut for the Stars this game. Been a lot of NHL debuts for Dallas lately, eh?
Fight of the night: Tyler Seguin vs Smelling Salts.
Seguin with a top 10 smelling salts reaction. thank you @CourtLee_8 pic.twitter.com/HbJ3JiuKT9

— Stephanie (@myregularface) October 26, 2016
• Darkness Music at Winnipeg Jets 1-4.
Ouch. Ouchies everywhere. After a stout performance in Dallas, Niemi followed up Game 1 against these very same Jets with a goal allowed on the very first shot of this very forgettable contest. Dallas allowed 22 shots in the first period alone, nearly topping the franchise record of 24 in one period! SMDH. If you sat through this entire game without flipping through other channels, finishing your algebra homework incorrectly, playing Mario Kart, listening to Moby, posting your final Vine or yanking out your teeth, well, congratulations! Dallas played well at even strength, but were unable to capitalize on their power play chances, including a 5-3 power play and, hence, they succumbed to the Zubov rule. They done lost it!
"I'm not going to sit here and say they were completely out-skating us or completely out-battling us. I thought we could have made some smarter choices. But we lost. We're going to move on and get ready for Saturday night (against Minnesota)." — Tyler Seguin
Of note: Ruff decided to sit Stephen Johns and Jamie Oleksiak for the second straight game. Why the organization thinks this rotating eight defensemen experiment is working, I don't know. It's stunting the development of everyone, y'all. We hear about how the defense is in "transition," but when its the same cast of characters for multiple seasons who are unable to secure a spot on an NHL roster, well, then maybe they ain't NHL-caliber because they don't ever play no dadgum games? Sure, I'm taking a simplistic drunkard's approach to this, but dammit, that's my got-given right as an American! Stephen Johns should not be scratched for Jordie Benn. Dan Hamhius shouldn't be pushed down the lineup for Jordie Benn. And if you have any designs of developing Patrick Nemeth or Jamie Oleksiak, they should betting getting an honest and consistent shot in the lineup instead of this one-game-in, one-game-out nonsense. If not, IDK, maybe package up all these redundant defenseman with Kari and Niemi for Crosby and Bishop or someone. IDK. Damn.
• Darkness Music at Minnesota Wild, 0-4.
I'm going to give you two questions that go together, and they're both fill in the blanks. No. 1: We will be really good if…? No. 2: We will be in trouble if…? If my internet puzzle games are not that appealing to you, that's fair, because this game wasn't appealing to anyone outside of Minnesota. Jason Spezza and Jiří Hudler finally crawled their way back into the lineup, as did Stephen Johns, but really, this was just an embarrassing game for Dallas. Awful special teams, muddled outlet passes, poor decisions with/without the puck and dumb-butt penalties will not win you many games in this league. Fifty percent of the Stars' forwards weren't in the lineup the last time these two teams met in the playoffs, and if that sounds like a recipe for inconsistent play, well, preheat the oven, baby. The 0-fer PP in this one sinks what should be a top-of-the-league power play to just 21st best.
Of note: Dallas outshot Minnesota 13-1 in the middle frame. Cool. Minnesota goalie Devin Dubnyk extended his shutout streak to three games in the 29 save effort against Dallas.
"It's fun." — Devan Dubnyk
Unofficial Sega Genesis NHL 94 Player of the Week.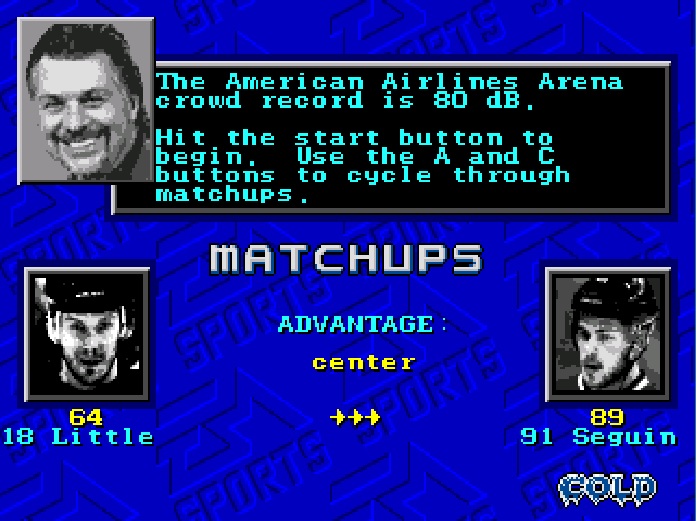 Last week, in a first, we opted to not hand out an Unofficial Sega Genesis NHL 94 Player of the Week award. No one stepped up and showed they were the diamond surrounded by poo poo. Rather, it all looked like poo poo. And this week, though we're still not entirely convinced anyone deserves it, we're going to give one out anyway. 'Cause if we ain't do it now, we might ain't never award the damn thing to no one.
So, like the quality of journalism on display here, we are going to lower our standards just a bit. Tyler Seguin scoring two goals in three games with zero assists may not seem like much, but it's the best any Star could muster this week. A team=leading five shots in Minnesota is a good sign, however, as the sniper attempts to generate offense on such a depleted roster. We're just happy Tyler is healthy and playing hockey again.
This Week in Dallas Stars.
Dallas looks to pick up a few points amidst this tough stretch of schedule. Will the Blue Jackets give the Stars a much needed W on Tuesday at Columbus? How about the Blues on Thursday? Perhaps a grueling back-to-back with the Blackhawks at the AAC on Saturday and the United Center on Sunday will turn out fortuitous? That's eight possible points this week, friends! How spooky!
Then again, if the Stars are able to pull off this miraculous turnaround, it'll have to be without winger Aleš Hemský. He underwent hip surgery this morning for the injury he sustained in the World Cup of Hockey, and will be out five to six months. 🙁
I imagine Jim Nill's Blackberry is getting a workout right about now.
Anyway, Happy Halloween! Make sure your pets are inside tonight, as there are some mouth-breathing troglodytes that tend to mess with animals on Halloween. Hell, put a ceramic cat in your backyard and if you see one of these knuckle-dragging imbeciles make a move on it, shoot 'em in they ass! That's what I like about Texas™.
Flip it. Stick it. See ya later, bye. — LehtMoJoe
Cover photo via the Dallas Stars Facebook page.