Injuries Continued To Hinder Your Dallas Stars As The Team Continues To Limp Its Way Out Of The Starting Gate This Season.
Led by the "New Triplets," the Dallas Stars are a fast-and-furious squad that have quickly become the darlings of the hockey world this season. Thus, we welcome you to Forechecking, our weekly Dallas Stars column that looks back at the hockey week that was, and then the hockey week that will be.
Your Dallas Stars have limped through the first two weeks of the NHL calendar with mixed results — but don't hate the player, hate the game. Injury, illness and an influx of NHL journeymen and AHL talent have been the story line thus far for our heroes in Victory Green™.
No, last season's franchise-record-setting start won't be matched this year, but doggone it, that's OK!
That said, let's take a coy peek back at last week in Your Dallas Stars, and quickly dart our gaze elsewhere after a brief moment of awkward eye contact.
Last Week in Your Dallas Stars.
• Victory Green™ at Nashville Predators, 2-1.
"This is the most confidence I've played with so far in my career in the NHL." — Stars right winger Adam Cracknell
Well, Lindy must have been reading last week's Forechecking™ as he was quick to not only remove Jordie Benn from the top defensive pairing, but scratched him all N together now. (On a side note, I've always loved the sound effects used to mask the profanity in the radio edit of that song.) In Benn's place, Esa Lindell was added to the lineup, Devin Shore was promoted to the second line, Antti Niemi was benched and Jason Spezza was moved to wing. Now that's real hope and change!  The results?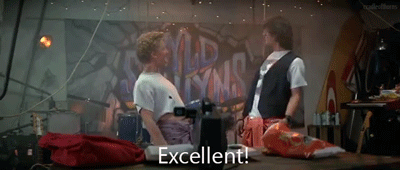 It was a great team effort with buy-in, and to win in a tough barn in "smashville" is no easy feat. Dallas looked composed throughout the contest which wasn't always the case last year while protecting a lead. Devin Shore being on the ice in the closing seconds shows great trust in him from the coaching staff. Johnny Oduya blocked a billion shots and was his usual steady, dependable self. Jason Spezza turned in his best game of the young season, scoring an uncharacteristic grinder's goal in Brenden Morrow's old office. The team's depth came up big again. Lindell and Jamie Oleksiak looked solid on the third pairing. There was much more dimension to the team's game in this contest. Kari Lehtonen looked calm in net — sure, he got lucky with a few shots off the post, but overall he outplayed his Finnish counterpart in Pekke Rhinne. More of this Kari, please! Dallas outshot its opponent for first time in the season 37-28, and won 52 percent in the faceoff circle.
" [If] we play like that, we'll win a lot of hockey games." – Lindy Ruff
Of note: I actually dig Nashville's unis. The yellow bucket is a nice touch, as well as the small details in the arena like yellow stations, and board trim.  But their goal song is awful. I get the country tie-in, but man… woof.
• Loser Point vs Los Angeles Kings, 3-4 (OT).
The Kings waltzed into American Airlines Center with zero wins, sans goalie Jonathon Quick and in complete desperation mode. What could go wrong? With Peter Budaj in net, the Kings took to the body in one of the more bizarre games in recent memory. LA lights the lamp first on a slick power play goal by Nic Dowd, only to be answered by sweet young Radek Faksa on a miscue by Budaj, who has played primarily in the AHL the last two seasons. In the middle frame, the contest became unhinged as nearly 50 penalty minutes were awarded, and Roussel earned 16 pims of his own before the night was over, after going bananas when three Kings jumped him at the conclusion a very tumultuous shift. In response to the refs' response to Roussel responding to the Kings responding to the terrible start of the season, our fiery Francophile pulled a Dez Bryant and showed great passion and leadership inside the sin bin.

(In all fairness, we don't know exactly the water bottles were saying to Roussel)
The salty frame ended on a sour note, as the Kings took a 3-2 lead to the dressing room after poking a rebound past Kari with 27 seconds left. Guh, hate those backbreaking goals. What's more, Patrick Eaves and Patrick Sharp sustained injuries in the second, leaving Dallas undermanned in the final frame. Kudos to Your Dallas Stars, however, as they scratched and clawed their way to the tying goal with 2 minutes left, and Kari was pulled for the extra attacker. Jason Spezza launched an absolute laser beam over the blocker of Budaj, securing Dallas a much deserved point heading into overtime, where the Kings score a controversial goal to earn their first dumb victory of their dumb season.
"[Lehtonen is] in the paint, he's elbowed in the head before the puck gets there and it goes in our net. They look at it for five seconds and they call it a good goal. Take a look at the replay. Elbowed in the head, in the paint before the goal was in. I got a call in London, in preseason, where the referee came over and said, he's in the paint, it's no goal and we didn't even touch the goaltender. Terrible call." — Lindy Ruff
The massacre of the Stars' forward corps continues. Casualty update: Ales Hemsky, Mattias Janmark, Patrick Eaves, Patrick Sharp, Cody Eakin, Jiri Hudler. Damn, you could dress a .500 club with that crew.
• Darkness Music vs Columbus Blue Jackets, 0-3.
With Columbus rolling into Dallas on the second half of a back to back, you'd think the Stars could easily secure two points, but no. Blue Jackets net-minder Sergei Bobrovsky improved his career record against Dallas to 8-1-1 after stopping all 32 anemic shots that Dallas could muster. The young and speedy Columbus lineup played a simple, muck-it-up road game that proved to be as boring as it was effective. Outside of a Jamie Benn fight, the Stars looked wholly passionless. It was a really bad showing at home against a rebuilding squad on the other end of the rink. What more do you want me to say? It sucked. Maybe Minnesota will take the Stars back? I don't know what else you want from me, let's just move on.
"That was as flat as flat could be. There's no disguising it." — Lindy Ruff
Of note: Ales Hemsky was back in the lineup for the first time this season, and it showed. Gemel Smith made his NHL debut, and it showed.
Unofficial Sega Genesis NHL 94 Player of the Week.
No one really played all that great this week, so no one gets the coveted Unofficial Sega Genesis NHL 94 Player of the Week award. If it seems like I'm being unfair and grumpy, you should write your local congressman or the UIL about it. Most of the team has, uh, got sick and passed away, so we are going to hold off on the Rip Taylor theatrics for now.
This Week in Dallas Stars.
Tuesday night, Your Dallas Stars will host the Winnipeg Jets, and on Thursday the Winnipeg Jets will host Your Dallas Stars. In the biz, that's what we call a "home and home." Saturday night, Gemel Smith and Co. might be battling the Wild in Minnesota, but who really knows anything anymore?
Flip it. Stick it. See ya later, bye. — LehtMoJoe
Cover photo via the Dallas Stars Facebook page