Chef Richard Triptow Is Combining Art And Food With A Takashi Murakami-Themed Dinner He's Hosting At Dallas Fish Market This Week.
Welcome to The Quickie, our new series featuring a short 'n sweet, quick 'n dirty interview with a local small business owner, chef or creator.
It's easy to understand why some chefs are eager to offer beer dinners, wine pairings, whiskey tastings and other multi-course events at their restaurants. These affairs showcase what these kitchens are capable of in specialized formats while at the same time keeping things interesting and fresh for the cooks and guests alike.
Still, for Dallas Fish Market chef Richard Triptow, regular pairings still aren't enough. The guy's made a career of taking designed eating experiences to the extreme, making run-of-the-mill wine dinners look more like picnics laid out on curb outside your neighborhood 7-Eleven.
Last summer, for instance, he stunned with a nine-course Emoji Dinner where the menu was simply a list of single emojis and the actual dish compositions were revealed at the end of the meal. And this week, he has another eye-popping concept up his sleeve.
Across multiple courses, Triptow's latest go — set take place at his Downtown Dallas restaurant during separate seatings tonight and tomorrow evening — will feature creations inspired by the famed Japanese pop artist Takashi Murakami, whose work is currently on display at The Modern Art Museum of Fort Worth.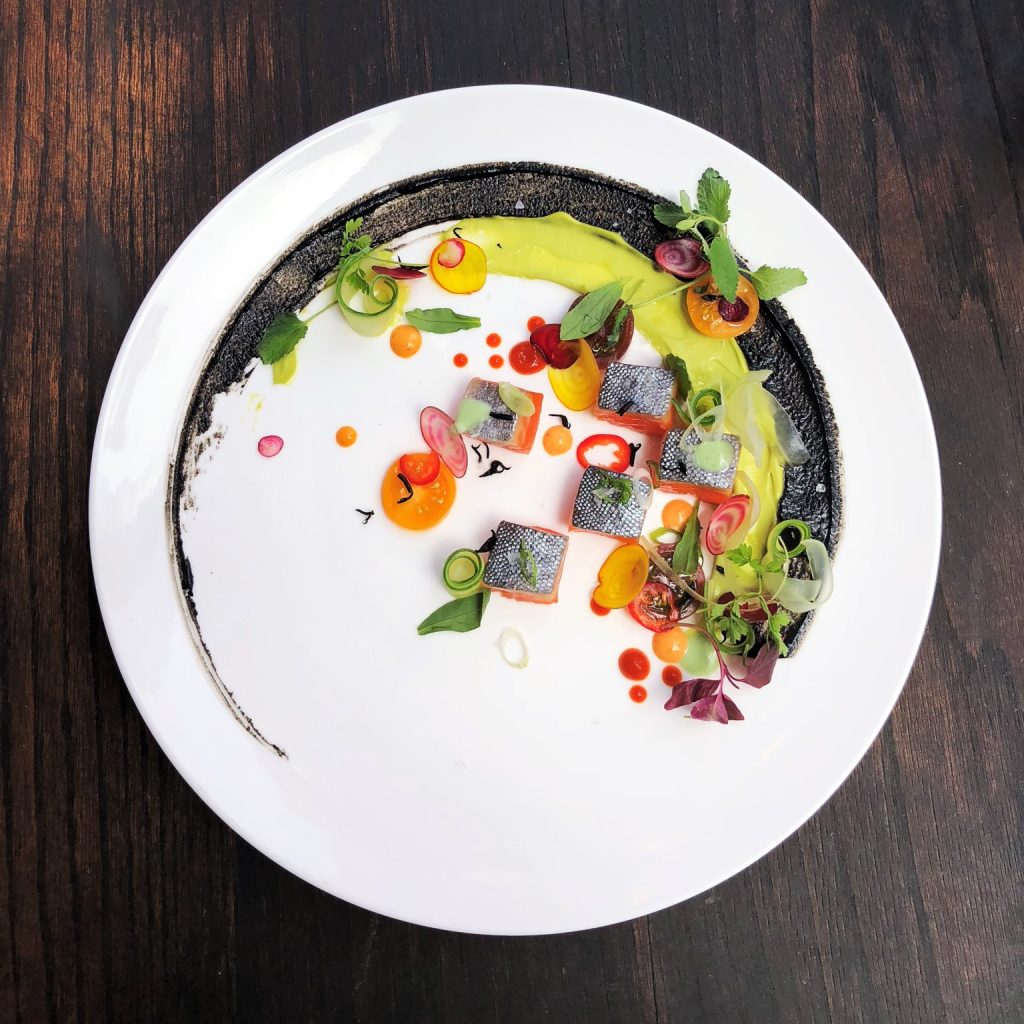 In advance of the  pop-up, we sat down with Triptow to talk to him about his plans for the meal, which includes up-close-and-personal showings of original Murakami pieces on loan to the restaurant from Dallas' Martin Lawrence Galleries (no relation) in addition to to meal itself.
Let's start off at the very beginning. What can you tell us about the inspiration for this dinner and how you're making the art come to life?
Takashi Murakami's art show came to Fort Worth Museum of Modern Art with a huge following of admirers of his work, and even people who knew nothing of him have been wowed at the intriguing playfulness of his art. I had the unique opportunity to see some of his artworks at Martin Lawrence Galleries. It was there that I met Terry Hull, their director of client development. We decided to form a relationship and create a themed dinner. I picked out six of the original artworks hanging in the gallery to pair with a five-course dinner, sake and Japanese beer.
Where are you sourcing the foods for this dinner?
Locally, and from Tokyo, Japan and Kyoto, Japan.
What draws you, as a chef, to someone like Murakami?
As a chef, I have extensive training as a chef from great chefs in Dallas at The Rosewood Mansion on Turtle Creek, and beyond. But I'm also an artist myself. I paint oils, pastels, charcoal and clay. In the kitchen, I am inspired by art and culture — and especially by ingredients and their visual impact, along with flavor.
Your being an artist doesn't surprise me in the least! What sort of visuals will be on display during the dinner from the exhibit?
Murakami's famous smiling chrysanthemum flowers. Six original artworks.
What can guests expect to eat and drink during the dinner?
In a way, they can expect pieces of artwork on a plate, inspired by each piece of art itself and paired with fine sakes and Japanese beer.
Do you think you'll do more art-inspired dinners like this in the future?
Yes. Because of the relationship developed with the Martin Lawrence Galleries, I see many more possibilities of art-themed dinners with other compelling artists.
All photos courtesy of Dallas Fish Market. For tickets more information on the menus at these dinner, head here and here. Know another food business worth highlighting in this space? Message foodbitch! Like a good cover band, she takes requests.