A Spray-Painted Message With Mexican Cartel- And Rape-Related Language Definitely Caught The Attention Of Dallas Drivers Along Westbound I-30 This Morning.
Traffic jams are nothing new on Interstate 30.
But, since at least rush hour this morning, the drivers who have slowed down that highway's westbound traffic as it nears Downtown Dallas have had legitimate reason for their rubbernecking.
Right on the concrete highway barrier located on the on-ramp just past Haskell Avenue in East Dallas, they've been spotting a blue spray-painted, ominously cartel- and rape-referencing message written in mixed Spanish and English — one that, Dallas police say, may be nothing more than a hoax.
While the message — which reads "7222 and 7228 Wallace St. 7517 We Rape Elderly Cartel LA Familia Michoacana Putos Gavino -> back shaed" — has already sparked curious discussions online about its references to the ruthless Mexican cartel La Familia Michoacana and to heinous acts of violence, police are cautioning that it may just be the most recent act in a string of harassment one East Dallas resident is facing from a neighbor. At this point, police say they do not have any reason to believe that the message, which appears to have gone up overnight, is actually related to any cartel or gang activity.
"It appears that it may be tied to an exceptional person who has been harassing his neighbors for some time," says Corporal Debra Webb with the Dallas Police Department's public relations office.
Webb added that detectives in the Southeast Division are still looking into the matter but believe that the person responsible for the vandalism is a suspect who has been on the police's radar for a number of incidents at the 7222 Wallace Street address referenced in the message.
"It would be safe to say that the harassment has been occurring since July of 2017 to March of 2018," Webb says, noting that the most recent incident took place this past Saturday, March 10.
DPD incident reports show that police responded to a call about harassment at 7222 Wallace Street on December 28, 2017. Responding officers listed that the suspect in question on that call "has been harassing and damaging [complainant's] property."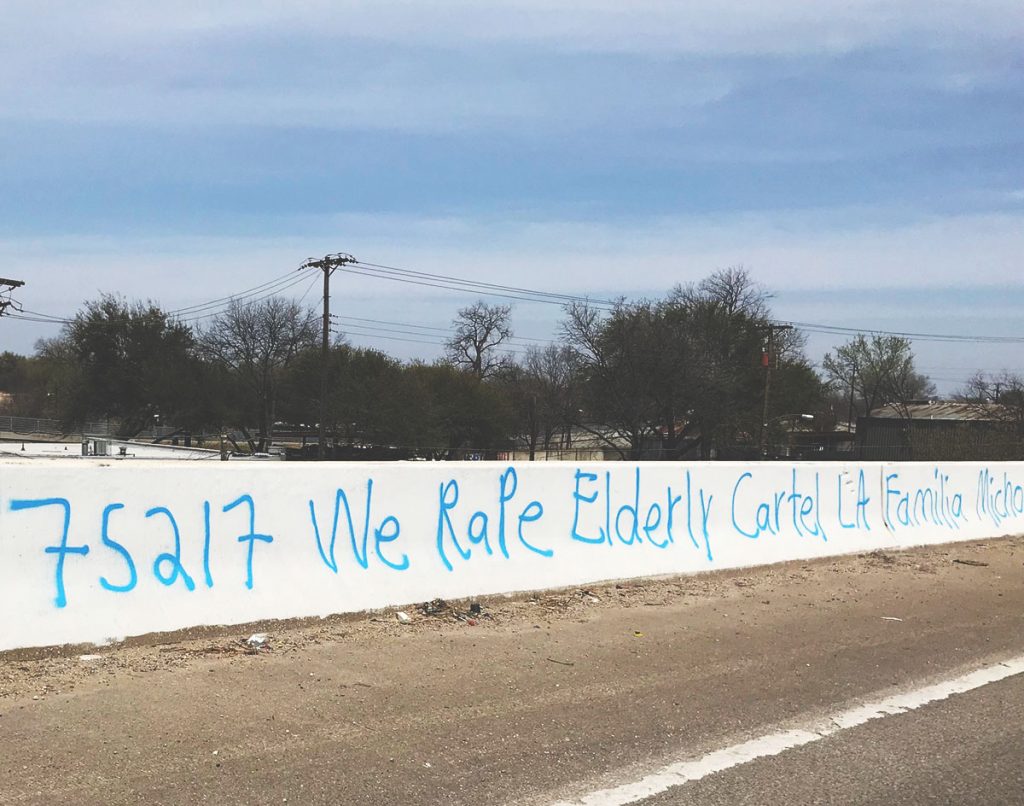 Today's message, however, is striking fear into East Dallas residents outside of that one home. East Dallas resident Maria Garcia, who says she uses that ramp almost every day in her commute, first saw the spray-painted message on her way to work at 9:30 a.m. today. After spotting it, she posted about it to her social media feeds, where she's seen other area residents also expressing discomfort at the contents of the message and what it might mean for their neighborhood.
Beyond threats of rape, concerns involve the mentioned of La Familia Michoacana, a brutal drug cartel in the Mexican state of Michoacan.
The individual responsible is clearly familiar with how the cartel operates. Though La Familia Michoacana claims to have disbanded around 2010, its remnants appear to have since reorganized, according to banners hung around the region in 2014 that proclaimed its return as La Nueva Familia Michoacana.
A DEA fact sheet on the cartel also lists it as currently active in Dallas. It's also noteworthy that the cartel with which La Nueva Familia has feuded with in Mexico — Nueva Generacion Jalisco — also has also had active cells in Dallas in recent years.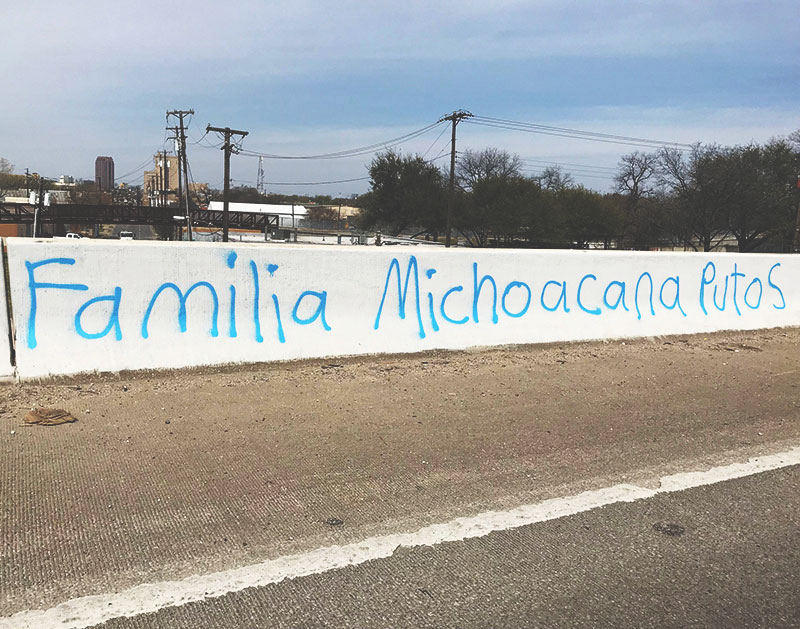 Dallas City Council member Adam Medrano says he expects the message — spray-painted within the boundaries of District 2, which he represents — to be cleaned up soon.
"It's been reported to city staff," Medrano says when reached for comment. "Between the city and TxDOT [Texas Department of Transportation ], it will get cleaned up. I asked them to do it ASAP. "