How Josh Kumler and His Bar Politics Team Became Drunk With Dallas Political Power.
Sitting outdoors at Ten Bells Tavern on Tuesday evening, Josh Kumler is holding court, engaged in a monologue that's already transitioned seamlessly from the details of Dallas' allegedly racist funding of Section 8 housing to jokes about whether Donald Trump has a tramp stamp.
But he's not just another inebriated patron. Kumler is here to host his recurring Bar Politics show, an event that's exactly what it sounds like — local political chatter, presented in a talk show format and hosted in a bar, with a heavy dose of satirical, Jon Stewart-like humor thrown in.
"This isn't for the Southlake chicks moving in as soon as a Starbucks opens in Oak Cliff," Kumler jokes at one point.
No, maybe it's not. But based on the number of people who are standing as they listen because there are no more seats, Bar Politics is still a draw — something that the young Dallasite clearly wants.
And this week, they're getting plenty of it. This Tuesday show at Ten Bells is the first of three Kumler's scheduled for the week — each of which will take place in Oak Cliff. On Wednesday night, he and his team would take their show to Small Brewpub. On Thursday, they'll return to the Wild Detectives, their show's original home, to end the quick run. Kumler, a 2014 theater graduate from Southern Methodist University, began Bar Politics at that popular bookstore-cum-coffeehouse back in April. Just five months later, it's grown too big for a single venue.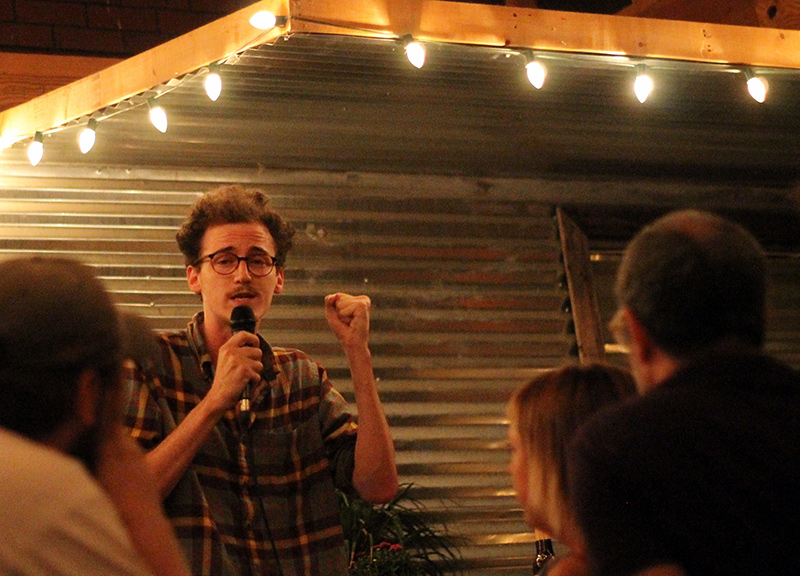 There's an opening monologue complete with sock puppets, the printed-out faces of various local politicians and even some background keyboard playing to sets the tone for Kumler's quips. As the show progresses, different members of the Bar Politics News Team approach the microphone and interact directly with Kumler. Chris McCreary, another SMU theater graduate, plays the side of Big Business but ends up just quoting Dixie Chicks lyrics and being run off invisible protesters. It's an alcohol-fueled comedy show that's designed to inform attendees on what political steps they can take in local government, but without specifically advocating for a single candidate or issue.
"Part of the problem [is that] you almost have to be paid professionally to actually understand what's going on," Kumler says of his inspiration for launching the concept. "But to me, once you take that time to cut through the bureaucracy, what is right and wrong becomes ridiculously clear."
Meri Dahlke, owner of Ten Bells Tavern, was approached by the Bar Politics group to house one of this week's three shows in part because of the venue her space provides, but also so she could be a guest interviewed by Kumler in the show's second half. As a business owner directly affected by a massive rezoning of Oak Cliff, Dahlke was recently thrust into a political spotlight that Kumler revels in.
She's taking it all in stride, as she said after her appearance on Kumler's show: "Basically, we're trying to work with people in the community who believe we need to be rezoned — and not stop the development, but make it responsible and cohesive to the neighborhood feel."
Hosting Bar Politics in her spot affords her the chance to continue the conversation on her own turf. There's certainly that: The bar stays packed throughout the intermissions and interviews as attendees mingle with one another and discuss current events.
"For dummies like me, I can have Josh be funny and say good things — but it's informative," says Dahlke. "You go away and you feel like it's entertainment. But you've learned something."
Still, Bar Politics is about, y'know, politics. As such, it goes over some heads with its sharp commentaries
"They should think more like people really don't know what they're talking about," Michael Satterwhite, a Dallas resident who admits to not being incredibly versed in the current local political climate, says following the Ten Bells show. "The presentation was just fine, but they could throw in something almost as if they're speaking to a 5-year-old, or to a layman — someone who seriously doesn't understand anything, period."
Kumler is OK with that criticism. He recognizes the issues he's getting into — especially Tuesday's zoning-heavy focus — can be incredibly complex. He doesn't blame the government for that, though; rather, he takes issue with the ways in which the media acts as a middle man. Where newspapers and traditional media fail, he hopes that Bar Politics can succeed.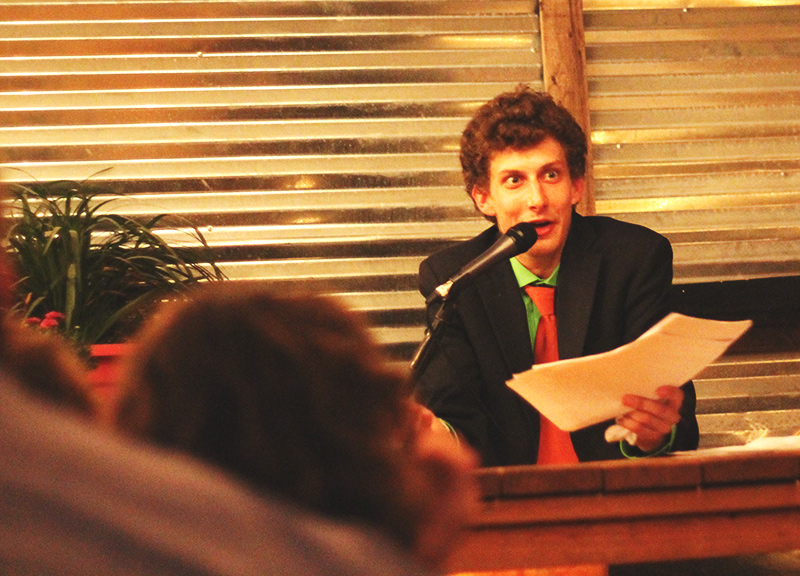 "It really is just a matter of someone being able to translate it, the insider bureaucratic language, to what we all can understand, without needing that vocabulary and that pedigree," Kumler says. "[That's how to] truly mobilize people in the way that we need to influence things like municipal elections."
To that end, Kumler has concluded each Bar Politics show to date with clear call-to-actions that the audience can follow if they choose. At the first episode, he helped attendees register to vote. At the second and third, he and his team encouraged voter turnout. On Tuesday, Kumler acknowledged that the best thing his audience could do for the issues of zoning and housing were to become better informed and to start conversations on the matter.
"Changing the way you think about it can affect actions in the future, even if the actions happen farther into the future than we might like," Kumler says.
As far as Kumler and the Bar Politics team's own future? They're working to turn Bar Politics into a monthly venture. They'd like to keep the admission free, but Kumler — who pays his rent in Oak Cliff through a part-time job and through theater gigs that "don't really pay anything" — also wants to find a way to make the event profitable through sponsors or other opportunities.
One thing he's certain of is that he'll have plenty of fodder for future episodes. Dallas politics makes that easy, he points out.
"Eventually," Kumler says, "the jokes start writing themselves."