This Week, All Was Fair For Old 97's.
Each week, we take a survey of the local music scene and try to determine which acts in town are really putting in work and seeing it pay off. Which bands have the most intriguing shows coming up? Which bands are getting the most press around town? Which bands have accomplished the most notable feats of late? Based off these criteria, our music writers submit a list to be weighted and compiled into a master list revealed each week in this here space. We like to think it's fairly revealing. Check out our previous Buzz Rankings here.
This weekend, the Old 97's return home temporarily in the middle of a month-long tour.
But it's not just for any run-of-the-mill club show. On Saturday, they'll headline the second annual Old 97's County Fair at Main Street Garden Park, a big ol' fest that you may notice happens to be named after them.
That sucker not only boasts a nice lineup with Lucinda Williams and Mavis Staples along with locals Jonathan Tyler, The Texas Gentlemen and (full disclosure, my own band) Vandoliers, but there will also be midway games and a big-ass Ferris wheel. Above all, though, it features the Old 97's playing their first hometown show since releasing their eleventh studio album, Graveyard Whistling last month.
By our count, this makes it their tenth time atop our weekly, local music power rankings.
Speaking of them Texas Gents, they'll also be playing the Pilgrimage Festival outside of Nashville soon enough, it was announced this week. A Gent they often back, one Paul Cauthen, was also interviewed by a GD Foo Fighter. Oh, and not to be outdone, the Gent affiliates in Atlantis Aquarius released their debut album with a show at Three Links last weekend.
Another show at Links, meanwhile, saw Mad Flava reuniting on stage for the first time in a couple decades, and getting everyone stoked about that fact. Also inactive for a long while, The New Year released their first new video in forever. This week also saw new videos Mel from The Outfit, Kaela Sinclair and Play-N-Skillz released new videos, too.
Elsewhere: Sealion, Blue the Misfit, Lizzie Boredom and Bobby Sessions are playing our five-year anniversary party at Double Wide this Saturday, and DJ Sober is selling off a bunch of his record collection at Off the Record on Sunday.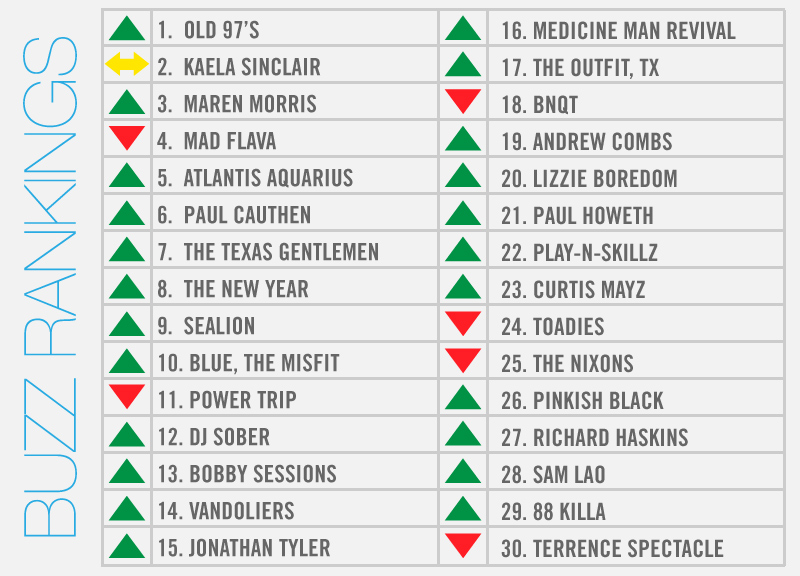 (Also receiving votes: Lift To Experience, Leon Bridges, Squirt DJ, St. Vincent, Sudie, Cottonmouth, Texas, FlexinFab, Ronnie Heart, -topic, Party Static, Son of Stan, Luke McGlathery, Cygnus, Joshua Ray Walker, Picnictyme, Astronautalis, Nervous Curtains, AV the Great, Smoke Paint, Vincent Neil Emerson, The Gordon Keith Band, Pueblo, Imaj, B.Anderson, Paul Slavens, Saudade Sisters, FEEVES, Two Knights, Little Beards, Siamese, Buffalo Black, Devy Stonez, Vegan Shark, FXXXXY, Pearl Earl, Tatiana Mayfield and Wrex.)