This Week, DJ DTrain Got The Biggest Hit Of His Life.
Each week, we take a survey of the local music scene and try to determine which acts in town are really putting in work and seeing it pay off. Which bands have the most intriguing shows coming up? Which bands are getting the most press around town? Which bands have accomplished the most notable feats of late? Based off these criteria, our music writers submit a list to be weighted and compiled into a master list revealed each week in this here space. We like to think it's fairly revealing. Check out our previous Buzz Rankings here.
It's almost certainly not the way that he wanted the world to learn his name, but a venerable Dallas DJ known as DJ Dtrain dominated local and national headlines this week when he was the victim of an assault that while out at a Cedar Springs club that may or may not have involved star Dallas Cowboys running back Ezekiel Elliott.
Since the widely reported attack, DTrain's name has been all over the news, even as he's side-stepped the cops to the point of Dallas Police completely dropping any investigation into the matter.
But, while he's remained silent, no one else could shut up about DJ Dtrain this week — and, for that reason, he was pretty easily, albeit unconventionally, the most buzzed-about act in Dallas this week. Congrats, we guess?
Perhaps not at all surprisingly, it is DJ DTrain's very first trip to the top of our weekly Dallas music power rankings — or, frankly, to ever receive any votes for placement at all.
Immediately following DTrain on this week's rankings are two acts that have definitely popped up in them previously — Warbeast, which scored a Dallas Observer cover in honor of its last-ever show, and Post Malone, who scored himself an opening slot on an upcoming Future tour and dropped a new single alongside Trae Tha Truth.
Blindwish, meanwhile, also checks into the top 5 this week thanks to its getting signed by Rise Records. And Daniel Hart pops into the fifth slot as he continues to earn acclaim for his work on the score for Dallas director David Lowery's A Ghost Story, which opens in Dallas this week.
Just outside the top five, Jon Bap ranks for getting featured twice on Okayplayer in the last week for new music he's released, and Demi Lovato checks in for dropping a new music video about a house party and for actually playing a house party in Southlake.
Lower down on the list, Don Henley will celebrate turning 70 at the AAC this weekend, and The Rocket Summer will celebrate his breakthrough album turning 10 years old with a show at Trees.
Elsewhere: A. Savage checks in for performing a free show at The Foundry in support of the Parquet Courts frontman's upcoming solo album; Cody Lynn Boyd got highlighted by both the Fort Worth Weekly and the Fort Worth Star-Telegram; and a whole slew of acts make appearances thanks to their involvement in the Granada Theater's Free Week.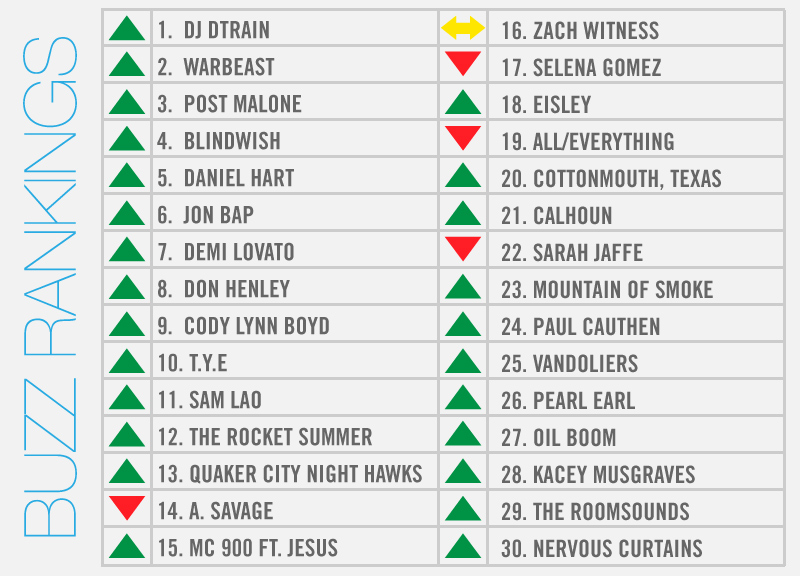 (Also receiving votes: Francine Thirteen, Redeye, House of Reveries, Curtis Mayz, Buffalo Black, Jacob Metcalf, Triple Digital, Nite, Northern National, Jessie Frye, Valise, Bobby Sessions, The Buck Pets, Herrick & Hooley, Love Jacob, 12 Gage, Cardiac, Silas Nello, Lil Lady, Ghoulfive, Coach Tev, Ursa Minor, Funky Knuckles, Cygnus, Greg Schroeder, Vegan Shark, Teenage Sexx and SuperSonic Lips.)