This Week, Leon Bridges Partied Like It Was His Birthday.
Each week, we take a survey of the local music scene and try to determine which acts in town are really putting in work and seeing it pay off. Which bands have the most intriguing shows coming up? Which bands are getting the most press around town? Which bands have accomplished the most notable feats of late? Based off these criteria, our music writers submit a list to be weighted and compiled into a master list revealed each week in this here space. We like to think it's fairly revealing. Check out our previous Buzz Rankings here.
Listen: If your fan base is so rabid and the thirst to just be in your presence is so real that you can sell out a pretty decently sized venue simply based on the premise that you're going to be in the building, dancing along to the music the DJ is playing? Yeah, you're probably having yourself a pretty big week.
Such was, of course, the case this week for Leon Bridges, who partied the night away at the It'll Do Club last Friday night along with fans who gathered to celebrate his birthday. Only, see, here's the thing: That night — which was put together by DJ Sober, which featured a cameo performance from Dallas rap legend Big Tuck, which included a brief (surprise-ish) acoustic set from Bridges himself, and which saw proceeds from its ticket sales donated to charity — didn't even go down on Bridges' actual birthday! That date, it turns out, is actually today.
So, hey, happy birthday to you, Leon! Our gift to you today is naming you the most buzzing act in North Texas for the week — although, truth be told, that's just a coincidence, as last Friday's draw pretty much locked up that win for you before doors even opened at your party.
For those keeping score at home, this marks Bridges' 24th time coming in at No. 1 on these here rankings since we started compiling them almost five and a half years ago now. That number ties him with Erykah Badu as the artist in town with the most Buzz No. 1s.
Coming in close behind Bridges this week is another top-tier All-Time Buzzer, one Sarah Jaffe, who has 14 Buzz No. 1s to her own resume. She, of course, is still riding high from last week's release of her stellar new Bad Baby LP, which in turn netted her a neat feature in Interview magazine this week.
Rounding out the top five, along with DJ Sober, who, as mentioned previously, helped throw that rocking party for Bridges, is Grand Prairie's Own Selena Gomez, who was revealed as the most paid person on Instagram, and Tripping Daisy, which somehow drew a big crowd to a venue no one had ever heard of before in North Richland Hills in its most recent reunion gig on Saturday night. That Daisy show also featured Loafers, Mind Spiders and The O's as openers, hence their positioning in this week's rankings.
Elsewhere: All/Everything got asked by The Weeknd's team to host some All The Weeknd Everything bashes across the country; Maren Morris got engaged; Warbest announced some cool details about its final performance; Daniel Hart continued earning nods for his score and soundtrack work for A Ghost Story; Andrew Savage of Parquet Courts announced a new solo LP and tour; Kirk Franklin announced that he was behind a new recording studio in Downtown Arlington; Diego Money and Post Malone both got booked tot he Day N Nite Festival in California; The Rocket Summer announced a new tour and dropped a new song; and Sealion and The Unlikely Candidates were announced as the headliners for SLAM Fest.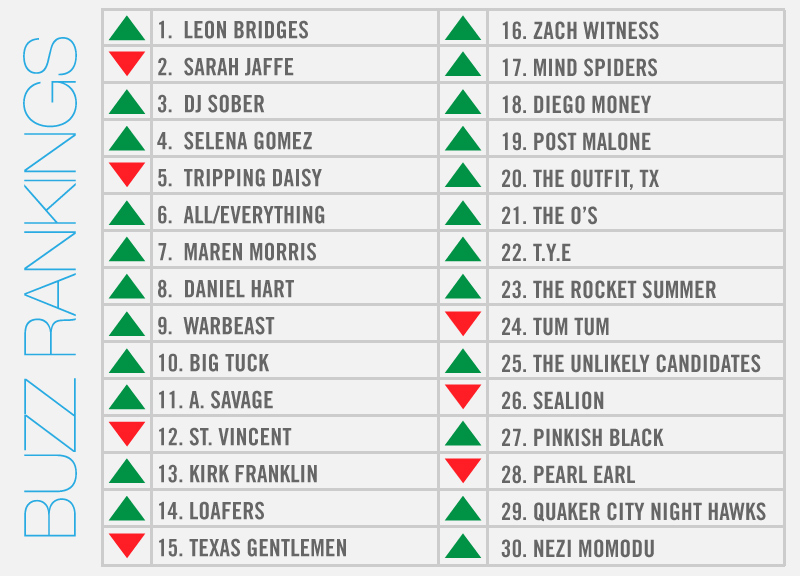 (Also receiving votes: Polyphonic Spree, D. Anson Brody, Clint Niosi, Kelly Clarkson, Valise, Eisley, Bravo, Max!, Dead Mockingbirds, Loudiene, Dead Flowers, New Science Projects, Loach, Fooly Faime, Pierce Washington, Never Friends, Cas Haley, George Quartz, Little Beards, Dove Hunter, Jibe, Skinny Cooks, Pat Ron, The Eggshells, Dead Beat Poetry, Def Rain, Jon Bap, Herrick & Hooley, Cardiac, Silas Nello, Ghoulfive and Coach Tev.)
Cover photo of Leon Bridges by Karlo X. Ramos.