This Week, Sam Lao Caught A Grenade For Us All.
Each week, we take a survey of the local music scene and try to determine which acts in town are really putting in work and seeing it pay off. Which bands have the most intriguing shows coming up? Which bands are getting the most press around town? Which bands have accomplished the most notable feats of late? Based off these criteria, our music writers submit a list to be weighted and compiled into a master list revealed each week in this here space. We like to think it's fairly revealing. Check out our previous Buzz Rankings here.
This week, most of the biggest movers and shakers in the North Texas music has one thing in common: They got handpicked by the folks at Margin Walker Presents to join the bill for one of this fine state's most prominent music festivals.
That's the case with five of this week's top 10 acts, anyway, as Sam Lao, All/Everything, Power Trip, Snow Tha Product and DJ Sober each got tapped this week to take part in the 2017 Sound on Sound Fest that's to take place down Austin way this coming fall.
In Lao's case, though, that was just one accomplishment that had area music folk talking this week. The other was the release of the music video for her song "Grenade" off of last year's SPCTRM LP, which was directed by her hyper-talented husband Jeremy Biggers and had damn near everyone who saw it dropping their jaws over how well it paid homage to Hype Williams' '90s music video work.
That was more than enough to earn Lao the top spot in this week's Dallas-area music power rankings — her second such victory of the year.
Two of Lao's fellow SOS-playing acts — the crew behind the recurring All/Everything bashes and Power Trip — also got extra pushes this week, thanks to the former continuing its one-off parties across the country and it being revealed that the latter's Nightmare Logic LP is one of the 10 best-reviewed albums of the year thus far.
As for the rest of this week's top 10: The Toadies made waves this week for announcing a new album, the return of their Dia De Los Toadies festival later this summer and a new tour; Post Malone got involved in a bit of a beef but rebounded with a Future-featuring remix of his song "Congratulations"; Sealion and Siamese shined as the headliners at King Camel's Local Education Fest III at Three Links last weekend; and Medicine Man Revival got a lot of social media love for posting a new song featuring Dallas rapper -topic for just 24 hours last Friday.
Further down the list: Sarah Jaffe continued to tease her soon-to-be-released Bad Baby LP; Go Yayo and Mo3's weird involvement in a Fort Worth nightclub shooting only got murkier; Crit Life readied its next Free WiFi bash; Eli Young Band got all sorts of press for its new album; Selena Gomez dropped a new video and so, too, did BNQT.
Elsewhere: Twisted Black appeared on Go Yayo's new mixtape; Dustin Cavazos announced that he helped write the new X Ambassadors song that appears in the end-credits for the new Transformers movie; These Machines Are Winning got more local press love for their graphic-novel-meets-album concept; and Tree continued her Monday night weekly residency at Three Links.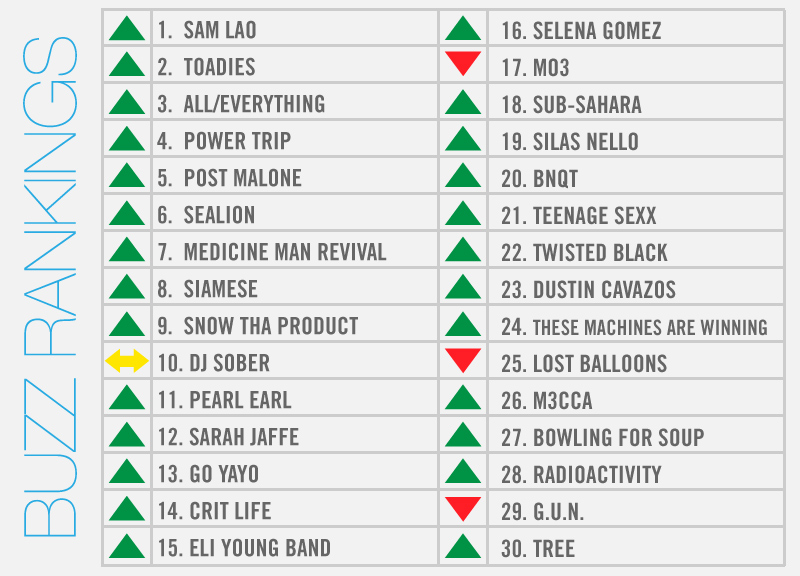 (Also receiving votes this week: kirtsin™, Steve Gnash, Vegan Shark, Monoculture, Secrecies, Felt & Fur, Classy Affair, Lu Sloan, Responsible Johnny, Rakin Al-Jabbaar, Drakulas, Majik Taylor, The News Can Wait, Mega Drive, Lucky Peterson, Bad Sports, TYE, Wrex, House of Reveries and Loafers.)
Cover photo by Karlo X. Ramos.