This Week, Siamese Didn't Party Alone.
Each week, we take a survey of the local music scene and try to determine which acts in town are really putting in work and seeing it pay off. Which bands have the most intriguing shows coming up? Which bands are getting the most press around town? Which bands have accomplished the most notable feats of late? Based off these criteria, our music writers submit a list to be weighted and compiled into a master list revealed each week in this here space. We like to think it's fairly revealing. Check out our previous Buzz Rankings here.
Last weekend, still kinda sorta newish Dallas band Siamese released its debut album. It'll surely go down as one of the year's better local releases.
Just as important with a band like Siamese, though, is the careful thought and planning that goes into the project. With them, costumes, makeup, choreography, set design and the like are just as important as the music itself, which the band took to even greater heights with its Saturday show at the Texas Theatre.
The extra effort paid off, too, earning the band its first-ever trip to the top of our weekly, local music power rankings.
At the other end of the spectrum, the band in the No. 2 hole is anything but new. Aside from gearing up for its first show in 20 years, Tripping Daisy made a couple more announces today, including the fact that they'll be adding some more Texas shows to their docket this summer. Oh, we also got the inside scoop on the band's 2017 lineup.
Down the list, Scott Copeland has had a whirlwind of a month, which ended with him going to prison on Monday. It's worth reading up on, to be sure.
Also, like Siamese before it, The Angelus has an album release show at Texas Theatre this weekend. Also, for what it's worth, Jesus Chris + the Beetles will release its sophomore record at a house show tonight.
Other big shows this week include The Unlikely Candidates and Sealion playing the big St. Patrick's Day parade after-party at Energy Square this Saturday. Meanwhile, Dead Flowers, Medicine Man and Vegan Shark are but a few of the bands celebrating Three Links' four-year anniversary this weekend. And Northern National is headlining The Prophet Bar this weekend, too.
Elsewhere: Mo3 signed to Epic; Mad Flava is reuniting; Sudie and Rob Viktum put out new videos; and R&B singer Demarcus "X-Man" Washington was killed.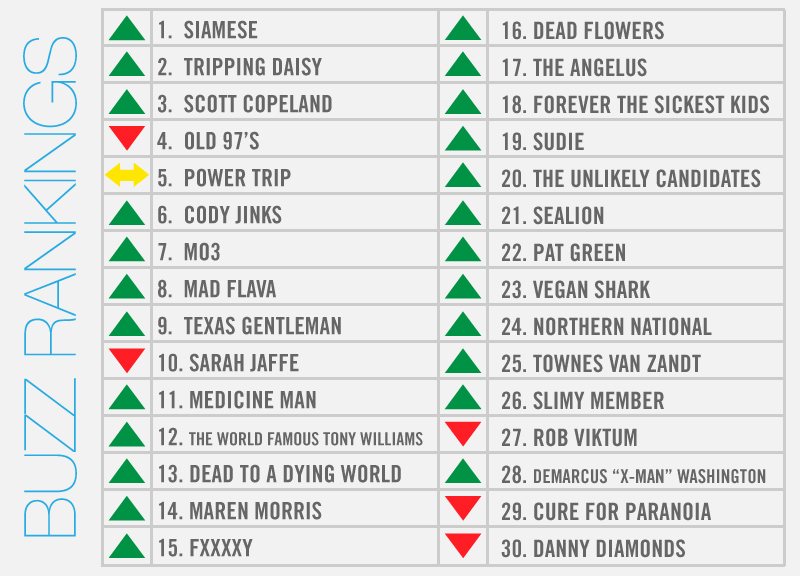 (Also receiving votes: Christy Ray, Paul Cauthen, -topic, Blake Ward, Felt & Fur, Kissed Killed, Ish D, Pueblo, Ty Richards, Monoculture, Mayta, Supersonic Lips, Quaker City Night Hawks, Terrence Spectacle, Dezi 5, Pat Ron, Junk Food, Go Yayo, Little Beards, Jesus Chris + The Beetles, Dylan Bishop, Mattie Michelle, Obstruction, G.U.N., Wesley Jensen, Dear Rachel, iill, Pantera, Loafers, The Outfit, TX, Recent Rumors and Garrett Owen.)
Cover photo by Cal Quinn.