This Week, Kacey Musgraves Said 'Yes.'
Each week, we take a survey of the local music scene and try to determine which acts in town are really putting in work and seeing it pay off. Which bands have the most intriguing shows coming up? Which bands are getting the most press around town? Which bands have accomplished the most notable feats of late? Based off these criteria, our music writers submit a list to be weighted and compiled into a master list revealed each week in this here space. We like to think it's fairly revealing. Check out our previous Buzz Rankings here.
We're but a few days removed from Christmas, but what a Christmas season Kacey Musgraves has been having! First, her Very Kacey Christmas tour wound down at Billy Bob's last week and then she got engaged to Halloween singer Ruston Kelly on Christmas Day at her East Texas home — a fact not one, but two outlets in town felt was newsworthy enough to merit a standalone article.
Anyway, this being something of a slow news week and these rankings being based partly on what other outlets in town are covering, well, that means Kacey finds herself atop our weekly, local music power rankings for the second straight week.
But, like it has said up in that italicized bit for 250-plus editions of this column now, another aspect we base these things on is shows. And with this being New Year's Eve weekend, well, there's lots of those. Here's a rundown:
• Jonathan Tyler's headlining the Granada for the umpteenth year in a row.
• Ishi is headlining Trees for the umpteenth year in a row.
• Seryn is playing its last-ever show at the Kessler.
• The Rich Girls are headlining Double Wide.
• Michael Stein, Kyle Dixon and the rest of their S U R V I V E bandmates are playing It'll Do Club.
• Charley Crockett is headlining The Rustic.
• SoMo is headlining South Side Ballroom.
• Toadies and Eli Young band are each headlining Billy Bob's on back-to-back nights.
• Tony Schwa's Cool Out returns to Dada tomorrow.
Elsewhere: Ty Richards, Sam Lao and Post Malone took top spots on our running top 100 local songs of the year countdown; Dave Abbruzzese bitched some more about his Rock Hall snub; and Erykah Badu announced her annual birthday bounce at The Bomb Factory.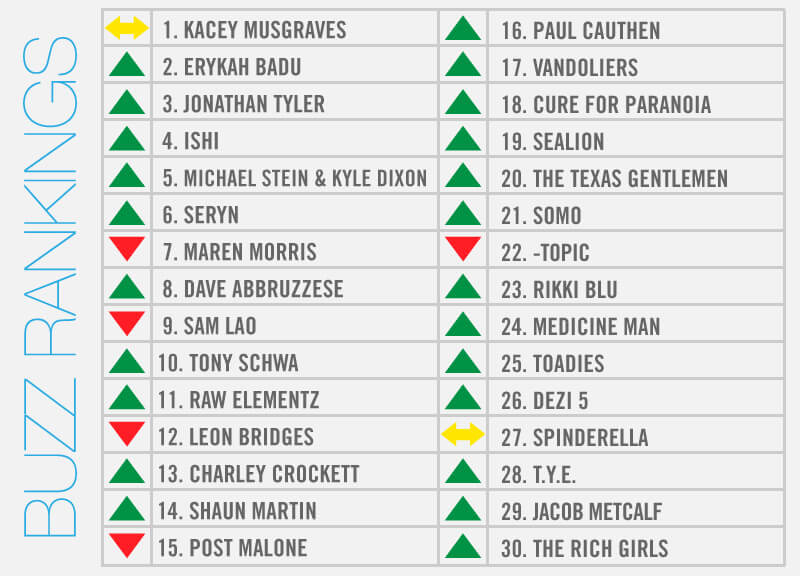 (Also receiving votes: Eli Young Band, Drowning Pool, Ty Richards, Sudie, Bobby Sessions, Party Static, Devy Stonez, The Gritz, Jessie Frye, Conner Youngblood, Mattie Michelle, Gollay, Ten Hands, Ronnie Heart, LOAFERS, Prophets & Outlaws, The Warden, Francine Thirteen, Randy Travis, Rei Clone, The Gorehounds, Honor System, Rat Rios, St. Vincent, Vincent Neil Emerson, Dark Rooms, Son of Stan, Obstruction, Adam Pickrell, The Van Sanchez, Sub-Sahara.)