Kacey Musgraves Put A Bow On Her Week.
Each week, we take a survey of the local music scene and try to determine which acts in town are really putting in work and seeing it pay off. Which bands have the most intriguing shows coming up? Which bands are getting the most press around town? Which bands have accomplished the most notable feats of late? Based off these criteria, our music writers submit a list to be weighted and compiled into a master list revealed each week in this here space. We like to think it's fairly revealing. Check out our previous Buzz Rankings here.
It's beginning to look a little like Christmas everywhere we go.
That was especially true at Billy Bob's last night, where Kacey Musgraves played the final show of her Very Kacey Christmas tour. Hope you didn't miss that shit, because she slayed. (Or is it "sleighed"?)
At the show, she largely drew material from her recent Christmas album, which she gave a long interview to Billboard about last week. One of the main focuses of that piece centered around the song "Present Without a Bow," which is a duet with Leon Bridges. For his part, Bridges joined Musgraves on stage last night to close out her first set.
Anyway, all that was enough to send Musgraves to the top of our weekly, local music power rankings once again.
Just behind her was another badass lady expat, St. Vincent, who trolled Guitar World on their cover whilst also calling them out on their misogynist bullshit. She's a badass. She also did an interview with the magazine, where she revealed she's got a new album due out in the spring.
Meanwhile, Dark Rooms earned its spot by premiering a new video and then performing its last-ever Dallas show.
Speaking of big shows: Siamese and -topic are playing Do214's Christmas party at Dada tonight; Drowning Pool's playing a Toys for Tots benefit at Trees this weekend; Forever the Sickest Kids is playing So What?! in the spring; and Spinderella played a '90s party at RBC earlier this week.
Elsewhere: John Congleton and Adam Pickrell had a hand in Nelly Furtado's new Dallas-set song/video; 19-year-old producer VohnBeatz earned his first Gold record; and Curtiz Mayz, A.Dd+, Pueblo and Medasin all earned spots in the top 10 of our ongoing countdown of the 100 best local songs of 2016.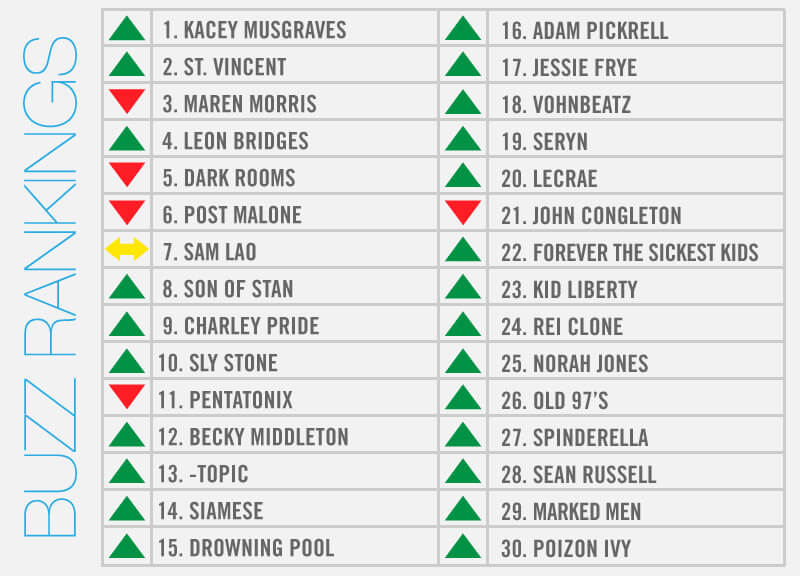 (Also receiving votes: Daniel Markham, Vegan Shark, Danny Diamonds, Sub-Sahara, Oil Boom, The Hendersons, Quaker City Night Hawks, Lindby, Rat Rios, Ronnie Heart, Herrick & Hooley, Curtiz Mayz, Pueblo, Power Trip, The Van Sanchez, Ryan Hamilton, A.Dd+, Jesus Chris + the Beetles, Medasin, Drawn By Jaymz, From Parts Unknown, Christy Ray, PVC Street Gang, Corner Suns, Deflowered Electric Flesh Bride, Little Beards, War Party, Goodnight Ned, Whiskey Folk Ramblers, Ishi, Paul Cauthen, Jonathan Tyler and The Outfit, TX.)