This Week, Josh Weathers Had A Ball.
Each week, we take a survey of the local music scene and try to determine which acts in town are really putting in work and seeing it pay off. Which bands have the most intriguing shows coming up? Which bands are getting the most press around town? Which bands have accomplished the most notable feats of late? Based off these criteria, our music writers submit a list to be weighted and compiled into a master list revealed each week in this here space. We like to think it's fairly revealing. Check out our previous Buzz Rankings here.
As we reported last week, Fort Worth company Encore Live has been a major force behind tomorrow's much-written-about Donald Trump Inauguration – and another eight inauguration-related events.
One of those affairs, the Salute To Our Armed Services Ball that's being thrown at the National Building Museum, will feature some Fort Worth flavor when Josh Weathers performs. (We've since learned that Fort Worth act Green River Ordinance has been tapped to play tonight's Texas State Society-hosted Black Tie & Boots Ball, too.)
All week long, the inauguration has been one of the most buzzed-about events in the entire country and, politics aside, playing it should help Weathers earn a little shine, if not for his music, he says, then hopefully for his Love Like You Mean It.
Hey, it already is, I suppose!
Meanwhile, the Old 97's stayed visible by continuing to push this April's Old 97's County Fair. They also popped up on a Rolling Stone Country list of the most anticipated country releases for 2017. Another list from that publication cited locals Troy Cartwright and Mike Ryan as some of the most promising new faces in that genre. And one of last year's most promising new country faces, Cody Jinks, is performing on Conan tonight.
Jinks' publicist also told us earlier this week that the country singer-songwriter will have another new LP out later this year. In the interim, list-makers like Power Trip, Pearl Earl, Eisley and Ty Richards will all put out new albums of their own in the near future.
Elsewhere: St. Vincent released a horror movie and more colors of her signature guitar; Eli Young Band's tour bus caught fire; MC 900 Ft. Jesus is close to selling out his Kessler reunion show; and Tommy Allsup passed on to the next plane.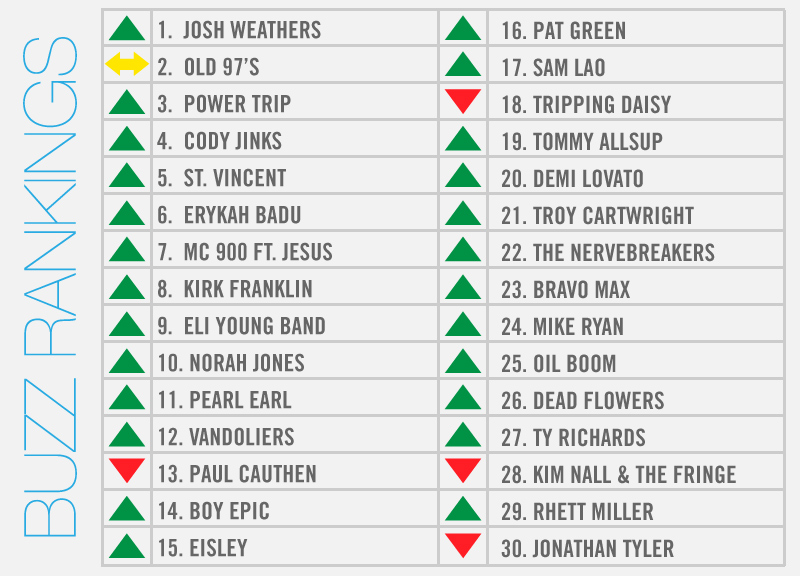 (Also receiving votes: Conor Wallace, Eleven Hundred Springs, Vincent Neil Emerson, Texas Gentlemen, Dark Rooms, Luke Wade, Spinderella, The Angelus, Corner Suns, Bobby Sessions, Lizzie Boredom, Garret Owen, J. Catalyst, Mothership, Pyrex Pirates, PVC Sreet Gang, Bitch Bricks, Coywolfe, JT Donaldson, Acid Carousel, Sealion, Heavy Hands, Spike Chester, AV The Great, The Calmative, Ronnie Heart, Son of Stan, Midlake, Akkolyte, Daniel Markham, MNYNMS, Jenna Clark, Trai Bo, Afu, Young & Brave and Vegan Shark.)
Cover photos via the Josh Weathers Band Facebook page.