This Week, Maren Morris Was Shiny And New.
Each week, we take a survey of the local music scene and try to determine which acts in town are really putting in work and seeing it pay off. Which bands have the most intriguing shows coming up? Which bands are getting the most press around town? Which bands have accomplished the most notable feats of late? Based off these criteria, our music writers submit a list to be weighted and compiled into a master list revealed each week in this here space. We like to think it's fairly revealing. Check out our previous Buzz Rankings here.
What do think is a bigger honor for Maren Morris this week, taking home the top spot in our weekly, local music power rankings or winning New Artist of the Year at the CMA Awards? Or was it performing our 29th favorite local track of 2015 at those same awards?
Probably some combination of the three, we'd guess!
We kid, we kid.
But, on a serious note, this is pretty rad: Eight of the last 10 Buzz Rankings have been won by ladies.
Morris is, of course, a big reason why, taking home five of those wins. (Erykah Badu and Kacey Musgraves combined for the other three.) Similarly, "chicks," took home three of the top four spots in this week's list — including the Dixie Chicks themselves, who joined forces with Beyonce to perform the latter's "Daddy Lessons" and rile up all the racist, mainstream country-loving masses with their Black Lives Matter support at the same CMA Awards.
Awesome.
Another rockin' lady — and another country star — scored points this week, too, as Miranda Lambert was announced as a headliner at next year's Off the Rails Country Music Festival up Frisco way.
Similarly visible this week was the foursome of Dana Harper, Austin Allsup, Josh Halverson and Simone Gundy, who all remained alive on The Voice, giving locals something like a 20 percent chance of winning the thing. Also getting love this week was Kirk Franklin, who got the mini-doc treatment via MTV.
Farther down the list: Brutal Juice celebrated the release of its first record in two decades at Three Links this week; A.Dd+ released a video and new LP and did so without much celebration, although it might be the best thing the late group ever did; and Joe Cripps, once of Brave Combo and a number of other Denton-connected acts, has been missing for going on two weeks now.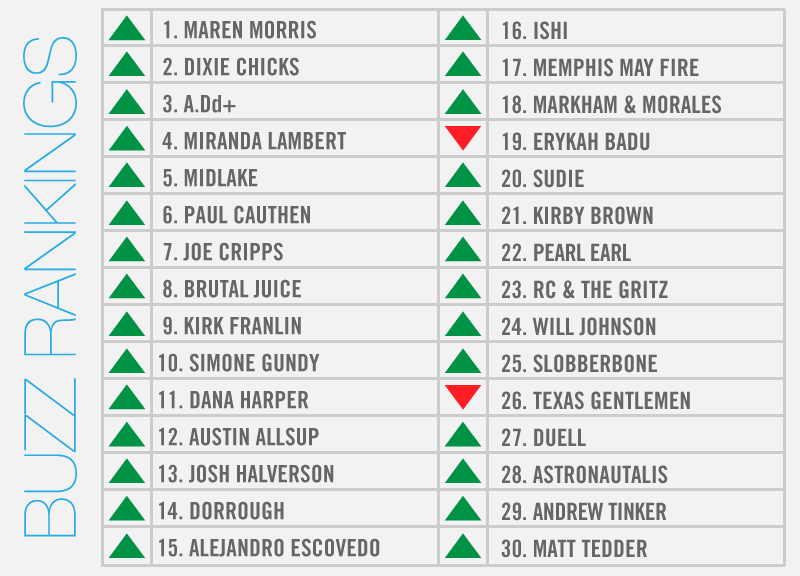 (Also receiving votes this week: Lily Taylor, Vandoliers, Party Static, Koolquise, Larry g(EE),
Honor System, The Dividends, GhoulFive, Loafers, Blue, the Misfit, Christy Ray, Ronnie Heart, Ty Richards, -topic, The Hendersons, Bravo, Max!, Starbass Laboratories, Lou Charle$, DJ Sober, Sikwitit, Ella Minnow, Bad Mountain, Prior Panic, Sur Duda, Zane Williams, Jesus Chris + The Beetles, Go Yayo and Character.)