How The Mavs ManiAACs Thrust Their Way Into Our Hearts.
All photos by Jonathan Zizzo.
One by one, they slowly trickle into a back room of Elevation Fitness in Downtown Dallas. They saunter about the space, watching their own reflections along the mirrored walls of the space.
These men — some of the most boisterous in Dallas — have gathered to practice their dance moves. It's something they do twice a month.
Large beads of sweat slowly fell down their cheeks. Hips thrust side to side. Bellies jiggle. The distinctive sound of dubstep fades into the background.
It is a sight to be seen, but not an altogether rare one: They are the Mavs ManiAACs, the original all-male dance troupe in the NBA, and, for the past 11 seasons, they've become a fixture at home games for the Dallas Mavericks.
On this chilly Thursday night, though, they look exhausted. And perhaps they have a right to be: They're working out the choreography for a new dance — a salsa dance — that they'll debut during third quarter of the Mavericks' February 24 game against the Los Angeles Lakers at the American Airlines Center
They've been practicing for an hour at this point, but, now, things are really starting to get serious.
"ManiAACs!" yells their team captain, Rob "Big Rob" Maiden.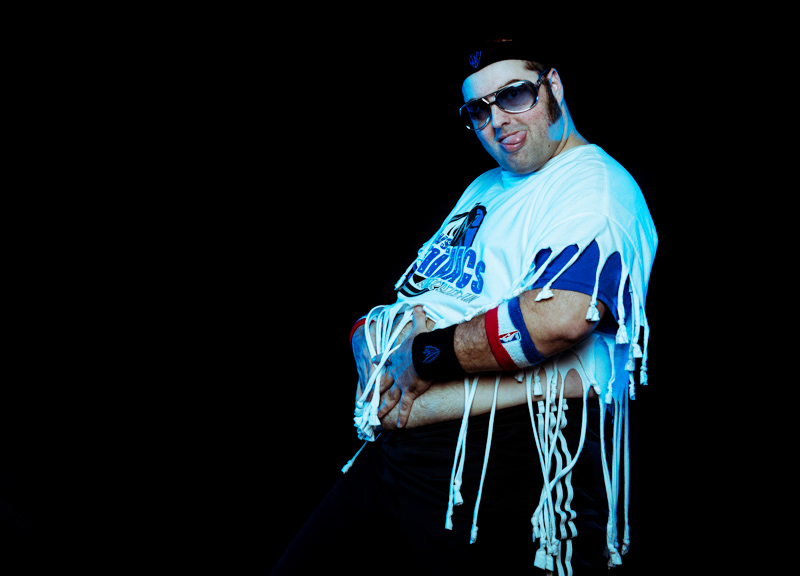 His full-figured teammates, who've begun chatting amongst themselves during their brief break from dancing, turn back toward Big Rob.
In unison, the men called their chant: "GO MAVS!" Within seconds, practice resumes.
The Mavs ManiAACs' story began 11 years ago, the humorous brainchild of Mavericks owner Mark Cuban. Their genesis was simple enough: Cuban, while attending a Mavericks away game, saw a larger gentleman dancing away on the Jumbotron, throwing the crowd into a frenzy, and became inspired.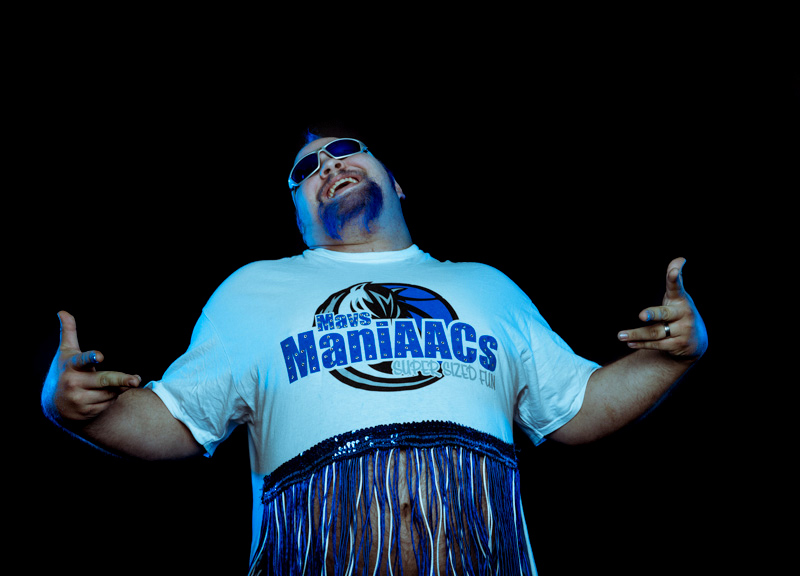 That's when the idea clicked for Cuban, says Gina Calvert, corporate communications and community relations director for the Mavericks. Without hesitation, he decided that he wanted an all-male dance team to perform during Mavs home games, to amp up and entertain the crowd.
Soon as he returned from his trip, he told his marketing team to make it happen — and quickly. Over the course of the following month, the Mavs' marketing team began placing job ads throughout town, seeking "large" and "beefy" men with even larger personalities to audition for the first incarnation of what would later become the ManiAACs, whose name is a play on the America Airlines Center, the arena that the Mavericks have called home since 2001.
"My story goes back to the very beginning," Big Rob says while warming up for that Thursday night practice. "A lady I work with saw [an ad for the ManiAACs audition] and she thought that I would be a great candidate to do something silly on the court.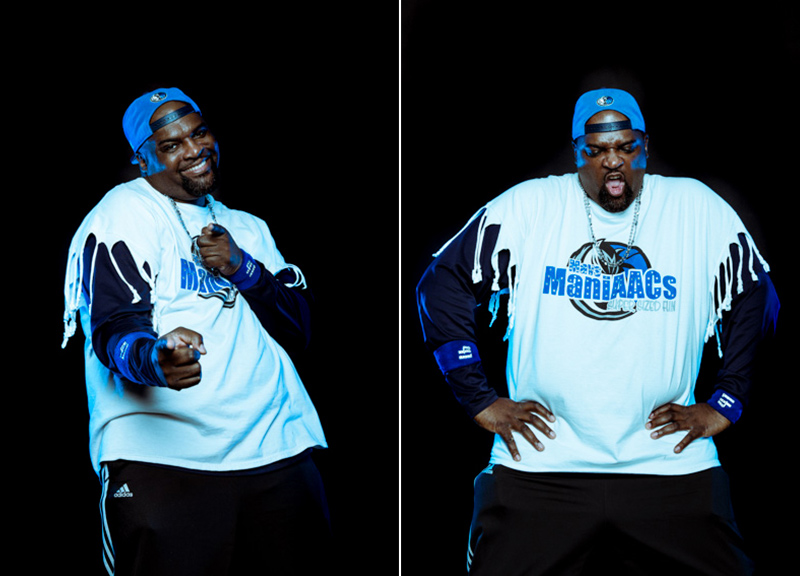 His co-worker assumed that he — an accountant with the Dallas Cowboys, husband and father to two teenage boys — would just be a natural fit for the ManiAACs. Behind his back, she submitted his application.
"I got a call from the Mavs, getting invited to an audition without even knowing what it was about," he says. "I kind of went into it blindly, not really wanting to go because I was thinking 'I'm not really going to do that!' And, 11 years later, it has totally, one million percent, changed my life."
Unique as it may sound, though, Big Rob's story isn't all that different from those of his 18 seemingly ordinary, voluptuous teammates, each of whom was hand-selected to join the squad and perform in front of thousands of fans as part of the Mavericks' entertainment team.
"These guys have full-time jobs and dedicate this time to come and work on these routines that [are] not going to be seen on television," he says.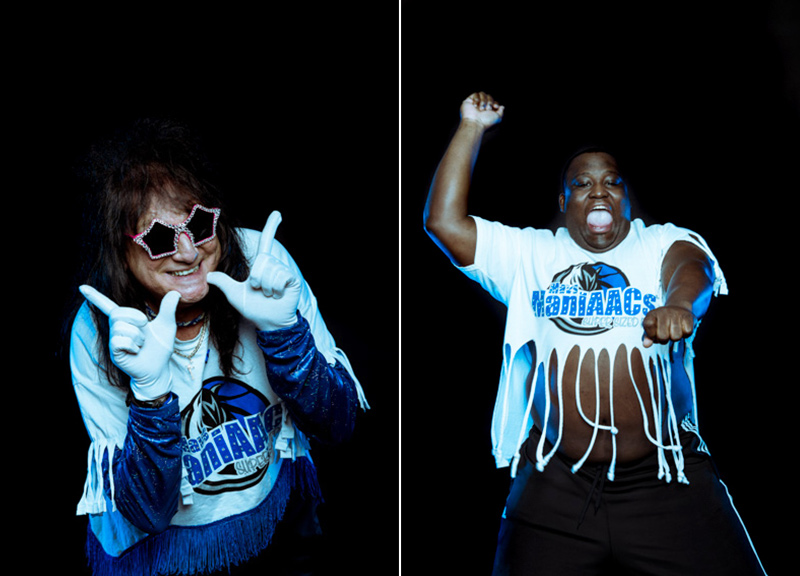 And that's true: ManiAACs performances are not a part of most Mavericks game broadcasts. They're not even necessarily booked to perform during every one of the team's home games. And yet, nonetheless, these men spend three hours together here at Elevation Fitness twice a month, perfecting their unique routines.
"We kind of fell in love with the smiles," Big Rob says, speaking now for his teammates as well. "We fell in love with the love that we were getting, just being regular guys from all walks of life."
They really do put a lot into their presentation, too. And not just sweat, either: The moves, the music, the midriff-baring uniforms — they all come from the minds of the ManiAACs, who have each learned to step out of their comfort zone all in the name of entertainment.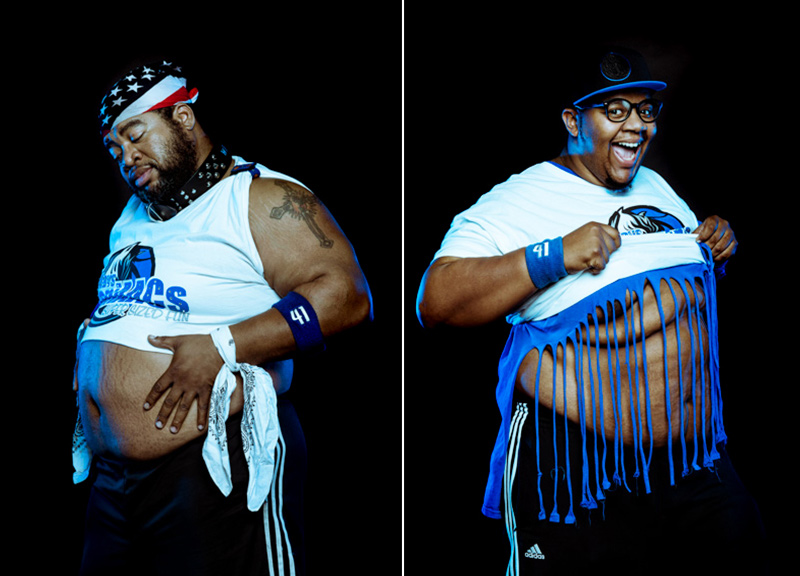 "My nature is to be shy," says Willie "Thrill Will" Meshack Jr., a four-year member of the ManiAACs. "I am more reserved. But I think the way that I deal with that is to make people laugh. And if I can get you laughing… oh!"
Just as its members have transformed over time, so too has the team itself. Over the years, the ManiAACs have very much evolved into more than just Maverick fans' performers: Last year alone, the men ranked up nearly 100 performances outside of the AAC. In previous years, they appeared on The Tonight Show with Jay Leno and The Best Damn Sports Show. In 2010, however, the group caught a really big break, auditioning for a little talent show called America's Got Talent and making it through the first two rounds of the nationally televised competition.
"I was so blown away to even get through the Dallas rounds," says Big Rob. "I was so excited for America to see so many guys from different walks of life come together — guys that you wouldn't normally see in the entertainment world."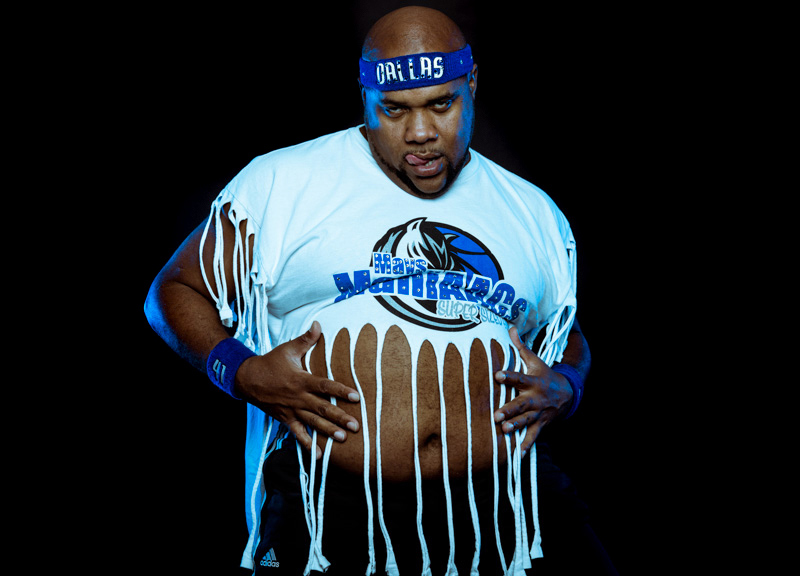 They didn't appear as the Mavs ManiAACs on American's Got Talent, though. At the request of the show's legal team, which wanted to avoid trademark infringements with the NBA, the group was asked to change their name to the more simplified "Da Maniacs." In return, they were able to perform for over three million viewers and were flown to both Las Vegas and Hollywood to do so. Though they were eventually sent home during the third week of competition, the team was pleased with their efforts.
Well, mostly. During the ManiAAC's final America's Got Talent performance, Eric "Rhino" Coronacion, an Internet marketing consultant and a member of the ManiAACs for the past four years, accidentally and prematurely dropped his pants while dancing.
"All of a sudden, I'm dancing and I see Sharon Osborn [drop her jaw and laugh], and I'm like 'What's she laughing at?'" Rhino remembers. "And I look down and my pants were on the ground. I knew then [what had happened] — this is horrible and this just happened on TV!"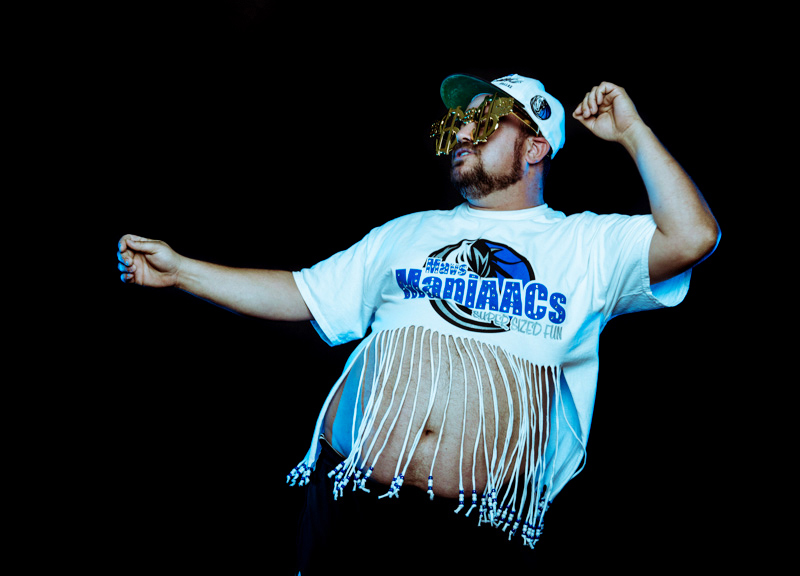 Much like his nickname, Rhino is short in stature yet big in heart. He first heard of the ManiAACs while he was still in college, but said he began dreaming of becoming a member and enjoying all the perks that came with the position as soon as he found out about the team. When he eventually made the team, though, reality set it.
"People don't realize all the hard work we put into learning these dances and creating the music," he says. "It is definitely time-consuming."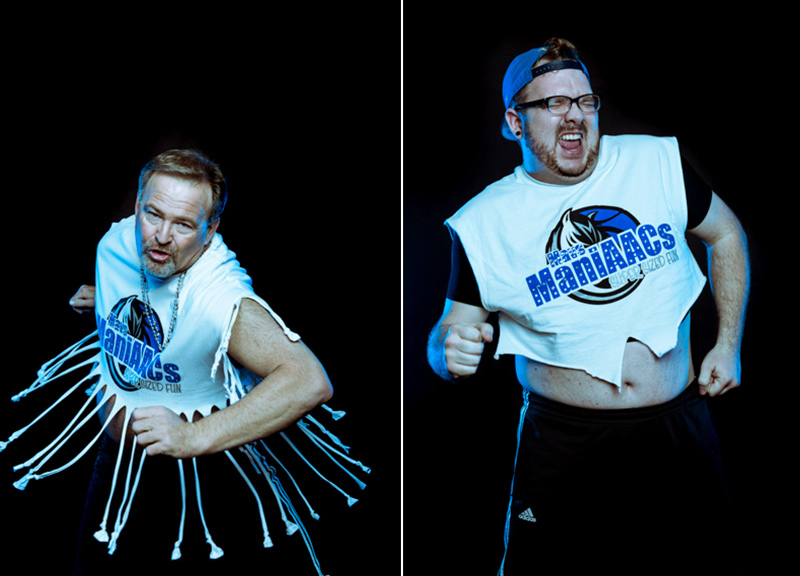 But, clearly, the chance for these men to let their freak flags fly so high and in public trumps that time concern.
"I don't get to be dumb in front of so many people at the same time so often," says Drew "Whomp Whomp" Lyons, a first-year team member, while constantly adjusting his glasses and sideways Mavs cap. It's not just about being crazy, though. Lyons says he's constantly impressed by his teammates, and not just on the dancefloor. "(We) have a lot of personalities that are just crazy. But a lot of us know we are the coolest people."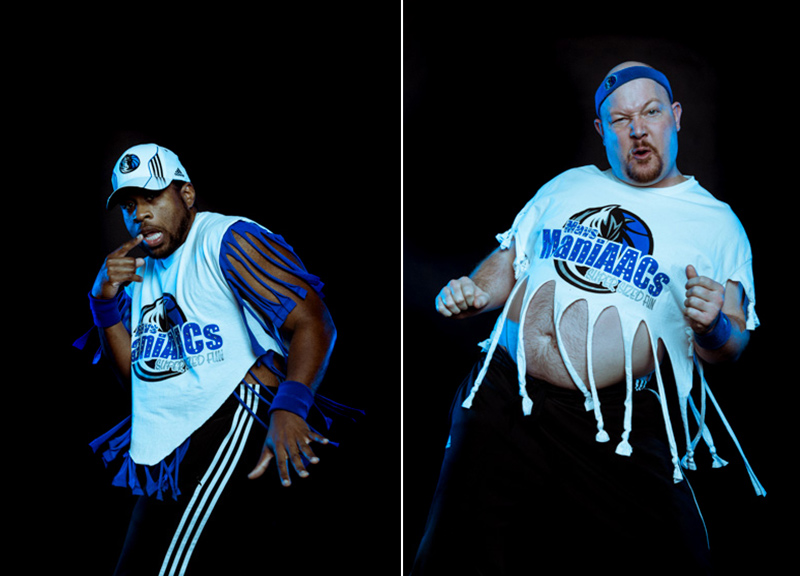 Mavericks fans seem to agree. In fact, the ManiAACs have become such a crowd favorite, they even have their own website where fans can post their favorites ManiAACs memories and even chat about upcoming events.
Back at Elevation Fitness, just before their practice comes to an end, the team discusses their jam-packed schedule over the next couple of weeks. Parades, corporate events, private functions, graduations, high school assemblies, bar mitzvahs and private charity functions are all par for the ManiAACs' course.
Says Big Rob: "If you want us, we'll find a way to get there."