Dallas' Six Quintessential Doughnuts.
Fun random holiday fact of the day: The first Friday of every June is National Doughnut Day.
Yes, because every single type of food-related-anything must have a holiday, it's on this day that we pay homage to our favorite fried, baked and sugar-coated pastries.
To be fair, this seemingly random holiday has a bit more history to it than others. The story dates back to World War I when the Salvation Army sent a couple hundred officers over to Europe to help troops connect with their homes in the form of some good old-fashioned American doughnuts.
That in mind, what better way to celebrate the day than by finding the absolute best pastries with which you can destroy your lean and mean body? Well, don't you worry. You can leave all the decision making to us as to where you should best celebrate this date.
That's right: These are the doughnuts most worth your money in Dallas.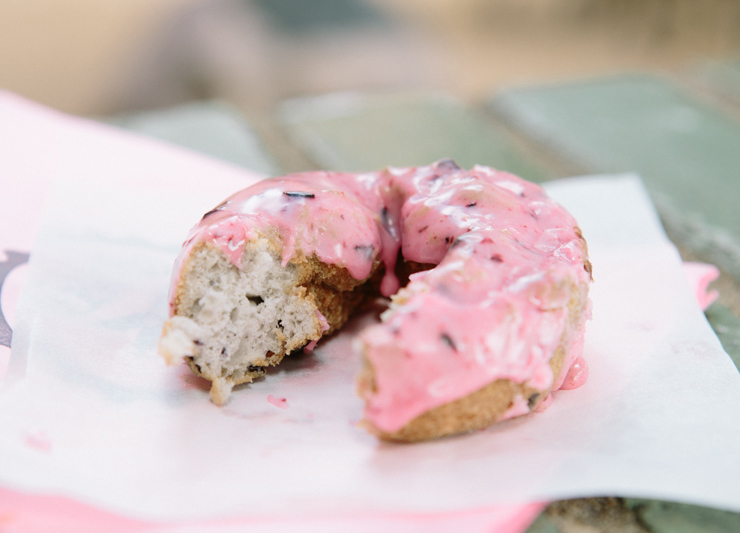 The Double Blueberry Cake at Glazed Donut Works.
This little gem is easy to look over when checking out some of the other, ever-changing menu items over at Glazed. Building off of a cake doughnut base, the batter has little bits of blueberry mixed in with it. Then, after the batter is baked into its beautiful, dense cake form, a blueberry-based icing is drizzled over it. This one is a must-have if you prefer the heavier, ever-soft cake doughnut. And no one does it better than Glazed.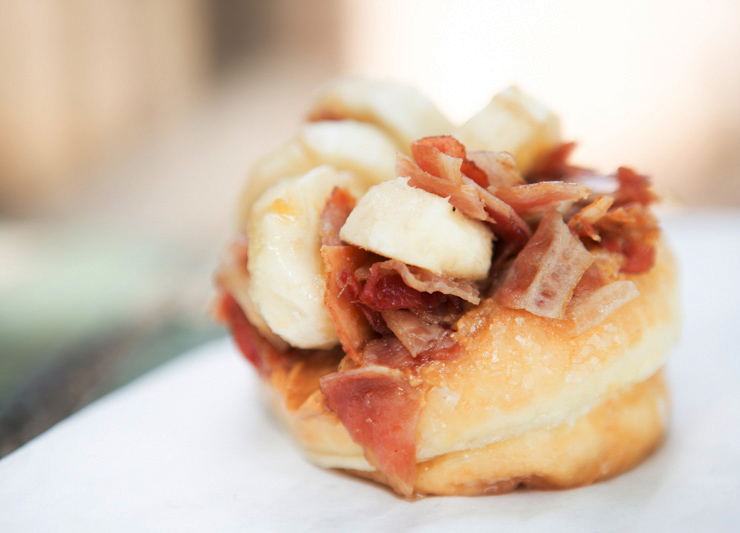 The Evil Elvis at Hypnotic Donuts.
This one may have a bit more shock factor going for it than taste. The people at Hypnotic, through the likes of this and other almost-as-unique doughnuts, have created a cult following for the shop that called "Hyppies." And, let's be real, if a doughnut shop has a following like that, it's probably worth checking out. Credit the Evil Elvis — and, OK, the Canadian Healthcare option, too — for the this massive following. The Evil Elvis takes a whole doughnut, paints peanut butter on top, sprinkles bacon bits aplenty and then is adorned with slices of banana. And, man, does it look wild. Tastes pretty wild, too.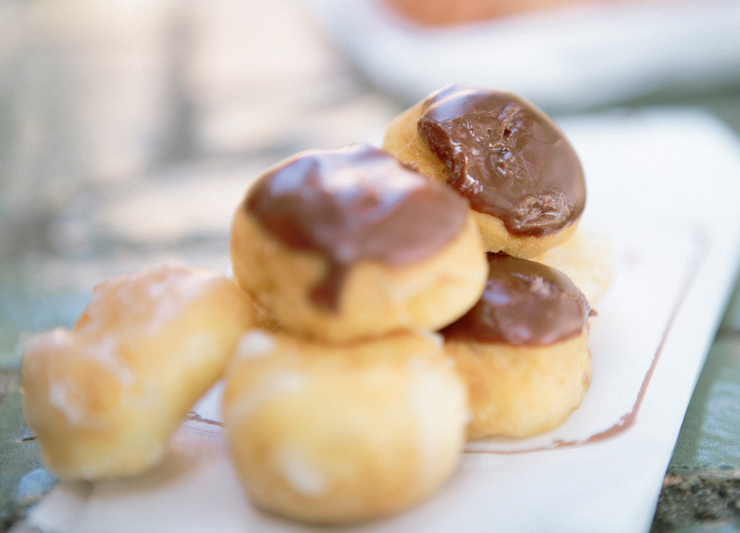 Donut Holes at Shin's Donuts.
Shin's looks just like every generic doughnut shop in every town. The sign over the storefront read simply "Donuts," and the only way to know you're even at Shin's is the small yellow sign stuck at the corner of the strip it's located in. And, really, most of the doughnuts here are pretty standard. Yet, somehow, some way, Shin's has set itself apart with its doughnut holes. It's a hard thing to explain, but the batter here seems a bit lighter than most other options in town. And the ease of eating these suckers — coupled with the almost perfect amount of sugar-glaze drizzled on top of them — creates the problem of not realizing you just ate way too damn many doughnut holes. So have fun with that.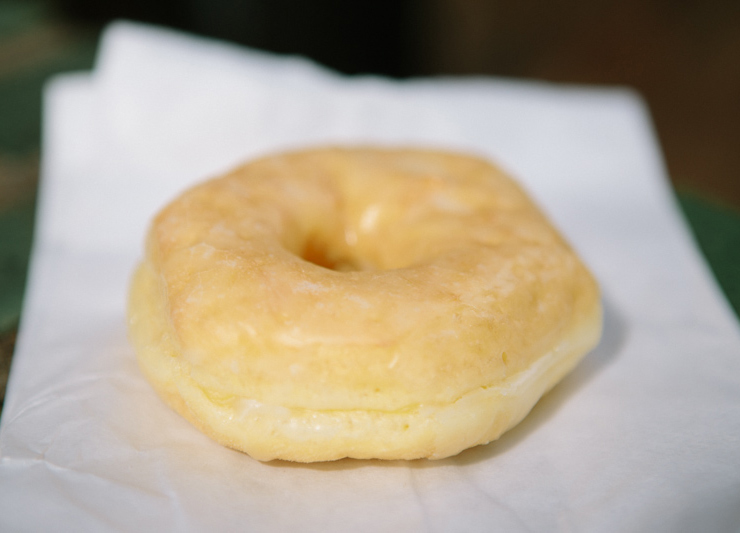 The Glazed Donut at Mustang Donuts.
Mustang Donuts, located at Snider Plaza near SMU, is quite the popular space. With a line that always stretches to at least the door, the shop has become the go-to place for in-a-rush students looking to grab a quick breakfast and for the families that live in the area alike. And the thing these crowds both swear by? The simple chocolate and regular glazed doughnuts. And, yeah, they are done quite a bit better here than at your average shop. They're baked quite large, and with a light hand on the glaze. Basically, they're the rare doughnuts that won't make you feel like death afterwards. Which is all we really want, anyway.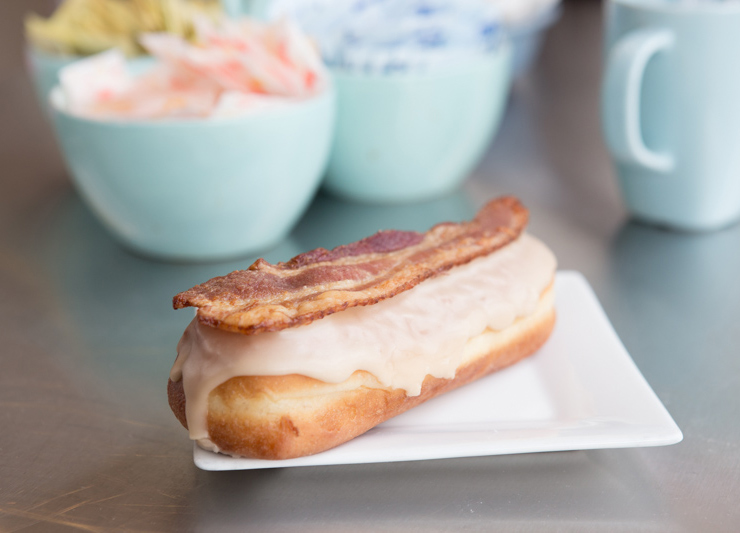 The Maple Bacon Long John at Glazed Donuts.
This is the twist that Glazed puts on an original: They take a normal maple bar, subdue the maple just a tad in the icing with a normal, non-iced donut supporting it and then place a perfectly cooked, thick slice of bacon on top. This is the ideal doughnut for those of you who love to mix your salty with your sweets. It's basically everything great that Canada has given the world — all rolled into an American classic.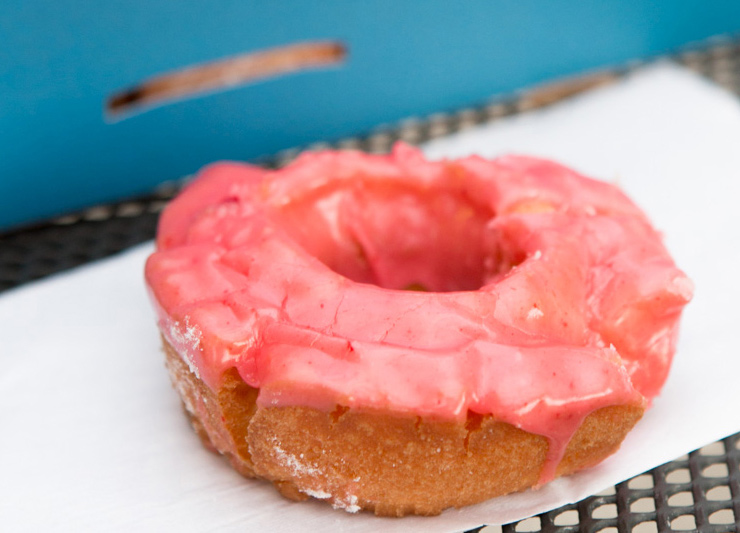 The Strawberry Old Fashioned at Top Pot Doughnuts.
OK, so, not too long ago we sort of bashed the Seattle-based Top Pot Doughnut shop that just opened up near SMU. And, yeah, we're sticking to what we said. But there are still a handful of gems to be found here — and the Strawberry Old Fashioned is the king of them. Top Pot, of course, is known for its hand-baking all of its doughnuts. And, when it comes to an Old Fashioned, the baking is everything. They just nail it. Then add on an amazing strawberry glaze, and the resulting doughnut is a must-have. Grab a handful and sit on the patio with a cup of coffee for a few hours. You'll need that time to reflect on your life choices, I imagine.