The Mural Painted On Monday Night, Which Stretches 48 Feet by 600 Feet On Marilla Street, Comes With At Least Some City Council Endorsement.
Painting photos by Dylan Hollingsworth. Drone photos by Jeff Amador. Drone video by Zulu Whiskey.
From 8 p.m. to midnight on Monday, Dallas activists painted — with at least some city council member endorsement — a 48-foot-by-600-foot mural bearing the words "BLACK LIVES MATTER" on Marilla Street within the plaza directly in front of Dallas City Hall.
Based on a design by artist J.D. Moore, the initiative was launched by a group of activists including (but not necessarily limited to) Destanee Smith, Emmanuel Lopez, Brooks Scharff, Shikona Johnson and Cory Hughes, who had linked up through their efforts as part of a new Facebook group called Change DFW.
In an interview with Central Track during our livestream of protest activity on Monday night, Smith detailed how the plan came together — and how her group approached city council member Chad West with the idea, who presented it to his fellow council members, none of whom necessarily chose to get in the effort's way. (Council members Adam Medrano, Adam Bazaldua and Lee Kleinman later joined in on the painting effort.)
In the above interview, Smith notes her group's decision to use temporary rather than permanent paint, saying that the group did not want the visual of someone cleaning it up the mural the days to come. She also notes that the supplies for the effort were provided by an anonymous donor — although it's perhaps worth noting that the Dallas organization The Better Blocked teased providing the paint for such an effort late last week on Twitter.
Still, a lack of too many supplies is for now keeping the letters as outlines rather than fully filled-in words — which, as at least one reader already pointed out to us on social media, is perhaps a fitting metaphor for the history of hollow words being uttered at Dallas City Hall.
In a separate interview, artist Moore further details his own inspiration for the piece and expands on its lack of permanence: "Why temporary? It is my intention to communicate clearly that this demonstration of painting a large 'BLACK LIVES MATTER' mural in front of City Hall is simply the stepping stone between where we are socially and where we aim to be. Permanent paint on the ground would not suffice as change, no matter the statement. The statement 'black lives matter' only exists due to years of the mistreatment and disenfranchisement of black people. The temporary nature of this mural is to meant to reflect that the need to constantly insist our lives matter will not exist in the future. The permanence the black community is looking for is legislative. A mural is just change on the surface. The change we are working so hard for needs to be engraved deep into our culture."
So: Yes, the rain will eventually wash it away.
But: There's no rain in the 10-day forecast.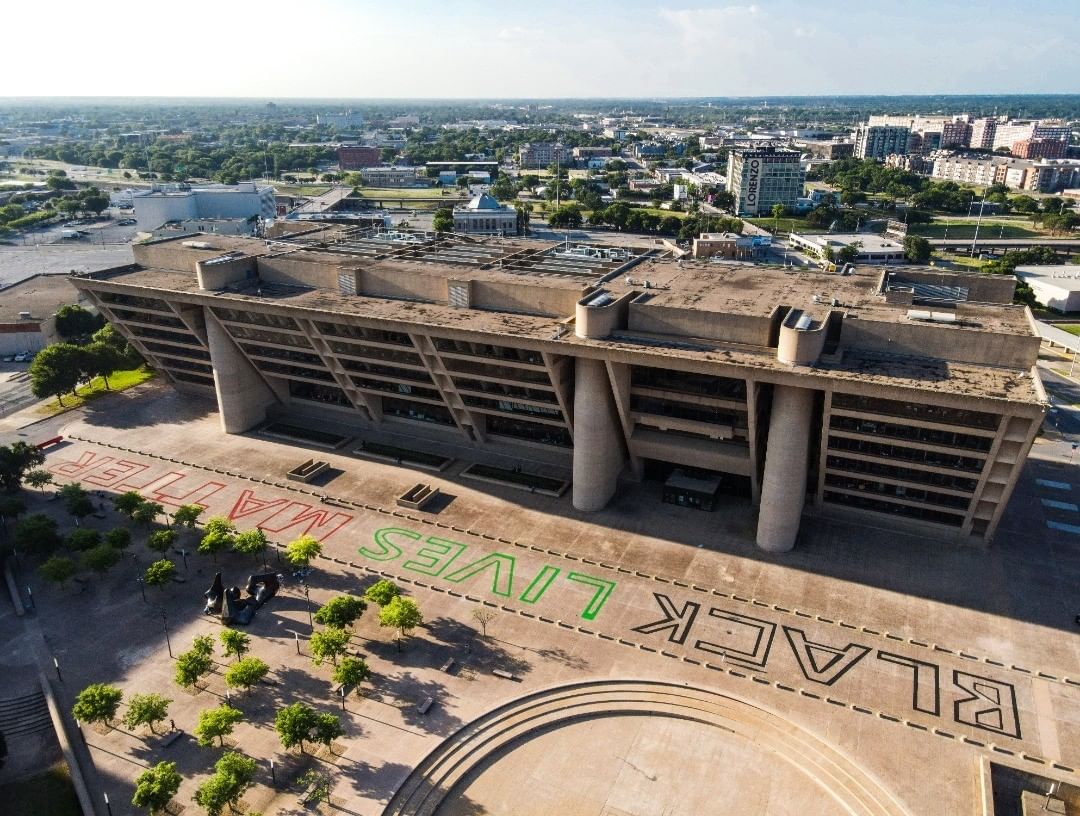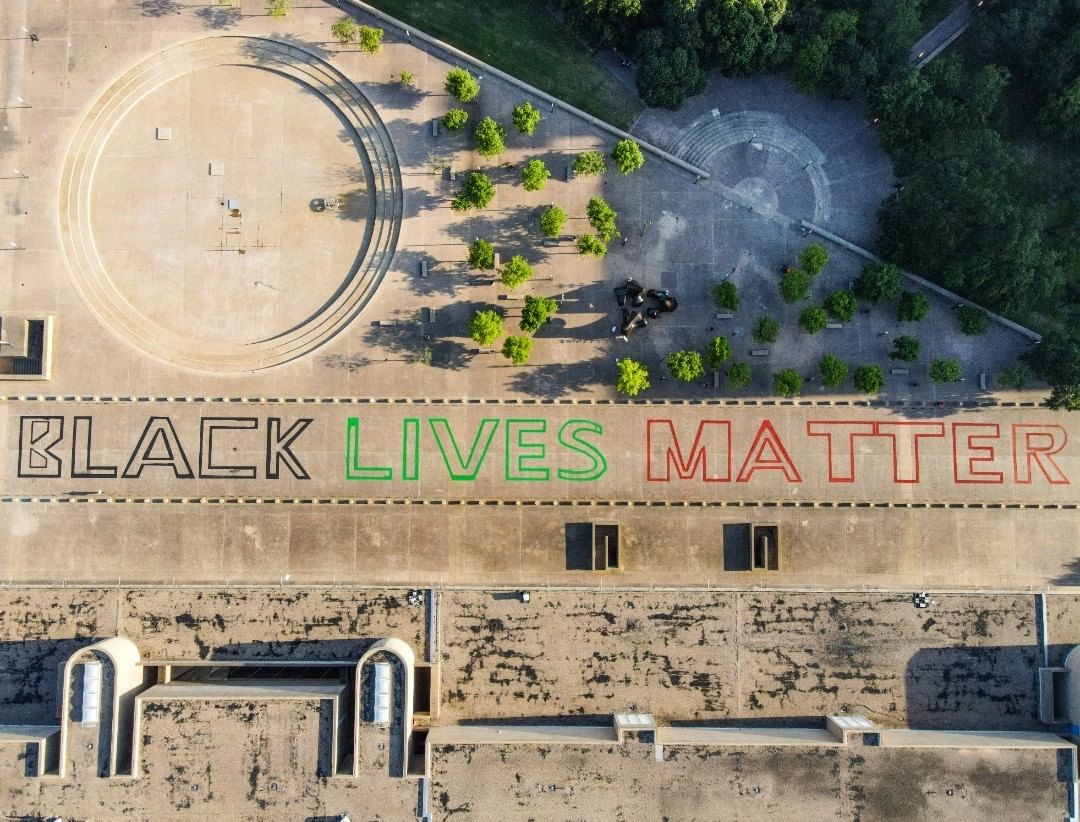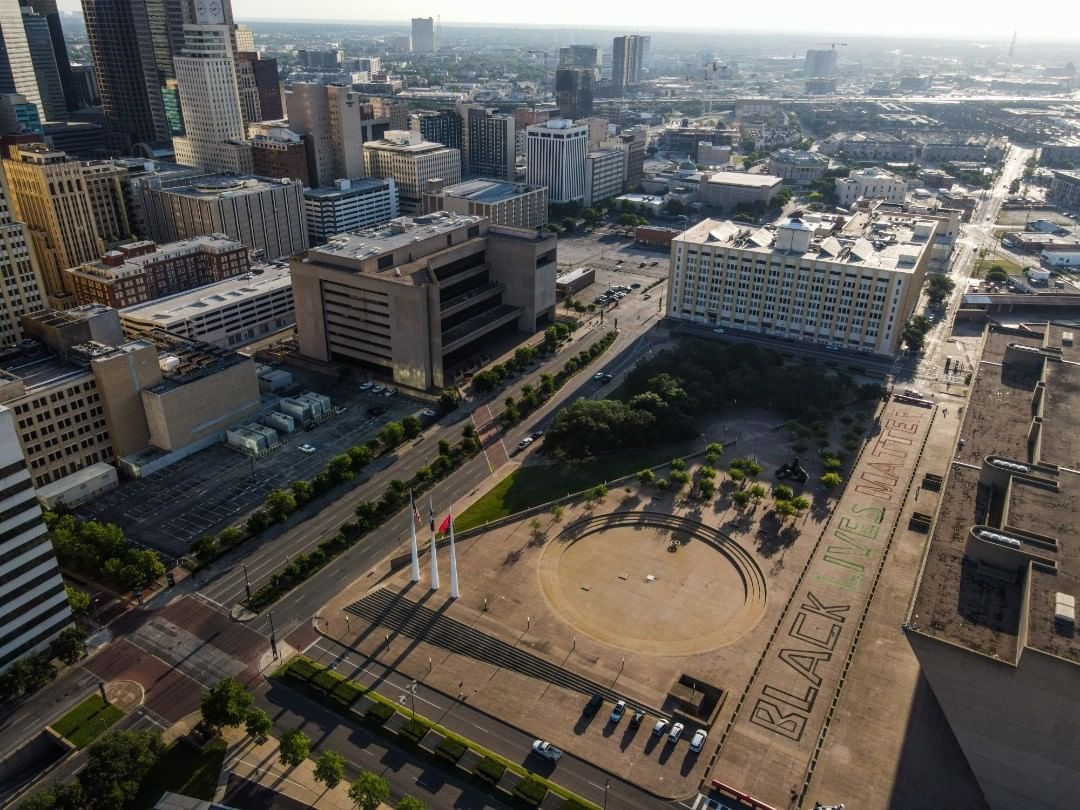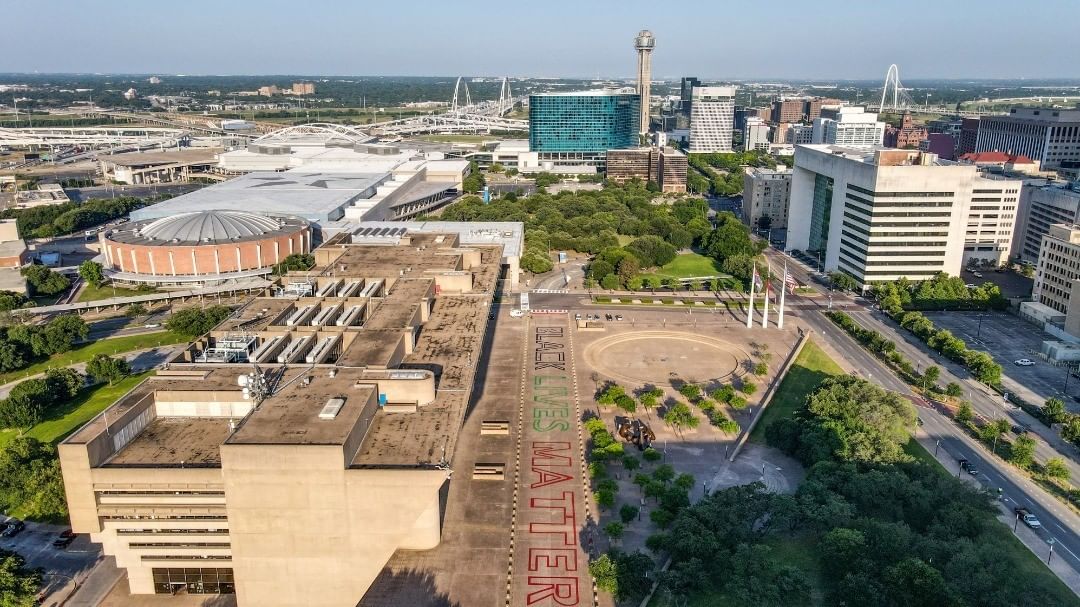 Please stay tuned for continued Dallas police brutality protest coverage right here, and also on our Instagram, Twitter and Facebook pages.
Like so many small businesses, we at Central Track face an uncertain future due to the effects of COVID-19. In eight years of operations, we've never locked our content from you through subscriptions or paywalls — but, in order to make it out through the other side of all this, we need your help. If you can, please consider supporting our coverage of all things Dallas culture by supporting us on Patreon in exchange for exclusive perks or by donating directly through PayPal or Zelle to [email protected].