Mark Hughes Doesn't Want Money From His Pending Lawsuit Against Dallas Police; He Wants An Apology And His Camouflage T-Shirt Back.
Along with about 60 other protesters, Mark Hughes marched in another protest against police brutality through the muggy Downtown Dallas streets last night, his stance against police brutality still unwavering.
"We can't ease up until we see a 100 percent change — and, right now, we haven't even seen a one percent change," Hughes says. "Police officers can still craft that facade that they are fearful for their lives, and that's their get-out-of-jail-free card. Even with video and witnesses, nothing happens."
Not much has changed for Hughes in the past year: Tax season kept him and his tax offices just as busy as it has in the past six years; he sold two of his three snow cone stands; his beloved Cowboys got knocked out of the playoffs last season again by the Packers; and the Dallas Police Department still hasn't apologized for publicly labeling him a suspect on Twitter on the night when Micah Johnson ambushed and killed five Dallas police officers.
During last night's march on the eve of that tragic night's one-year anniversary, Hughes did one thing differently, though: He decided to leave his rifle at home. He knows all too well now what it means to be a black man exercising his Texas right to open carry, and he wasn't about to take that chance again. Not with DPD.
Hughes, you may recall, was the man that Dallas Police originally pointed to as a suspect when confusion and fear reigned on the streets of Downtown Dallas a year ago today, announcing that to the world by posting to their Twitter account a photo of Hughes in a camouflage shirt with his AR-15 strapped to his back. And that tweet would stay up on DPD's feed for 17 hours, going viral nationwide, and leading to a harsh interrogation as well as death threats against Hughes and his family.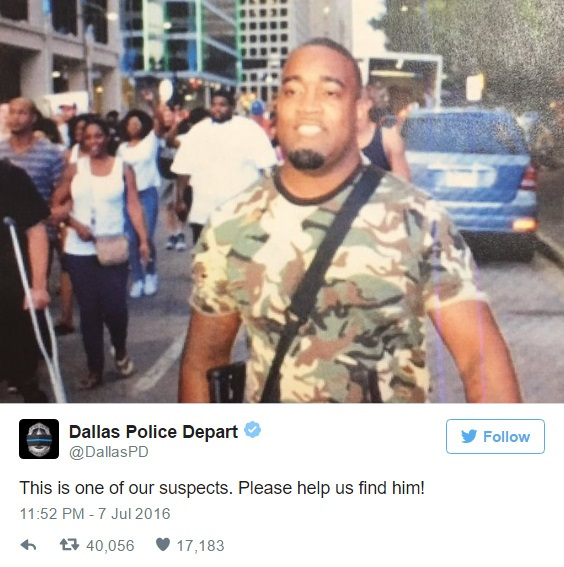 For Hughes, a married father of a young family, his stance on police reform is now more personal than ever. As a result of DPD's actions against him in the wake of Johnson's shooting spree, Hughes feels he very easily could've been a victim of police brutality. That's why he launched a lawsuit against DPD last year. Alas, doing so still has not yet earned him and his attorney, Lee Merritt, a sit-down with Dallas police representatives.
"I was raised to be the type of man that, if you've done wrong, you admit you've done wrong and move on from it," Hughes says. "But individuals within police that say they don't owe me an apology. They feel they've done nothing wrong."
As media attention has come back around to Hughes the past few days, so too have criticisms and questions surrounding his lawsuit. A post from NBC DFW on Facebook drew accusations against Hughes, accusing him of looking for a payday and seeking attention: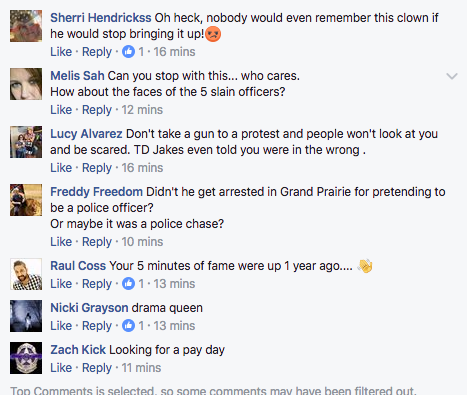 Hughes says he won't let that criticism get in the way of what he's really seeking.
"People who say that, they can't ever put themselves in my shoes or where I was," Hughes says. "I wasn't asking for my image to be stained and damaged like that. All I want is an apology."
And as for the claims of him looking for money? The self-started entrepreneur laughs at that notion.
"I make good money," he says.
An apology would be plenty, he says. Well, that and his now-infamous camouflage T-shirt, which he was seen wearing in the photo DPD tweeted and which he lost in the confusion of the night when being interrogated by DPD. If he had his druthers, Hughes would prefer the get that shirt in a XXL size this time, though; he's put on a few pounds in the last year, he admits with a chuckle.
What Hughes doesn't find funny, though, is the fact that, a year later, police brutality is still a major issue in America. No matter what happens with his lawsuit, he says he'll continue fighting for change on that front.
"A lot of the attention has been drawn to the police officers and first-responders, and we can't seem move away from that narrative," Hughes says. "And so we still gotta keep the movement going. July 7 happened because of police brutality issues happening daily and people with badges killing people of color with no consequences."