THRWD Magazine Co-Founder Javier Valadez Has Been Detained By ICE, Faces Possible Deportation.
At around 6 in the morning on April 2, Javier Valadez awoke to a knock on the door of his Dallas home. Standing on the other side of the entrance were a couple of U.S. Immigration and Customs Enforcement (ICE) agents, who swiftly informed Valadez that he was to come with them.

Bleary-eyed and still waking up, the shock of it all barely setting in, Valadez did just as he was told. The agents waited as he packed a bag and alerted a relative to his situation. Then, together, off they went — first to the ICE building on Stemmons Freeway and, before long, to the Johnson County Detention Center in Cleburne, where Valadez remains today, 14 days later.

Valadez, 26, is not a U.S. citizen. Though he's lived the majority of his life here, he was born in Mexico and didn't arrive in the U.S. until he was 12. Now, he faces deportation.

"The best way I can put it is that I was brought here by my parents and we overstayed our visas," Valadez explained yesterday afternoon, speaking from a phone inside the Johnson County Detention Center. "I was a kid, so I never realized it. I guess I never felt I was in danger of being deported."

His parents, though not American, had hoped to start a new life stateside. And their son would indeed go on to live a rather American life. In the following years, Valadez attended Duncanville schools, got his driver's license, graduated from Duncanville High School, went to college and landed a job. He later became an entrepreneur: Using connections he'd made through his gig as the manager of a Dallas printing press, he co-founded the Dallas culture zine THRWD in early 2013 — a project for which he's (rightly) earned plenty of praise. More recently, he started a family of his own; Valadez and girlfriend Cassandra Heitman welcomed their first child, a daughter named Sophia, to the world 20 months ago.

Ask him, and Valadez will say that, after 14 years in the states, the majority of his life, he considers himself an American. So, too, do his friends, who readily describe him as politically charged. Heitman takes things further, saying Valadez might be among the most American people she knows: "He carries two copies of the Constitution on him at all time," she says with a laugh. "One in his back pocket, another in his bag."

* * * * *

The U.S. government isn't so sure about that position. The fact that Valadez has a few smudges on his criminal record — two "minor drug charges" (his words) and a DUI charge from 2012 — isn't helping his case.

Rather, they appear to be specifically how he got flagged for detainment and possible deportation in the first place. Far as Valadez can tell, undocumented immigrants with criminal records are being picked up en masse as part of a larger ICE sweep. It doesn't take much pressing at all for Valadez to pin this action on a larger President Obama-driven political move.

Point is, the Johnson County Detention Center is, as a result, currently a flurry of activity. Three separate cells are filled with people facing similar circumstances to Valadez's. It's not so bad in there, Valadez says. He describes the holding facilities as "nice."

"It's not really a jail," he says. "It's a detention center. The staff is helpful. The place is clean. But it's not freedom."

Valadez' girlfriend shares a different view of Johnson County Detention Center: At a Tuesday hearing in Dallas — a visit meant to earn Valadez's case a continuance as his defense is mounted — Heitman says one of the detention center guards who'd come to deliver paperwork to the court at one point cracked a joke about needing some hand sanitizer; she says he remarked about how the papers he'd brought had come from a dirty place.

Heitman's also heard of chicken pox spreading throughout the facilities. Furthermore, when she visited Valadez, she found him to be underweight, pale and with bags under his eyes — that last one the result, she says, of lights in the cells being kept on all night long. She describes the conditions of the Cleburne facility as similar to those of another ICE facility in Texas, where detainees are currently hunger striking for better care.

She isn't sure why Valadez chose not to disclose this information.

"It varies day by day," Valadez concedes. "Sometimes you're fine. You talk to people, and you hear their stories that are way worse than yours, and you don't feel as bad."

* * * * *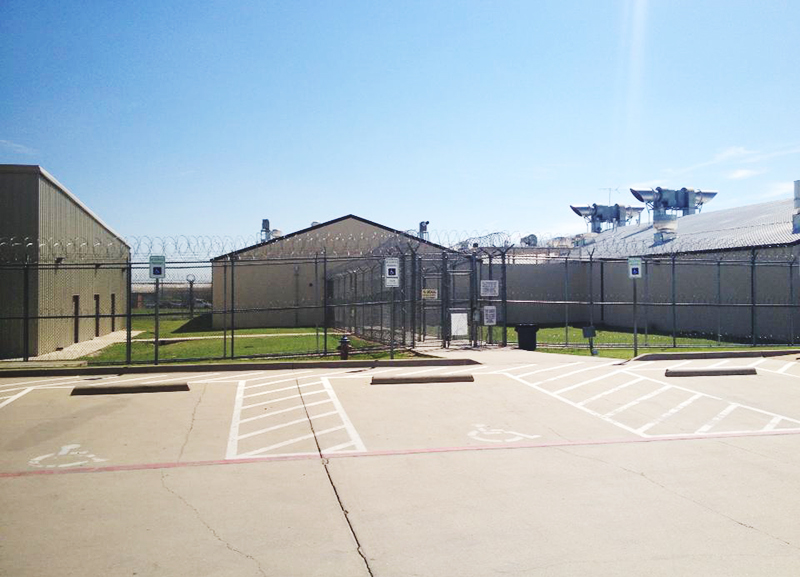 For now, Valadez waits.
He's not sure how long he'll be in these Cleburne confines. He's not even one hundred percent sure what the next step in his case will be.
"There's people here who've been here a month and a half now," he says. "Everything is very vague."
He knows there will be more hearings like the continuance one that happened in Dallas on Tuesday, including a bond hearing on April 23.
Valadez has a few things working for his defense. He had no say in his arriving in this country. His DUI probation was set to be lifted in October. He'd completed more than half of the community service hours he'd been tasked with serving. He's the father of a natural-born-citizen daughter. And, to hear him tell it, he was in the process of looking at engagement rings so he could propose to his American girlfriend.
Furthermore, there are other paths beyond involuntary deportation as well, including a petition for voluntary deportation, which could allow for an eventual return to the U.S.
In the interim, though, there are legal fees, lost income, possible bond costs and so on. To help Valadez cover those, his old Duncanville pal Stephen Ketner hosted a "Free Javi" benefit show at The Free Man in Deep Ellum on Wednesday night. Ketner's band, the Stevie James Trio, performed and donated their performance fee to Valadez's cause. Attendees were encouraged to donate what they could to Valadez's case, as well.
Ketner has also set up an online crowd-funding campaign for his friend. At the time of this writing, has earned Valadez and his family $3,030 of the $5,000 they believe they'll need to get by for the time being.
Efforts like these serve a secondary purpose, too: Ketner hopes that they — along with his cultural contributions through THRWD — will show Valadez's value to and appreciation within the local community. To that end, Ketner and Heitman have also launched a letter-writing campaign that they hope to use in Valadez's defense.
"It needs to look like there's going to be a big fuming stink from a lot of people in this city if they deport him," Ketner says — because he believes there should be such an outcry.
He's firm on that.
"He is an asset," Ketner adds, "to his city and to this country."
It's a defense that could work as well as any.
"2012 was a rough year for me," Valadez concedes of his past. "But the law is pretty unjust. It doesn't look at what an individual can do for his community."
Update on April 24, 2015: Valadez has accepted voluntary deportation from Department of Homeland Security. You can read up on his decision here.
Update on February 12, 2016: Playboy has tapped Valadez to share a first-person account of his story.