There's A Reason Why NFL Scouts Are Drooling Over SMU's Margus Hunt.
And not only did he learn by experience, but instincts long dead became alive again. The domesticated generations fell from him. In vague ways he remembered back to the youth of the breed, to the time the wild dogs ranged in packs through the primeval forest and killed their meat as they ran it down. — Jack London.
Margus Hunt stands in size 14 cleats, nearly a head taller than most of his teammates on the sideline. He's obviously well-built, and his paws are the size of a polar bear's. When he lines up on the defense, you can see him stick those paws out, one after another, just above the ground, ready to latch onto an unassuming ball carrier.
It's because of these hands that Hunt strikes fear and panic into the hearts of field goal kickers all across the NCAA.
He's been called a freak. A monster.
"I've been called that my entire life," he says with a disarming smile.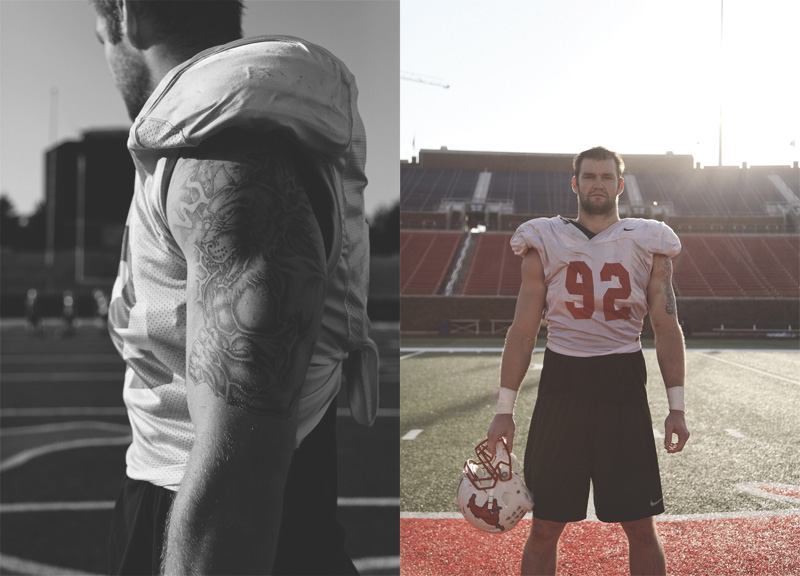 When shaking his hand, it's his smile that shines through. You get the feeling that he's a gentle person. That he's playful. Although his grip is strong, there's a warm feeling about that handshake. It gives you a sense that everything's all right in the world. He impresses upon you the best parts of Competitive Nature.
That's what makes him admirable.
There are, of course, other reasons.
The native Estonian is 6'8″ with an 82-inch wingspan, and this is no secret. Neither is the fact that, at 280 pounds, he still manages a 4.6-second 40-yard dash.
That's why there's a buzz surrounding the defensive end in his senior year with the SMU Mustangs. With fewer than five months remaining until the NFL Scouting Combine, Hunt is being discussed as one of the top three defensive ends in college football.
He's being scouted as one, too. Two weeks ago, as SMU hosted Texas A&M in Dallas for a game at Gerald J. Ford Stadium, no fewer than three NFL scouts sat in the stadium's press box, their eyes fixated on Hunt's every movement.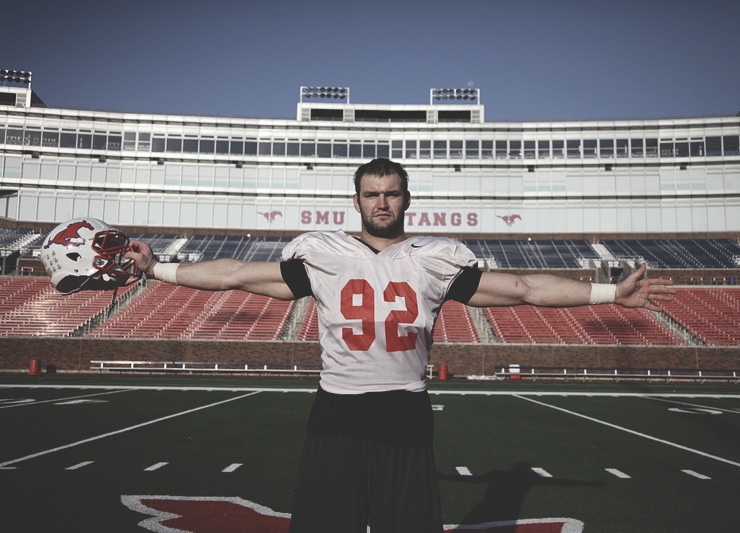 The shocking thing? It's only his fourth year playing the game.
The path that took Margus Hunt to the SMU football program in 2008 goes something like this: After competing at the highest levels of track and field, a small-town Baltic Warrior leaves his home country for Dallas in hopes of furthering his training alongside SMU track and field coach Dave Wollman; because of financial reasons, the SMU men's track and field program, which had won the indoor national championship in 1983, collapses; with his scholarship in jeopardy, Hunt decides to explore America's New Pastime.
That alone would serve as a charming enough yarn. But Hunt has shown almost limitless potential in the game of football. He is a Pure Athlete, Mylon's Discobolus in the flesh.
Maybe that label is a bit of an exaggeration. But, on the other hand, maybe it isn't.
"The guy's a world class athlete," gushes SMU special teams coach Frank Gansz, Jr. "He understands balance. He understands leverage and angles. He understands what he has to do to compete at a high level."
But it's more than that, Gansz continues, now even more animated than before: "He has a great zest for life. He's very smart. He's great to hang around with. And his future is so bright, he should be wearing sunglasses all day long."
That praise comes with reason, of course, and these impressions are agreed upon by most anyone who has worked with Hunt.
Says Wollman, who maintains a close relationship with Hunt and remains the head coach of SMU's women's track and field team: "Because he has that physical talent and because he has the inside passion and desire to excel in everything he does, it's an absolute no-brainer to me to think that he's going to some day be one of the best defensive linemen in the NFL."
To wit: Hunt is currently the sole owner of the NCAA's career blocked field goals record, having registered nine blocked kicks. Four more blocked field goals or punts over the course of the rest of the season — a plausible feat — and he'll hold the NCAA career record for overall special teams kick blocks.
It's those bear paws of his — the ones that come reaching up out of nowhere, just seconds after he launches off the turf in those size 14 Nikes — that afford him this special skill set. And not just on special teams, either, where he's shown an animal-like command on the football field.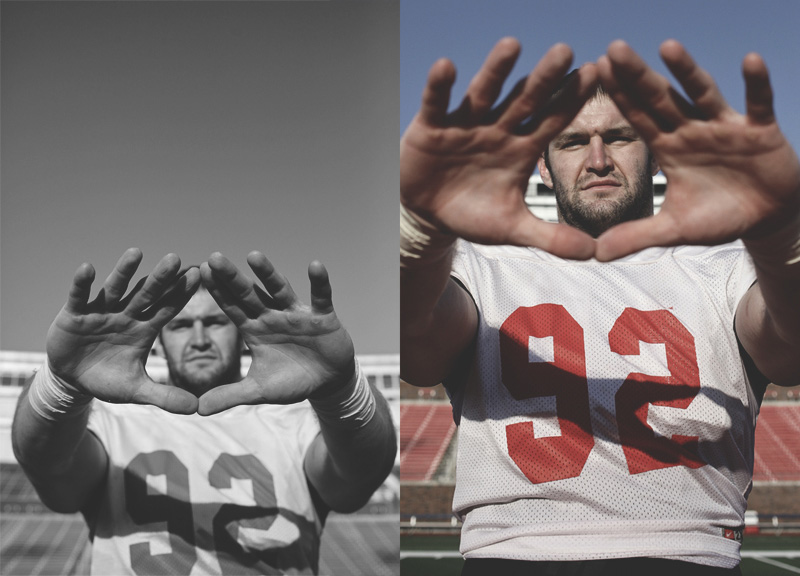 In his team's final game of last season, in the BBVA Compass Bowl against the University of Pittsburgh, Hunt became a one-man Imperial Defense, tossing around the Panthers' O-Line like a bunch of wombats. In that game alone — and in a performance now rather unsurprisingly immortalized on YouTube — he registered three sacks and 7.5 tackles-for-loss as his Mustangs trounced Pitt to the tune of a 28-6 rout.
"It comes down to his power, his get-off," Wollman says. "He's very explosive. When you're that explosive and you're coming that hard at somebody, it's hard to stop."
On his left bicep, beneath his shoulder pads and below his sleeve of Under Armour, Hunt has a tattoo of a wolf. He says that's what his last name means in Estonian. Maybe it's also an external representation of the beast within. Watching him play, it's clear that he has an instinctive nature — one that doesn't seem unlike a wolf's, although Hunt plays down any such connection.
"I'm still trying to find kind of that animal sense," he says. "I think I have it, but, in my mind, it's defined a little bit differently. I like to play hard, but I don't like to be a dirty player and talk trash — even though that's part of the game. To me, let's just line up and let's play ball."
Alas, he is but flesh and blood.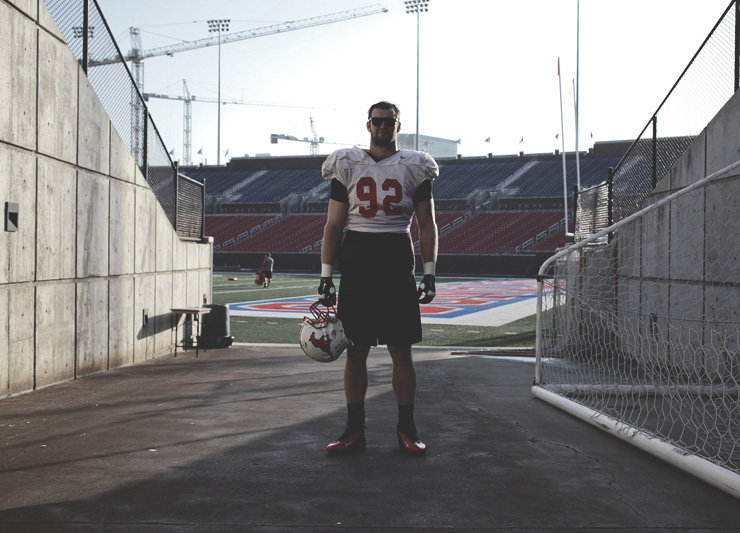 Yet, even though his world right now is football, he does, in the little free time he has, like to visit the piano hall. He's exploring a number of different composers at the moment, he says, but he's become partial to Rachmaninoff concertos. Chopin speaks to him as well.
There's a stark contrast between his piano and football play: The same hands he uses to viciously tear the ball from his on-field opponents at at ease above ivory keys.
Clearly, he is a man of many talents. And yet his coaches and teammates are quick to point out his selfless side, his lack of a desire for the spotlight, and his indifference to all things flashy. He has no celebratory sack dance, they note. No supermodel girlfriend.
Credit his track and field background for that.
"Football is just a totally different thing than track and field," Hunt says with a shrug of the attention he now receives. "It took me a little bit to get used to it. But I like the team feeling."
As such, he is non-critical of his unit, despite the rough patches they can sometimes suffer. He seems to understand fully his place on the team. And he is not one to chastise others.
He sees the lighter side of such a serious sport. He's having fun. And, barring some sort of unforeseen bad fortune, he will continue using those hands of his to part through any and all obstacles laid out before him.
"He's got all those levers," Wollman says. "And once he actually figures out how to use them all on a football field — and he will figure it out — he'll be not just good, but a great player.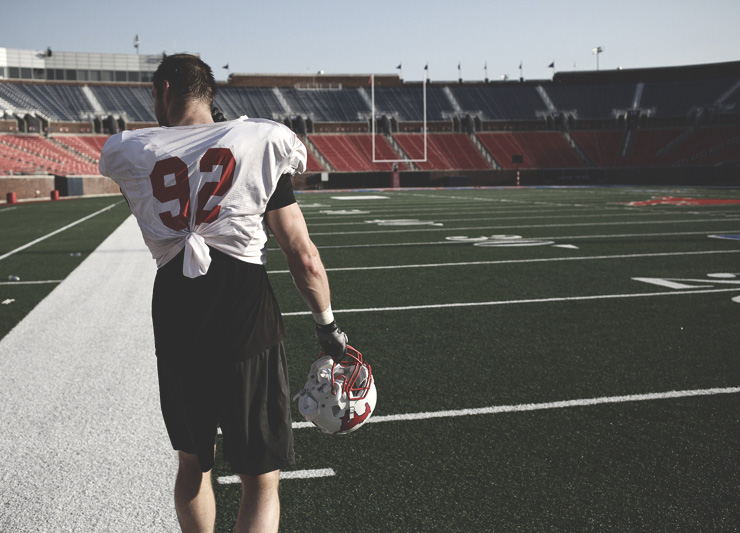 He's got the easy part down already. Athletically, he is what every American wants in a star football player — what they create with their Madden controllers when given the option. He is a ferocious competitor. He hates to lose. He has these God-granted physical gifts that make him a beast of nature. He is a real Alpha Dog.
And, regardless of whether he shows it, he and everyone else around him simply knows it.
"You either are excellent — and that's the way your mind works — or you are not," Wollman adds. "Margus gets that."
All photos by Hance Taplin.