Big Beat Dallas Closes After Two Months, Cody Jinks Gets Signed, Grandmas Like Post Malone and Tay-K Will Avoid the Death Penalty.
"Irving, the new Deep Ellum?"
That was a question GuideLive posed when the multi-venue network Big Beat Dallas was getting set to open up within the Toyota Music Factory back in March.
And now that this Herculean effort — management wanted to host live music seven nights a week, 365 days a year on all of its stages, with acts plying their craft starting at 3 p.m. every single day and without ever charging a cover – has been open for all of two months, we suppose it's finally time we got around to writing about them, huh?
Well, how's this for an opening salvo: After a weekend of Memorial Day shows, the mishmash of blues, jazz, country, DJ and cigar bars masterminded by Billy Bob's Texas namesake Billy Bob Barnett announced that it will cease operations today. The announcement came in a now-deleted Facebook post, reports the Star-Telegram. (Central Track can independently confirm that employees of the entertainment complex were separately emailed the same message that was shared to social media.)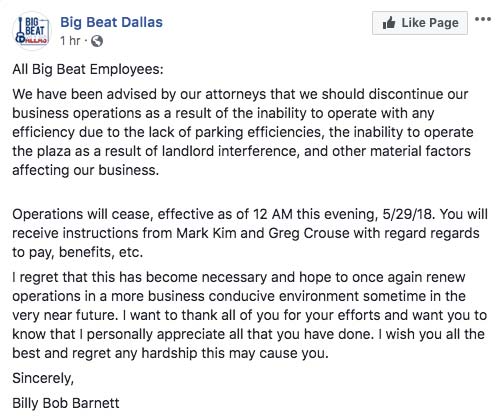 The closing doesn't seem like it will have an impact on the complex's anchor venue, The Pavilion at the Toyota Music Factory, or the other 20 restaurants that exist there — a fact which TMF developer Noah Lazes has confirmed.
"We are disappointed to learn that Billy Bob Barnett and his team have decided to close their concept," Lazes wrote in an email sent out to local media outlets this afternoon. "The concept Barnett built is high quality and well designed. Unfortunately, even the most successful entertainment districts can have tenant turnover."
As for GuideLive's initial query, we'd say Irving's more like the old Deep Ellum.
Moving on!
It would seem that Fort Worth's Cody Jinks, who has sold over 225,000 records as an independent artist, is turning a new leaf over himself these days. He recently announced a record deal with Rounder Records. Per Saving Country Music, the deal was spurred by the fact that Jinks' old lawyer, John Strohm, is the newly appointed president of the label. He will purportedly allow Jinks to retain full creative control under the new deal.
"When I became the President of Rounder in the Fall of 2017, I'd already been involved in Cody's career for a couple years," Strohm says via press release. "I'm well aware of his immense talent, personal integrity, and work ethic. It's been my top priority since I started my job last fall to sign Cody, and I could not be more thrilled for Rounder and Concord Music to have the opportunity to work with such an incredible, groundbreaking artist."
Jinks' new album, Lifers, is due out on July 27. Look for its first single "Must Be The Whiskey" in the June 15 edition of our Songs of the Week column.
A local act whose jams aren't quite as easy to find as of late is Tay-K. The artist responsible for The Fader's top song of 2017 appears to be one of the victims of Spotify's new anti-hateful conduct policy, which removes offending artists from "the streaming service's editorial or algorithmic playlists." While R. Kelly was the only artist mentioned by name in Spotify's initial release, the disappearance of Tay-K from the company's influential Rap Caviar list, among others, has since been confirmed by Spin.
In somewhat better news for the young rapper, who has been imprisoned since last August on a capital murder charge, it was reported this week that he will not face the death penalty if convicted. As noted by XXL, "In 2005, the U.S. Supreme Court ruled that teenagers younger than 18 at the time of their offense could not face the death penalty, so [Tay-K can't] be executed by the state. In addition, a 2012 ruling declares that juveniles in Texas must have the opportunity for parole after 40 years, though it's not guarantee they will be granted it."
On the other hand, someone who has been popping up everywhere of late is Leon Bridges, who adds a couple more television appearances to his resume. Below you can find a clip of him performing "Beyond" on The Graham Norton Show.
Meanwhile, if you're in Nashville on Tuesday, June 5, you can attend the free taping of Bridges' upcoming CMT Cross Roads appearance on which he'll collab with country star Luke Combs on each other's tunes.
Also popping up on a national interview show is the inimitable Charley Crockett, who showed up on Chris Shiflett's Walking the Floor podcast. In the interview, which you can listen to below, he tells the Foo Fighters guitarist that Dallas is one of the most important cities in the world for blues music.
Says Crockett: "[Dallas] was really one of the most important cities in the world in the history of blues, because Deep Ellum was the first black commercial district in the state of Texas. Let me name the people that played on the street in this neighborhood. We're talking about Robert Johnson, Lightnin' Hopkins, T Bone Walker, Blind Lemon Jefferson, Leadbelly, Henry Thomas, Bessie Smith, Ma Rainey, Mance Lipscomb, Washington Phillips, Bob Wills… Deep Ellum was that place where the European and black and Latino worlds converged."
Hey, it's always comforting to find a young person that appreciates old music! Same goes for the opposite, actually. Take, for instance, the olds in the below video — the latest in the Elders React series — in which some blue hairs listen to and dissect the music of Grapevine's own Post Malone. Turns out, your grandma's playlist might be more similar to yours than you'd think! Like Posty, she too is probably also into big rings, champagne and confetti.
Sticking on the moving pictures front, Lil $ega has a new video treatment for his "Cappin" single. No word on what your grandparents think, but I'm guessing Marty B is into the Cap'n Crunch ode.
Likewise, the Sad God Chromat!k duets with Shen Waves for the "Nightmare Before Love" single off of his Sad God SZN EP.
Finally, on a pair of sad notes, we must mention the passing of a couple of Dallas music scene folks:
• Sandaga Jazz founder Darryl Thomas died on May 22. He was 64.
• Former 97.9 The Beat employee Michael Gonzalez passed suddenly on May 23. He was 25.
Both will be missed.
Got a tip for White Noise? Email us!