Before Getting Demolished In Favor Of A Home Depot, The Iconic Bronco Bowl Final Hurrah Featured One Of The Most Legendary All-Local Bills in Dallas History.
One of my fondest concert memories from my teenage years came in late 2002 when I saw an absolutely hammered version of The Strokes come through Dallas to play the Bronco Bowl.
It's a good thing I caught that show, too. Because the storied venue — a combination 22-lane bowling alley and dive-y arena — didn't last much longer past that point.
Less than a year after that Strokes show, the iconic spot where it took place — a venue where acts like David Bowie, The Clash, Public Enemy, Bruce Springsteen, U2, Metallica, Beck, John Mayer, No Doubt, Alicia Keys, The Eagles, The Smiths, Motley Crue, Pearl Jam, The Ramones, Oasis and Elvis Costello all played over the course of its 40-year lifespan — would end its run as one of the greatest, if also unlikely, Dallas music hubs of all time.
It's worth noting, though, that the Bronco Bowl ended its run properly, hosting one of the most legendary all-local bills the city has ever seen for its final bow.
Fifteen years ago this week — on August 16, 2003 — the Bronco's last-ever show was a 12-hour marathon of epic proportions that featured performances from Bowling for Soup, SouthFM, The Rocket Summer, Burden Brothers, Chomsky, Hagfish, Slow Roosevelt, Baboon, Doosu, The Deathray Davies, Red Animal War, [Daryl], Lucy Loves Schroeder, Hi Fi Drowning, Adventures of Jet, Hot New Couple, A Foot Ahead, Dhandi and The Jimmi Sticks. Less than a month later, the Oak Cliff treasure (it was located 2600 Fort Worth Avenue) was demolished to make way for a Home Depot.
Looking at the poster promoting that last event at the Bronco is like stepping through a time warp.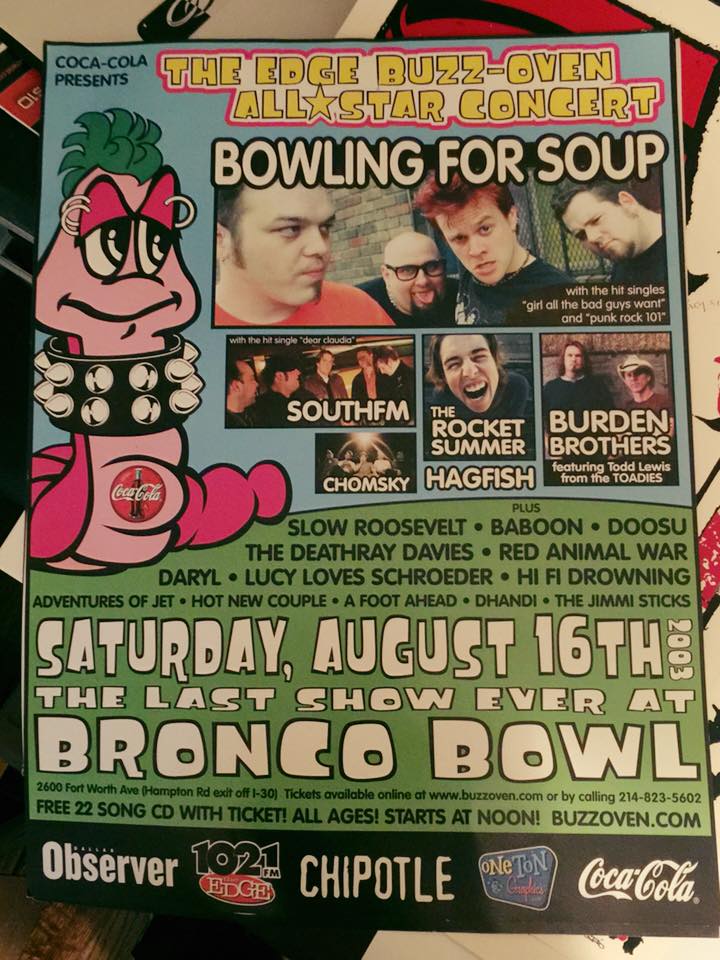 It's not just the band names that will make you trip. Dallas music scenesters of a certain age will be flooded with memories of other bygones from that turn-of-the-millennium era, too. Just check out the logos for the event's sponsors — like the late 102.1-FM The Edge or the defunct local label One Ton Records, whose former bands made up a sizable chunk of the lineup that day.
After shuttering One Ton in 2001, founder Aden Holt would continue his Buzz-Oven experiment, getting Coca-Cola to foot the bill for 17 different compilation albums of local music, and distributing over 200,000 CDs to North Texas students for free from the years 2000 to 2006, spurring interest in the local scene with area teens. That Coca-Cola was one of the sponsors of this mighty local bill is a sign of what was to soon come in that regard.
Anyway, on this 15-year anniversary of the Bronco Bowl's dying breaths, we can't help but feel a little nostalgic for the certain je ne sais quoi the spot boasted. As one local writer once described it: "That was the thrilling vibe of the Bronco Bowl — it brought out nightclub-level energy and behavior in an arena setting. There were times when that could mean unbearable heat and unruly crowds — but more often, that meant magic."
Even so, its demise wasn't necessarily a shocker. The place that had been originally built to house and televise a Dallas pro bowling team that featured Edie Brickell's dad went through a number of iterations over the decades, and even twice filed for bankruptcy in its final three years of operation.
Still, just as Polyphonic Spree founder and Tripping Daisy frontman Tim DeLaughter foresaw when the bulldozers were coming up over the horizon, the Bronco Bowl's legend lives on to this day.
"You just know that 10 or 20 years from now, people are still going to be talking about it," DeLaughter told the Dallas Morning News in an article about the venue's closure. "They'll talk about the great shows they saw there, and what a great place it was to see a show, and just how crazy and cool it was. There's no place like it. There never will be again."