With More Than 100 Dallas Businesses Donating 20 Percent Of Their Sales On Wednesday To Charity, Let's Raise A Ton Of Money For Houstonians Affected By Harvey.
When we announced last week that we were recruiting businesses to participate in a Dallas-wide fundraiser call #DTX4HTX for Houstonians affected by the wrath of Hurricane Harvey, we figured we'd convince a couple dozen businesses to join up in the cause.
We figured 30 businesses would afford us the chance to raise some serious cash, that 50 would really put us over the top. But we didn't necessarily anticipate what happened — that more than 100 area businesses would rally behind the #DTX4HTX cause, agreeing to donate 20 percent of their gross sales on Wednesday, September 6, to the Dallas-based charity Trusted World, which works as a donation distribution center for areas affected by disasters and which has taken up the torch of stocking both Houston relief shelters and Dallas ones being set up for displaced Houstonians with amenities to help these people stabilize their lives.
Honestly, it's been wholly overwhelming and amazing to see so many Dallas business owners get on board with this cause — even encouraging us to expand the initial idea from this being a night-time thing and to turn it into an all-day fundraiser.
But, now with all these rad places signed up, it's time for the buck to get passed on to the rest of us.
So how can you get in on the action? Well, there are a few ways.
1. You can buy a t-shirt. #DTX4HTX has partnered with Printed Threads to produce a run of tees bearing the campaign's logo. They look pretty sweet (see below), they're totally affordable at $15 (or up to $19 for specialty sizes) and 100 percent of the proceeds will be donated to charity — both to Trusted World and to Core Gives, which works especially with children to make sure they "feel valued, special, and safe during these times of hardship." Order your shirt here.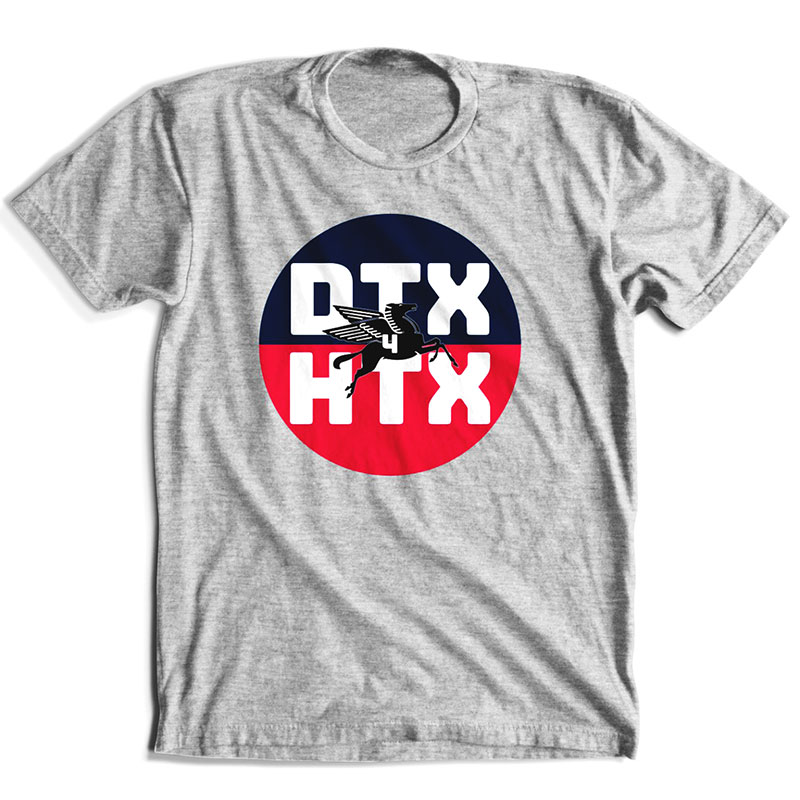 2. You can help us spread the word about the day of giving. Please, please, please, please RSVP yourself as "going" to the #DTX4HTX Facebook event — and invite as many of your friends as you can to help us spread the word on it. And feel free to swap out your profile avatar with the #DTX4HTX logo to help spread awareness, too!
3. Actually go out on September 6 and spend some cash at these businesses. This is actually the easiest — but also most important — part of the equation. We just want you to go about your normal day, spending money at various establishments around town as you normally would, but with more of a mindful eye toward which spots are participating in this campaign. You can find an easy-to-browse list of participating spots here — or you can simply scroll through the list found below. Then we ask that you go to those places, so your money can be transferred to this cause.
Make a day of it, if you want! Gonna go out for breakfast? Head to the Original Pancake House or Norma's Cafe of your choice — they're all participating. Need a mid-morning coffee? Crooked Tree Coffeehouse, Murray Street Coffee and Union Coffee are all involved in this effort. Looking for lunch or dinner? There's a whole gang of spots where you can grab that. Wanna get in on the action during happy hour? Head to Standard Pour, where ownership is offering to match the funds raised through the 20 percent of the sales they'll be donating, or to to Craft Beer Cellar, where they're tapping a keg of Great Divide Brewing's Grace & Grit IPA just for the cause. Looking for some late-night action? Head to the Grapevine Bar, where they'll also be slinging Hell-O shots and donating all of the sales from those to the campaign, or perhaps to Throckmorton Mining Company, where they'll be throwing a lip-syncing competition to keep things vibrant all night long.
Point is, there tons of ways for you to get in on this fundraiser. Here, again, is the full list of spots you can go:
Now let's go out on September 6 and raise that money, Dallas!