All That Excitement Over The Fair Park Amphitheater Being Called Starplex Again? All For Nothing, Turns Out, As Live Nation Actively Seeks New Naming Sponsor.
Just a little more than a month after Dallas' longtime concertgoers lost their collective shit over the news that the Fair Park amphitheater most recently known as Gexa Energy Pavilion would be returning to its O.G. name of The Starplex, Central Track can confirm that the venue's operators at Live Nation are actively looking to change the name once more.
An email being circulated by the concert promotion company's corporate sponsorship sales department this week says that the venue is actively "seeking a Dallas Naming Rights Partner for one of the most iconic concert venues in the North Texas market." The email, which is sure to hype the $8 million worth of renovations at the spot, promises potential naming rights buyers that the "best time to take ownership is when the product becomes better than it ever has been."
The below one-sheet further extols the virtues of the venue.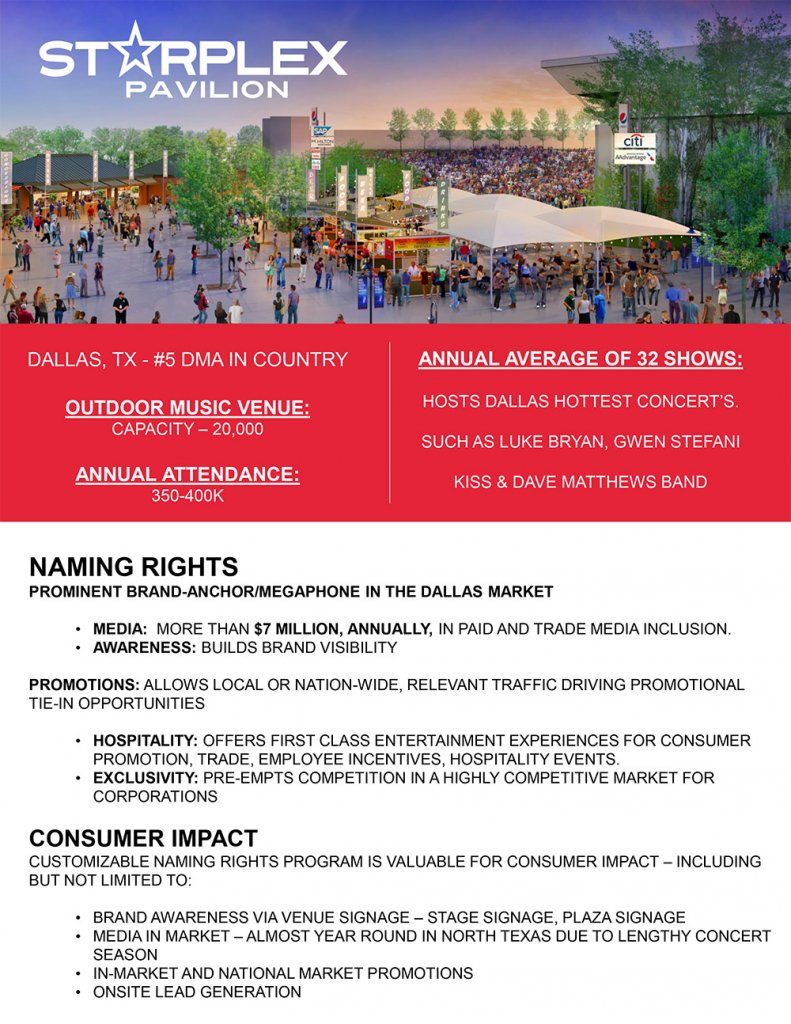 Stefanie Mitchell, Live Nation's senior director of sponsorship sales, tells Central Track that the venue is looking to find a naming sponsor by the start of the venue's 2017 season.
In a separate correspondence, a source at Live Nation confirms that the venue is seeking a partner willing to commit to a five-year minimum deal, with naming rights costs starting at $800,000 to $850,000 for each year of the deal.
Welp, so much for all that return-to-glory hype.
Cover photo by Pete Freedman. Cory Graves contributed to this report.