Louis The Child, Virtual Self Also Appear On Bill For This Year's 10th Annual End-Of-Year EDM Bash, Which Returns To Dallas Market Hall On December 27 & 28.
The massive, end-of-year Dallas EDM celebration known as Lights All Night is going appropriately big for its upcoming, 10th throwdown.
When the annual affair — truly one of Dallas' great New Year's Eve (or close enough) traditions — returns for another two-night stand that will for the fifth straight year be hosted at Dallas Market Hall, it will do so with the help of two bold-faced festival alums returning to the fold: The opening-night festivities on Friday, December 27, will be headlined by 2014 LAN alum Skrillex, and the closing-night ceremonies on Saturday, December 28, will be capped off by 2017 LAN alum Bassnectar.
The Friday night offering will also feature a set by acclaimed producer Porter Robinson under his Virtual Self alter ego. Saturday's deal, meanwhile, will be abetted by an offering from the buzzing upstart Louis The Child duo.
Additional notable acts slated to perform on Lights All Night's two main indoor stages throughout the weekend include A.C. Slater, Elephante, Tritonal, Slushii and Dallas' own Carlyle. The event's two additional outdoor stages will feature residencies of sorts — one featuring acts aligned with AC Slater's Night Bass Records label, and the other featuring performers signed to the Brooklyn-based artist management company GRVDNCR.
The non-headliner performance schedule will be released at a later date, as will the names of the final acts who are still to be added to the bill. Per the festival lineup poster released by Lights All Night itself (see bottom of this post), fans can anticipate at least four more performers being added to this year's offering.
Tickets to this year's deal officially go on sale this Thursday, August 22, on Lights All Night's own website. Two-day general admission passes will start at $109.95, with weekend VIP passes costing $199.95. Bottle service packages will also be available, running between $1,300 and $5,000.
As ever, though: Peace, love, unity and respect remains free.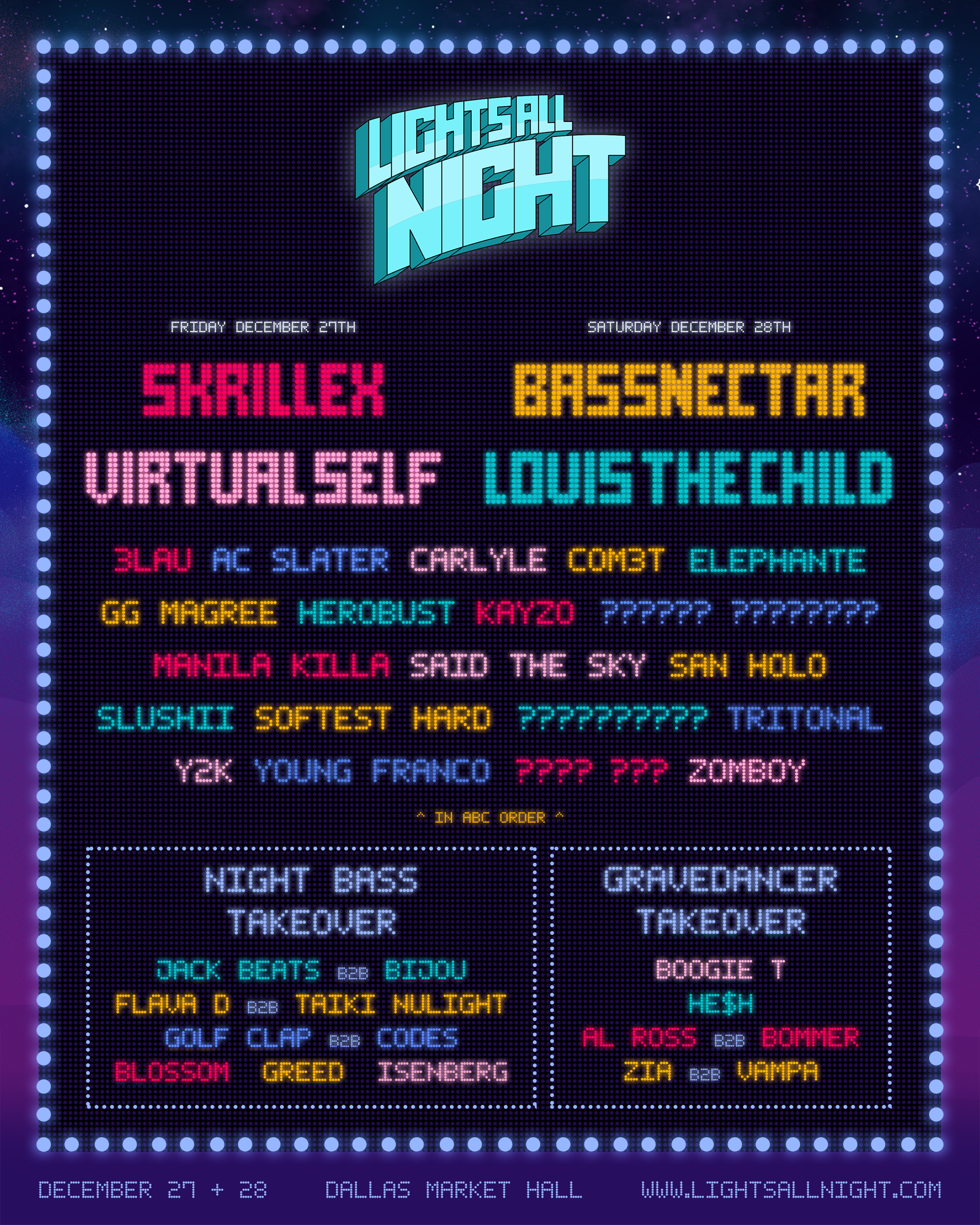 Skrillex cover photo by Pete Freedman.