The Renowned Dallas Music Photographer Offers Love And Support To One Of Deep Ellum's Longest-Running Venues In More Ways Than One.
Welcome to a new pandemic-era series on C entral Track called Photographers On Food,a in which provide various Dallas-area photographers a small budget with which to buy themselves takeout or delivery from a local restaurant they love, and then ask that they shoot that order in a creative way before chowing down. In publishing these photos, we hope to to help keep food on the table of local photographers and to highlight some great area dining establishments that are working through these times the best we can.  
Over the course of the last decade, Mike Brooks has consistently proven himself among the hardest-working concert photographers in the city — and that's no small feat, either, considering how most of his peers in this realm tend to be half his age, if not younger.
But don't let Brooks' gray hairs fool you: More than just a talent behind the lens with a strong aesthetic sense and a clear knack for timing his shutter for "the shot," Brooks' occasional written contributions to Central Track and the Dallas Observer have quite capably established him as boasting a keen understanding of what works (and, subsequently, what doesn't work) in the music industry that he so loves to highlight.
So, naturally, his contribution to this series has something of a music bent. For his entry, Brooks chose to highlight the venerable and much-adored Deep Ellum restaurant and music venue AllGood Cafe — one of the independently owned venues he's been working to support during these tough times through his upstart Save My Place campaign through which people can purchase T-shirts bearing photos he's shot at these spots, with the proceeds going directly to the venue the T-shirt image is from.
Scroll down to see the shots he took for the purposes of this series — and to read more on why he's gone out of his way to help the venues he loves however he can.
The Photos: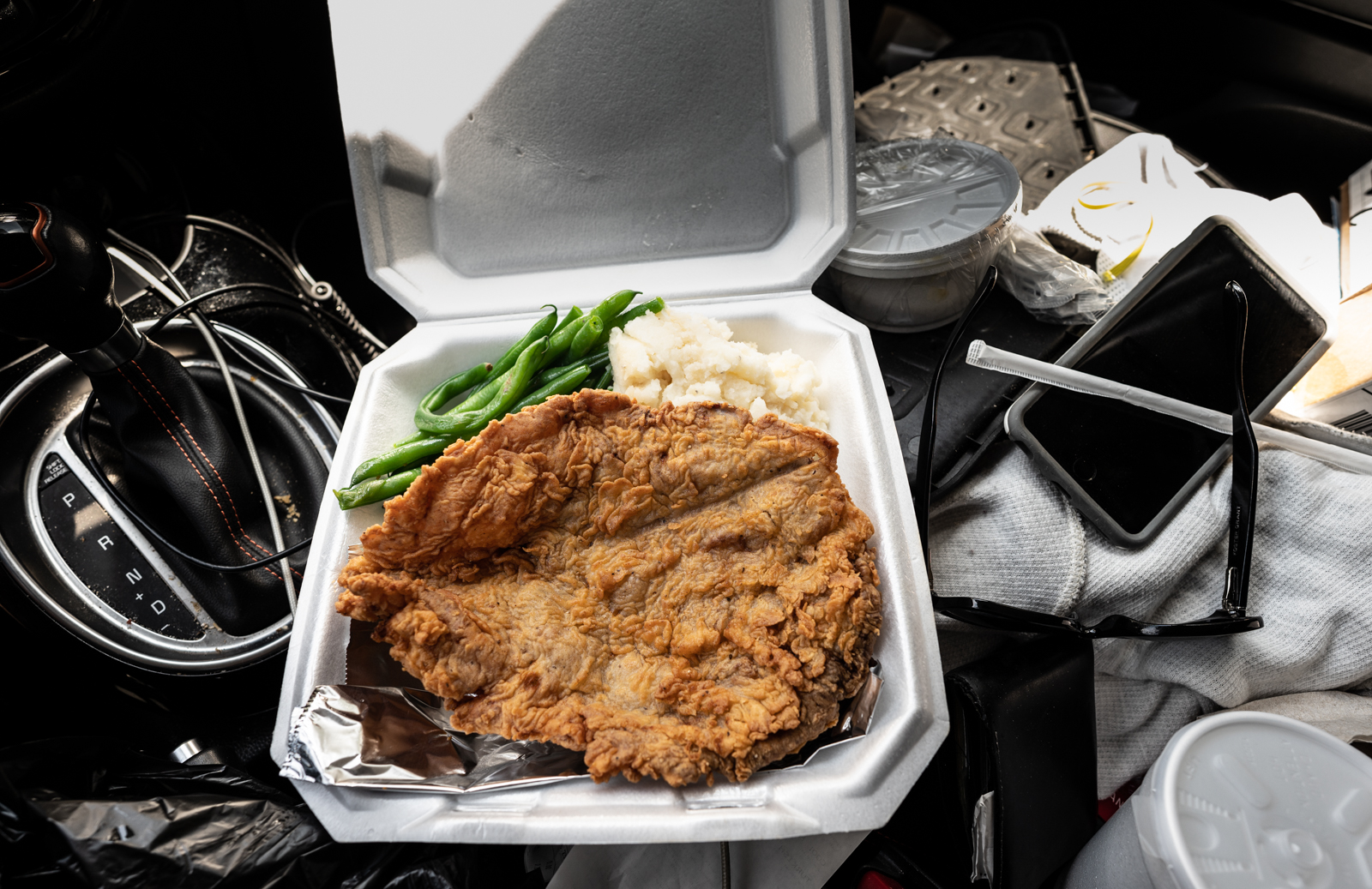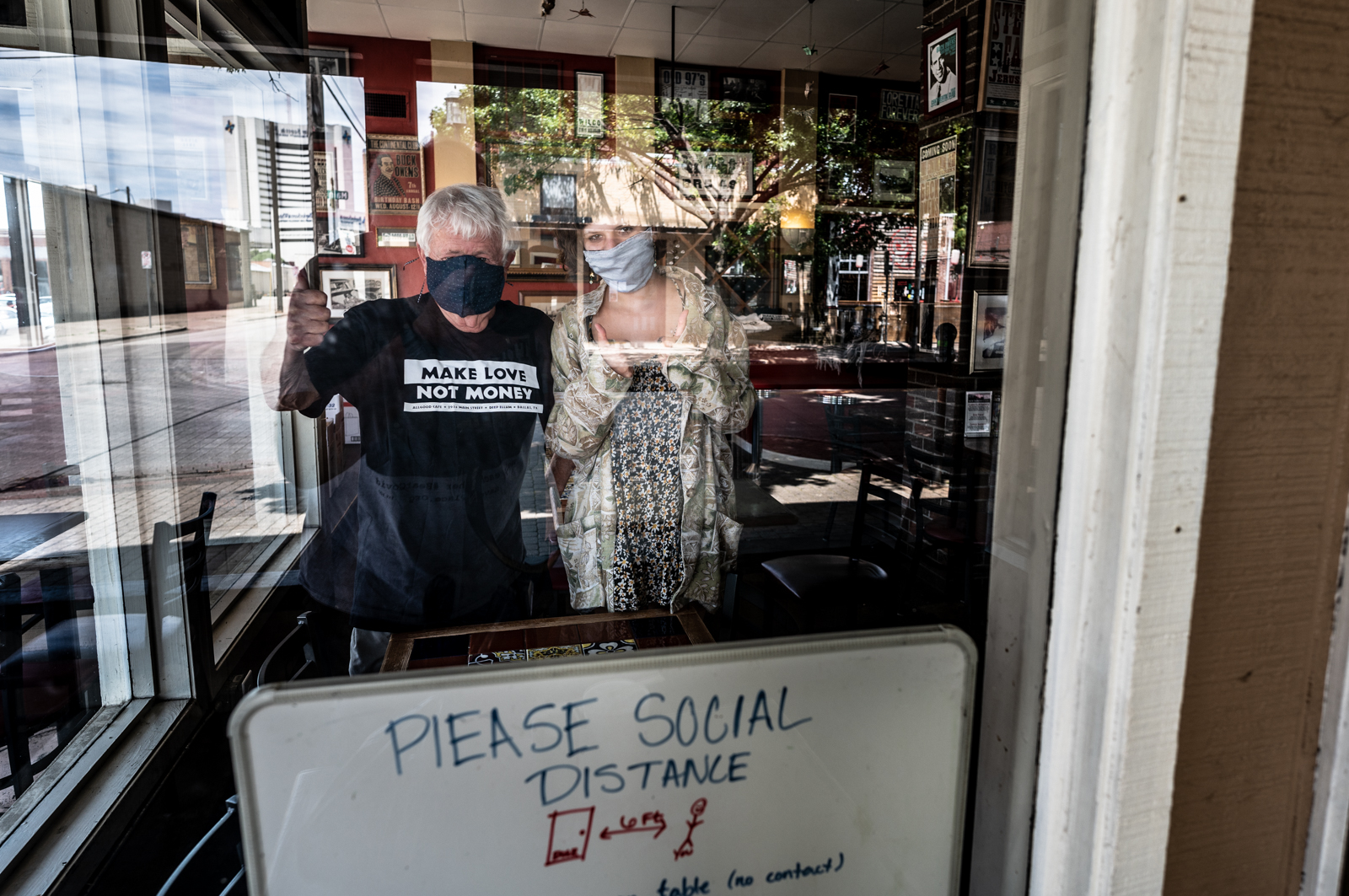 The Interview:
Which restaurant did you choose?
AllGood Cafe in Deep Ellum.
Why'd you pick AllGood? 
The day I shot this was their first day "back." It was Cinco de Mayo, and they had just started serving takeout again after a couple weeks off. The AllGood is also one of seven venues we'd been working with on a project called Save My Place. We were trying to promote the GoFundMe pages of small, independent venues in Deep Ellum. Mike Snider, the owner, is a longtime small business owner and music promoter, and a lot of the staff is connected to the music industry as well.
How about the meal you ordered? Specifically, what made you pick this one?
That's easy: They make the best chicken fried steak in Dallas!
What's the best memory you've got of this place?
Eating lunch with the Vandoliers after a photo shoot I did with the band for their latest album.
Why did you decide to shoot the chicken fried steak this way?
Well, it was curbside service. So I opened the take-away box up to have a look, and I thought, "I better grab a shot before I gobble it all up!" So the background of the photos is all the junk that rides in the front seat of my car.
How do you feel about how the photo came out?
The photo is OK. But the food was delicious.
Where can people see more of your work?
On my website. In that "other" publication in Dallas, and sometimes on Central Track, too. And you can also buy a T-shirt featuring my work in support of independent music venues through Save My Place.
Anything else you want to add?
Support your local businesses. They need it, and they appreciate it.
Like so many small businesses, we at Central Track face an uncertain future due to the effects of COVID-19. In eight years of operations, we've never locked our content from you through subscriptions or paywalls — but, in order to make it out through the other side of all this, we need your help. If you can, please consider supporting our coverage of all things Dallas culture by supporting us on Patreon in exchange for exclusive perks or by donating directly through PayPal or Zelle to [email protected]