Look Out, Every Other Beer In Town: Community's Legion Could Spell Your Doom.
Welcome to On Tap! Each week in this recurring feature, we'll take an in-depth look at one of the many beers now available in the suddenly crowded North Texas brew scene. The goal here is to look at these area beers without our local goggles on and to wonder aloud, "Is this beer good or do I just like it because it's local?" Should be a fun experiment, no? Cheers to that!
This week, we sipped on Community Beer Company's Legion.
Fast Facts on Community Brewing Company's Legion.
• Style: Russian Imperial Stout.
• ABV: 10 percent.
• International Bitterness Units (IBUs): 70.
• Color: Black.
• Availability: Year-round release.
Overview
Community's take on the Russian Imperial Stout style is the latest addition to the brewery's year-round offerings, joining the ranks of its Mosaic IPA, Vienna Lager, Witbier, Pale Ale, and Public Ale. I had the opportunity to sample this beer about a month or so before it was ready for prime time, and though it was clearly an unfinished product at the time, it was easy to tell that the right bones were present and that, with some maturation, it would make for a delicious addition to Community's already strong lineup. Now, though, Legion is currently available both on draught and in four-packs of bottles.
Background on Russian Imperial Stouts.
Russian Imperial Stouts are the boisterous uncle of the Stout family. Big, boozy, full-flavored and sometimes intense, you should expect a beer that pours nearly completely black, with a tan to dark brown head. There should be deep and complex aromas of any or all of the following: alcohol, roasted grain, fruity esters, subtle to rich malts, coffee, chocolate, raisins, plums and hops. The flavors should mostly mimic the aromas, but with some pronounced hop bitterness and a bit of hop flavor to boot. The mouthfeel would be described as thick and chewy, owed to the complexity of the flavors and high alcohol levels.
Appearance.
Staring into Legion is like staring straight into the abyss. This beer pours pitch black with a medium-sized, tan to light-and-airy brown head.
Aroma.
Legion's aroma is a great showcase of the depth that can be found in Russian Imperial Stouts. There's a mellow, earthy hop aroma up front, followed by chocolate, dark roasted coffee and light fruity esters (with almost a bit of a bubblegum note), and even a touch of sweet grain.
Flavor.
Chewy might be an understatement for describing this beer's consistency. There's a lot going on here, and it almost takes the palate a minute or two to calibrate to the beer's rush of intense flavors. The first element that jumps out is an enveloping, semi-sweet chocolate presence, followed by medium to medium-strong levels of hop bitterness. After that, there are more coffee notes, as well as some roasted, practically burnt grain flavors and a bit of sweetness that rounds everything out. Also, you may experience a bit of an alcohol bite at the back of the tongue and roof of the mouth after swallowing your first sip.
Mouthfeel.
As mentioned previously, this is a very thick beer. It's not thick as in cloyingly sweet; it's just big. This is a beer you'll spend some time with. The carbonation feels appropriate for the style.
Overall Impression.
Community Beer Company may not be the oldest brewery in North Texas, but the brewery's certainly been able to leave its mark on the scene in a relatively short amount of time. And Legion certainly lives up to the strong reputation built by the brewery's other beers.
This particular concoction is a thoroughly enjoyable beer drinking experience, and one that should definitely be enjoyed with regularity during the coming cold-weather season.
More to the point: Legion has everything one might expect — and could possibly want — out of a well-crafted Russian Imperial Stout. And then some.
For the past couple of years, it's been Lakewood's Temptress that's reigned as King of North Texas Stouts.
But Temptress may need to make way for the superior might that is Legion, which is unrelentingly marching upon Castle Temptress as you read this.
Score.
On a scale of 1 to 10, I'l give Community Brewing Company Legion a full 10.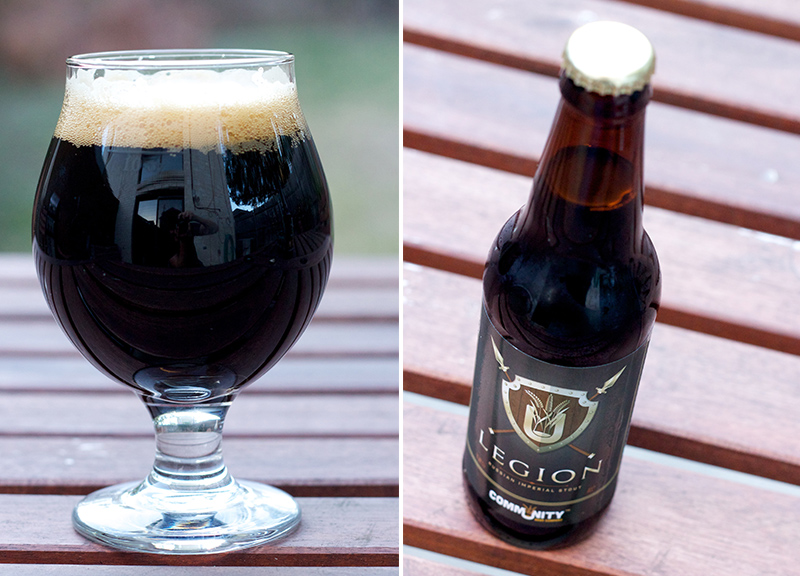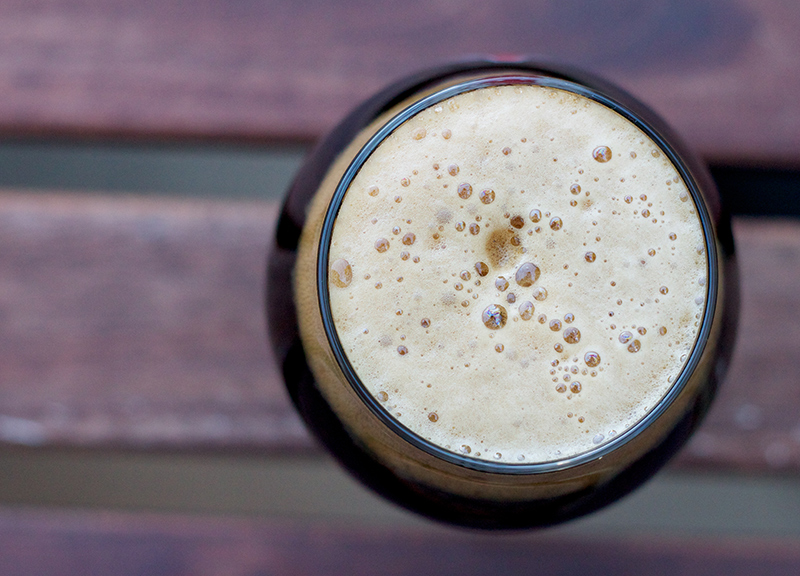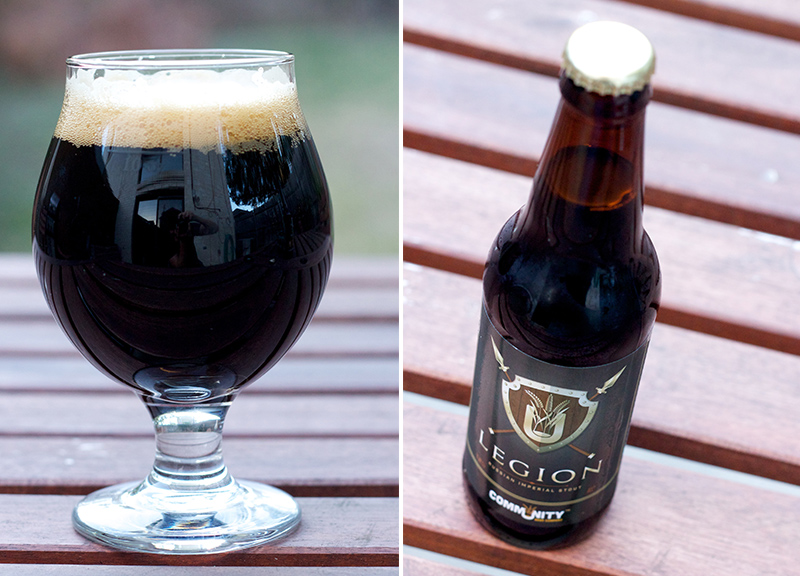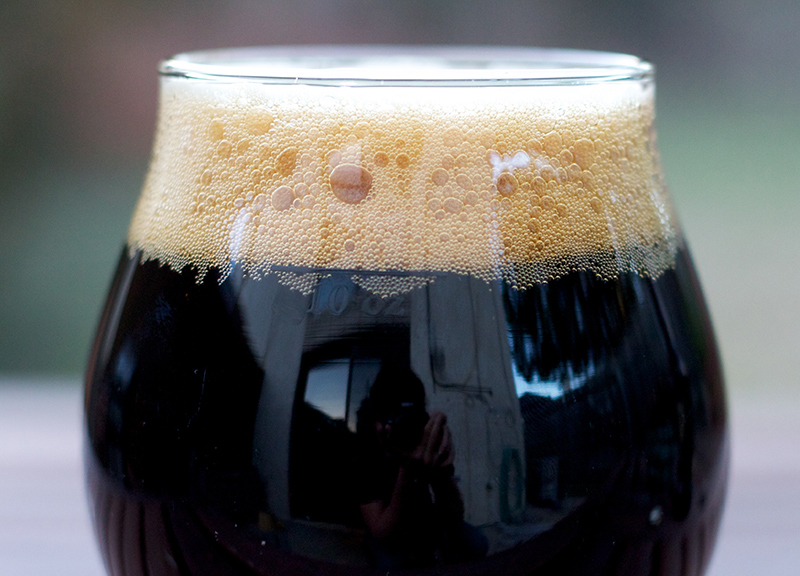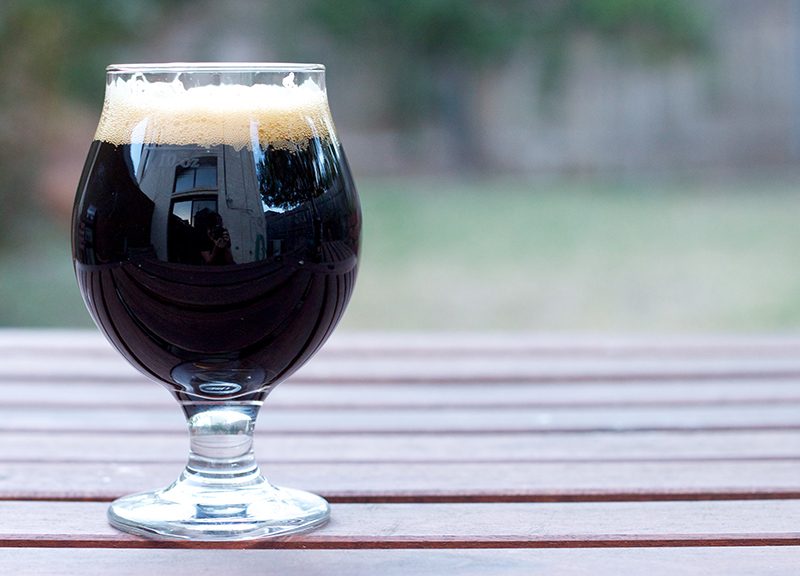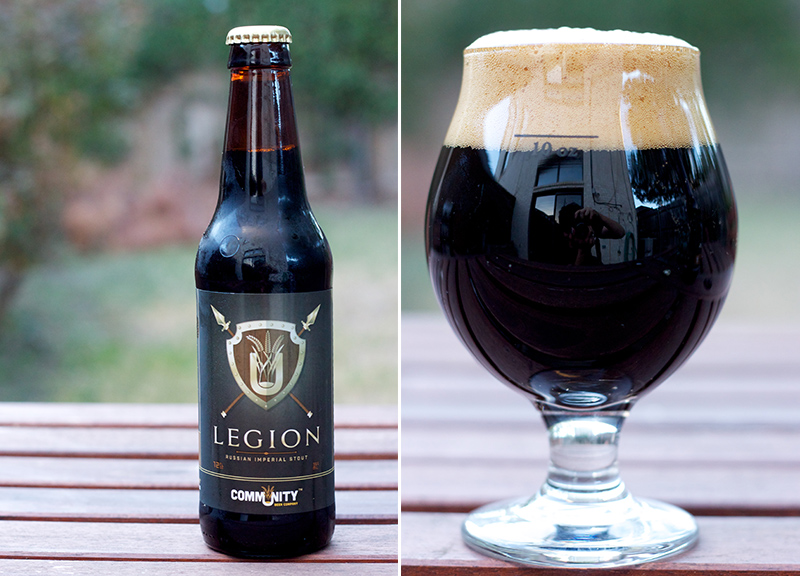 What's happening in the area brew scene? (Powered by Dallas Brew Scene.)
• Friday, October 31, through Sunday, November 9. NTX Beer Week.
• Friday, November 7. Inaugural NTX Beer Week Brewer's Ball at the Renaissance Hotel Dallas.
Previous On Tap Reviews:
• Peticolas' Royal Scandal: 10.
• Community's Mosaic IPA: 10.
• Peticolas' Velvet Hammer: 10.
• Community's Ascension Porter: 9.5.
• Lakewood's Temptress: 9.5.
• Lakewood's Goatman: 9.5.
• Community's Public Ale: 9.5.
• Peticolas' Thrillla in Brazilla: 9.5.
• Revolver's Blood & Honey: 9.
• Martin House's Imperial Texan: 9.
• Community's Trinity Tripel: 9.
• Peticolas' Irish Goodbye: 9.
• Four Corners' Block Party Porter: 9.
• Cedar Creek's Belgian Dubbel: 9.
• Deep Ellum's Oak Cliff Coffee Ale: 8.5.
• Lakewood's Rock Ryder: 8.5.
• Rahr's Bourbon Barrel Aged Winter Warmer: 8.5.
• Lakewood's Raspberry Temptress: 8.5.
• Lakewood's Punkel: 8.
• Four Corners' El Chingon IPA: 8.
• Martin House's Day Break: 8.
• Deep Ellum's GOURDzilla: 8.
• Peticolas' The Duke (Aged 12 Months): 8.
• Deep Ellum's Pale Ale: 8.
• Revolver's Bock: 8.
• Peticolas' Wintervention: 8.
• Armadillo Ale Works' Brunch Money: 8.
• Martin House's Salsa Verde: 8.
• Cedar Creek's Spinning Mule Robust Porter: 8.
• Lakewood's Hop Trapp: 8.
• Martin House's Rubberneck Red: 7.5.
• Lakewood's Antigoon's Revenge: 7.5.
• Community's Texas Pils: 7.5.
• Lakewood's Zomer Pils: 7.5.
• Cedar Creek's Dankosaurus: 7.5.
• Deep Ellum IPA: 7.
• Cedar Creek's The Lawn Ranger: 7.
• Lakewood's Till & Toil: 7.
• 903 Brewers' The Chosen One: 7.
• 903 Brewers' Sugar On Top: 7.
• Martin House's Gateway XPA: 7.
• Armadillo Ale Work's Quakertown Stout: 7.
• Revolver's High Brass: 7.
• Community's Pale Ale: 7.
• Martin House's River House: 7.
• Grapevine Craft Brewery's Sir William's Brown Ale: 7.
• Community's Funnel Cake Ale: 7.
• Peticolas' The Duke: 6.5.
• Deep Ellum's Double Brown Stout : 6.5.
• Cedar Creek's Elliott's Phoned Home Pale Ale: 6
• Grapevine Craft Brewery's Lakefire: 6
• Armadillo Ale Works' WunderMelon: 6
• Deep Ellum Pale Ale: 6
• Lakewood's La Dame Du Lac: 5.5.
• Grapevine's Monarch: 4.
• Franconia Wheat: 3.
• Miller Lite: 1.