Armadillo Ale Works' Brunch Money Is Downright Bizarre. And Kind Of Amazing, Too.
Welcome to On Tap! Each week in this recurring feature, we'll take an in-depth look at one of the many beers now available in the suddenly crowded North Texas brew scene. The goal here is to look at these area beers without our local goggles on and to wonder aloud, "Is this beer good or do I just like it because it's local?" Should be a fun experiment, no? Cheers to that!
This week, we sipped on Armadillo Ale Works' Brunch Money.
Fast Facts on Armadillo Ale Works Brunch Money.
• Style: Specialty Beer.
• ABV: 10 percent.
• International Bitterness Units (IBUs): 70.
• Color: Hazy burnt amber.
• Availability: Special Release.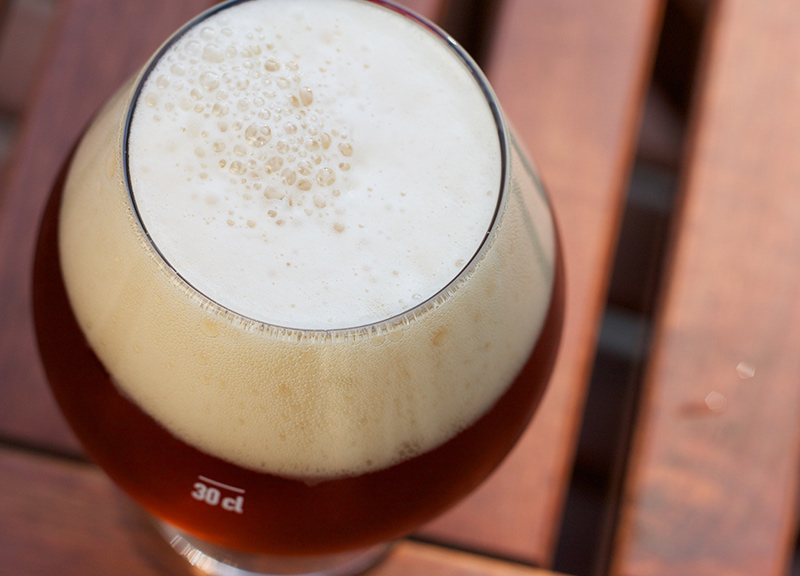 Overview.
As it currently stands, Armadillo Ale Works' Brunch Money is probably the most interesting beer released in North Texas in 2014. In fact, it may be the most interesting beer On Tap has ever reviewed.
In Brunch Money, Armadillo has created the only Golden Stout I've ever seen, although a quick Google search shows that it isn't exactly the first of its kind. Basically, Armadillo started with a Golden Ale base — a style of beer known for light flavors and aromas — and added ingredients like flaked barley, oats, lactose (milk sugar), honey, maple syrup, roasted cacao nibs, vanilla and coffee. All these additions decidedly morph this beer from a traditional Golden Ale to a bastardized version that crossbreeds the DNA of a Golden Ale with that of a Sweet Stout, Oatmeal Stout and some undiscovered beer style from the future.
It's crazy.
Background on Specialty Beers.
Specialty Beers are a catch-all category in the BJCP (Beer Judge Certification Program) style guidelines that apply when a predefined style category doesn't fit a specific brew. What this means is that the brewer basically has the latitude to do pretty much whatever he or she want, so long as the resulting beer tastes good and showcases the unusual approach or ingredients in a way that works. As a Golden Stout, Brunch Money absolutely fits in this category.
Appearance.
Brunch Money pours a hazy burnt amber with a very thick, two-and-a-half-inch, frothy and smooth white head. The head fades after a few minutes with nice lacing on the glass, leaving a thin layer that fully covers the top of the beer.
Aroma.
Smooth, rich chocolate, coffee, brown sugar, honey, maple syrup and slight roasted grain are all quite present and enjoyable here. And all of these different components come together really nicely, creating a "stout-like" aroma profile with a bit of a spin. (You wouldn't necessarily expect to get some of these honey, maple syrup and sweetness notes in an average stout).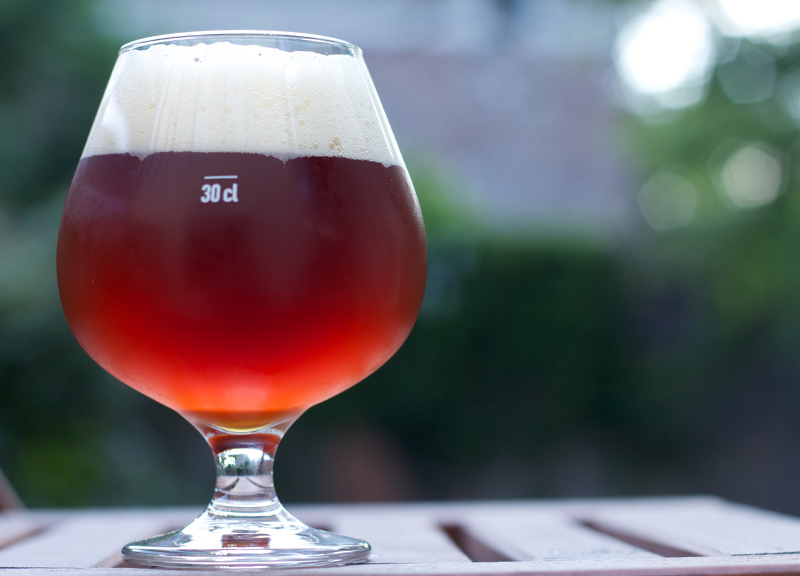 Flavor.
Here, Brunch money flashes more coffee and roasted grain notes — and a really surprising, almost harsh bitterness that envelops the tongue. There's a heavy dose of sweetness — the honey and maple syrup account for that — and, combined with the thicker body provided by the use of milk sugar (lactose), in the brew process, this brings to mind images of fluffy pancakes covered in real maple syrup, butter and powdered sugar. The only thing that keeps this from being overpowering is the 70 IBUs of what must be pure bittering hops — because I don't get much in the way of hop flavor, and there isn't any hop aroma to be found, either. Surprisingly, I also don't get any alcohol notes. The milk sugar and other flavor components do a good job of masking the 10 percent ABV.
Mouthfeel.
The milk sugar makes this one thick and chewy, but not in a bad way. The heavy bittering hops and medium to medium-high levels of carbonation keep this beer more refreshing than you might expect.
Overall Impression.
To be completely honest, this beer is a little hard to judge. It's unlike anything I've had before.
Still, despite its unusual but very creative approach, everything about Brunch Money kind of works — and in a somewhat unbelievable way. Its rich flavors are mostly balanced, although the juxtaposition of sweet and bitter feels a tad off. But it also possess quite a bit of depth.
With Brunch Money, Armadillo Ale Works has delivered exactly the type of beer that its name would imply. Put simply, it's an all-malt alternative to brunch junkie favorites such as Bloody Marys and Mimosas.
That said, because of the sweetness and some of the flavor components (honey, maple syrup, chocolate, brown sugar), I can't really envision drinking this beer without food or even after, say, 3 p.m..
But with brunch or even with dessert? It would work <em<quite well. So be sure to seek it out it's still in production, if only for the experience of a supremely creative take on beer.
Sure, Brunch Money will confuse the hell out of your palate. But you'll dig it.
Score.
On a scale of 1 to 10, I'll give Armadillo Ale Works Brunch Money an 8.
What's happening in the area beer scene this week? (Powered by Dallas Brew Scene.)
• Friday, June 6. Founders tap takeover with KBS, Old Curmudgeon, Dirty Bastard, Imperial Stout, Breakfast Stout, Devil Dancer, Backwoods Bastard, All Day IPA, Centennial IPA, Red's Rye, Porter, Nitro Pale Ale, Nitro OMS at The Common Table.
• Saturday, June 7. 903 Brewers' One-Year Anniversary Bash.
• Saturday, June 14. Dallas Brew Bus Second Annual Father's Day Tour.
Previous On Tap Reviews:
• Peticolas' Royal Scandal: 10.
• Community's Mosaic IPA: 10.
• Peticolas' Velvet Hammer: 10.
• Community's Ascension Porter: 9.5.
• Lakewood's Temptress: 9.5.
• Lakewood's Goatman: 9.5.
• Community's Public Ale: 9.5.
• Revolver's Blood & Honey: 9.
• Martin House's Imperial Texan: 9.
• Community's Trinity Tripel: 9.
• Peticolas' Irish Goodbye: 9.
• Four Corners' Block Party Porter: 9.
• Cedar Creek's Belgian Dubbel: 9.
• Deep Ellum's Oak Cliff Coffee Ale: 8.5.
• Rahr's Bourbon Barrel Aged Winter Warmer: 8.5.
• Lakewood's Raspberry Temptress: 8.5.
• Lakewood's Punkel: 8.
• Four Corners' El Chingon IPA: 8.
• Martin House's Day Break: 8.
• Deep Ellum's GOURDzilla: 8.
• Peticolas' The Duke (Aged 12 Months): 8.
• Peticolas' Wintervention: 8.
• Martin House's Rubberneck Red: 7.5.
• Lakewood's Antigoon's Revenge: 7.5.
• Community's Texas Pils: 7.5.
• Lakewood's Zomer Pils: 7.5.
• Deep Ellum IPA: 7.
• Cedar Creek's The Lawn Ranger: 7.
• Lakewood's Till & Toil: 7.
• 903 Brewers' The Chosen One: 7.
• Martin House's Gateway XPA: 7.
• Armadillo Ale Work's Quakertown Stout: 7.
• Community's Pale Ale: 7.
• Peticolas' The Duke: 6.5.
• Deep Ellum's Double Brown Stout : 6.5.
• Cedar Creek's Elliott's Phoned Home Pale Ale: 6
• Grapevine Craft Brewery's Lakefire: 6
• Lakewood's La Dame Du Lac: 5.5.
• Franconia Wheat: 3.
• Miller Lite: 1.