No One's Immune To The Charms Of The Laugh-Out-Loud Funny, In-Your-Face And Improvisational Music Made By Dallas' Newest Must-See Performer.
This story is sponsored by The Common Table. Each Thursday night starting at 9:30 p.m. at its Dallas location, The Common Table hosts free performances from improvisational musician Marc Rebillet. Can't make it out to the show yourself? That's OK: Starting this week, the gastropub located at 2917 Fairmount Street in Uptown will begin live-streaming its live music performances from its Facebook page! You should probably give them a like!
It's a Thursday night in Uptown, and the beer drinkers lining the bar at The Common Table can't help but pay attention to the strange little man who's making all kinds of racket over on one side of the room.
At first, they weren't sure what to make of him. Now they can't stop looking his way.
It's just that Marc Rebillet is so hard to ignore. For one thing, his body gesticulates wildly behind an array of gear, punctuating every improvised lyric and beat he's sharing with his increasingly curious audience. Then there's the content of the song he's singing in this very instant — a spur-of-the-moment ditty he's calling "Company Picnic," in which he exposes the quiet hell of forced socialization within a corporate environment.
Rebillet knows that world firsthand. For a while there, the corporate world was his life and music was just a side hustle. But then, as often happens in corporate environments, a string of layoffs came and, through no fault of his own, Rebillet suddenly found himself out of work. And so instead, he decided to try and follow his passion, to see if his vision of combining improvised humor and off-the-cuff music productions in a manner that's weirdly compassionate but also a little confrontational could gain any footing.
"I asked myself if I wanted to go back to a job I hate, or do I want to do this music thing?" he says now, the answer rather clear.
His first real chance at doing so in a live setting came at Braindead Brewing's annual Festicle event last year. And that chance would end up a real turning point for Rebillet — largely because his performance was an unabashed hit. The drunken Deep Ellum crowds at that event very much appreciated his ability to take minute details from his surroundings and turn them into complex songs — from hard-hitting hip-hop bangers to jazzy, vibed-out slow jams and everything in between — just by using the samplers and random instruments at his disposal.
In the six months since then, music has become his full-time pursuit — a dream fulfilled largely due to the substantial word-of-mouth support of his efforts by those who've seen him.
That Braindead gig, for instance, turned into him earning a standing Friday happy hour slot at the nearby Twilite Lounge. Then, at that Twilite gig, he was spotted by The Common Table owner Corey Pond, who fell in love with what Rebillet was doing and in turn offered him a three-month residency in which he performs back-to-back 90-minute sets every Thursday night at the Uptown gastropub.
"At first, I thought it was good," Pond says, recalling his introduction to Rebillet's offerings. "Then you start listening to him closely, and it's just completely captivating."
It makes sense that Rebillet's oddball brand of music creation and manically contagious energy has been welcomed with open arms by the denizens of internet, too. On his YouTube channel, Rebillet shares his music with an audience of that has grown to more than 12,000 dedicated subscribers since he started uploading his videos last year. Bolstered by the warm embrace he's received from the Reddit community as well, Rebillet will sometimes even broadcast live to a couple hundred of his YouTube subscribers at a time. During those sessions, he'll shout out those who send him real money in exchange for their ideas becoming his song lyrics. At other points, he'll answer calls made into a Google phone number set up for the exact purpose of tearing down any distance between him and those who tune into these broadcasts.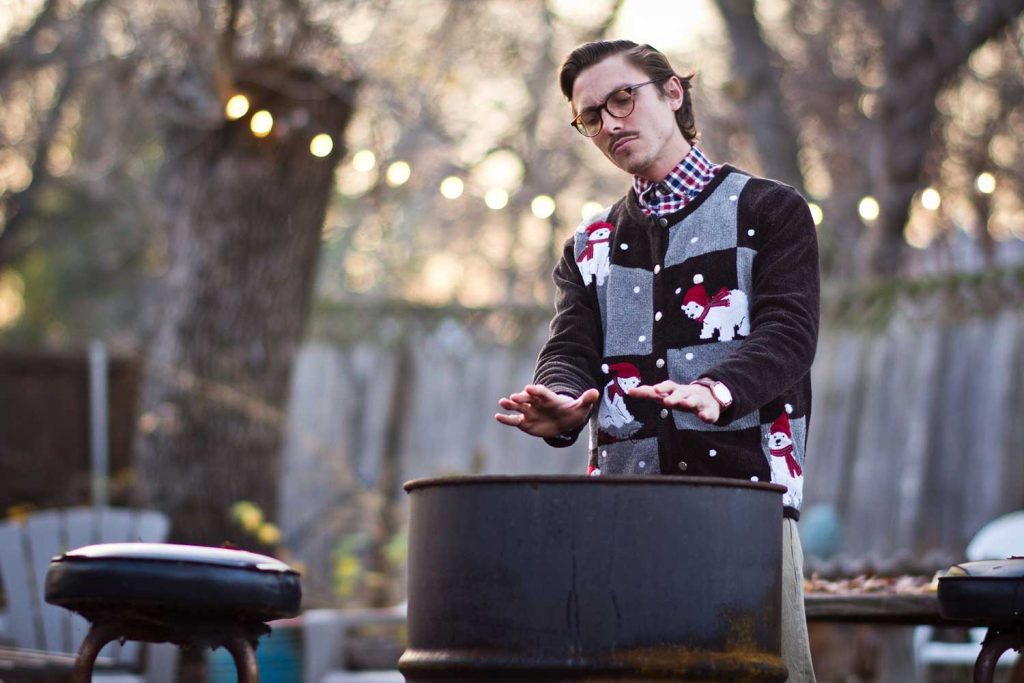 In a way, the cozy confines of The Common Table's interior mimics Rebillet's YouTube set-up — albeit with the added twist of these Uptown crowds not necessarily signing up for what Rebillet has to offer. Unless these people came in specifically to see Rebillet, they were likely just looking for the chance to quiet sip on a beer.
Keeping those people from running scared is Rebillet's challenge. And it's one he embraces.
"If I can take people that are not there to really listen to music and get them to turn around and listen to me, then I think I've achieved something great," says the performer, whose quiet off-stage demeanor somewhat betrays the hyperactive one he offers up while performing. "[My goal is] to disarm people and force them to give me their attention."
Of course, the initial step to disarming his audiences — and, say, getting them to break out into a full-on dance party for a song about something like the March Madness college basketball tournament, as he's done before — is first disarming himself. But that, Rebillet says, is something he already committed to a long time ago, his own goofiness having been inspired by the works of another comedic musician: Reggie Watts.
"The idea that you walk on stage with nothing prepared and build a whole performance is something I fell in love with," Rebillet says, pointing out that the bandleader The Late Late Show with James Corden made a name for himself by doing the same thing. "So basically I took his model and added my own spin."
Rebillet's spin includes manipulating his voice from a drunk robot to a hyperactive squirrel and carrying out entire conversations between his "characters" — and then having those characters come to even larger life through song. It's quite a thing to see live, especially when it comes packaged alongside all the intense, in-your-face energy of a punk show.
"I'm basically Reggie Watts on bath salts," Rebillet says with a laugh.
But there's something compelling about that. And, really, there's no denying the thrill that comes with watching an audience go from being completely confused by Rebillet's act at the start of a set to being turned into an all-out fan within 20 minutes of hearing him.
That's a conversion that Pond has experienced himself firsthand. After all, there's a reason why, whenever Rebillet plays his sets at The Common Table, he can be found sitting right by the stage, rocking out and laughing along the whole time.
"There's just nothing else like it in town," Pond says, his own Rebillet fandom having turned into full-blown evangelism at this point. "It's just something you have to see to believe."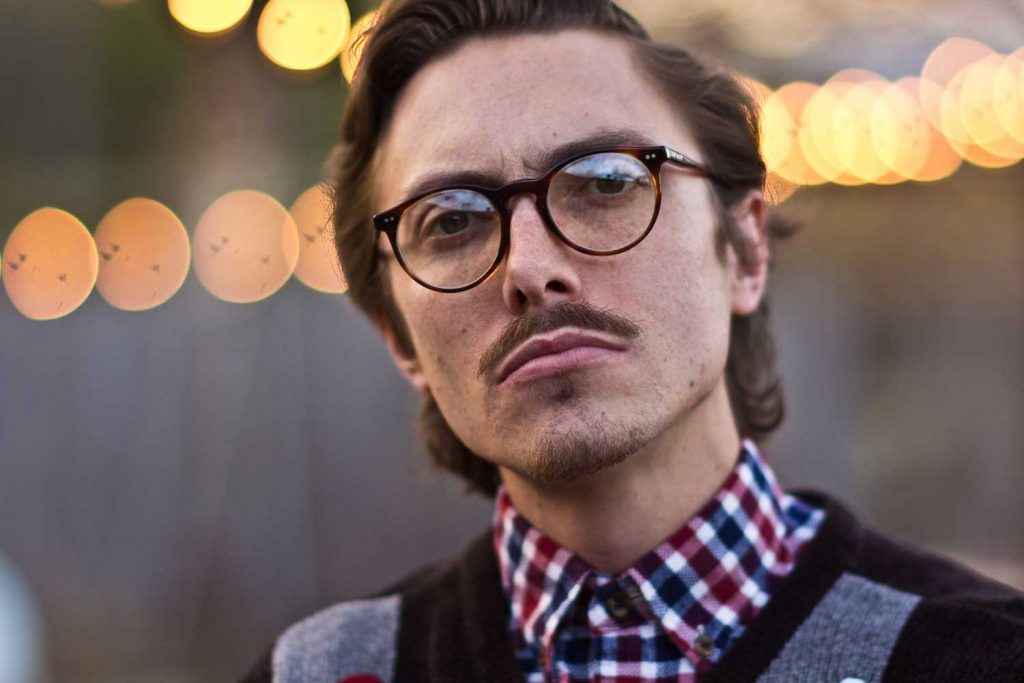 All photos by Austin Marc Graf. Marc Rebillet performs every Thursday at The Common Table, starting at 9:30 p.m. For more events at The Common Table, and to watch livestreams of music performances hosted there as they happen, give the spot's Facebook page a "like."