The Fish 'n' Waffles at Rex's Seafood at the Market Is As Tasty As It Is Colorful.
Fish 'n' Waffles ($16).
Rex's Seafood at the Market.
Dallas Farmers Market.
When not in the kitchen at Rex's Seafood at the Market, chef Benjamin Zimmerer can usually be found in Deep Ellum, hanging out at Adair's Saloon and looking all cowboyed out in his boots and hat. And that's where I found him a few weeks back, excitedly talking up a new dish he'd just concocted.
Zimmerer's got reason to be stoked about this latest offering, a red velvet fish 'n' waffle dish served during his Dallas Farmers Market joint's brunch service. For starters, its red, brown and white palette definitely makes for a head-turner of a plate.
But beyond just colorful, the dish is flavor-blended better than its name perhaps initially implies — in no small part because of the strawberries that garnish the titular items.
On a recent trip to the Farmers Market, the chef was kind enough to walk us through this eye-catching menu item and how it came to be.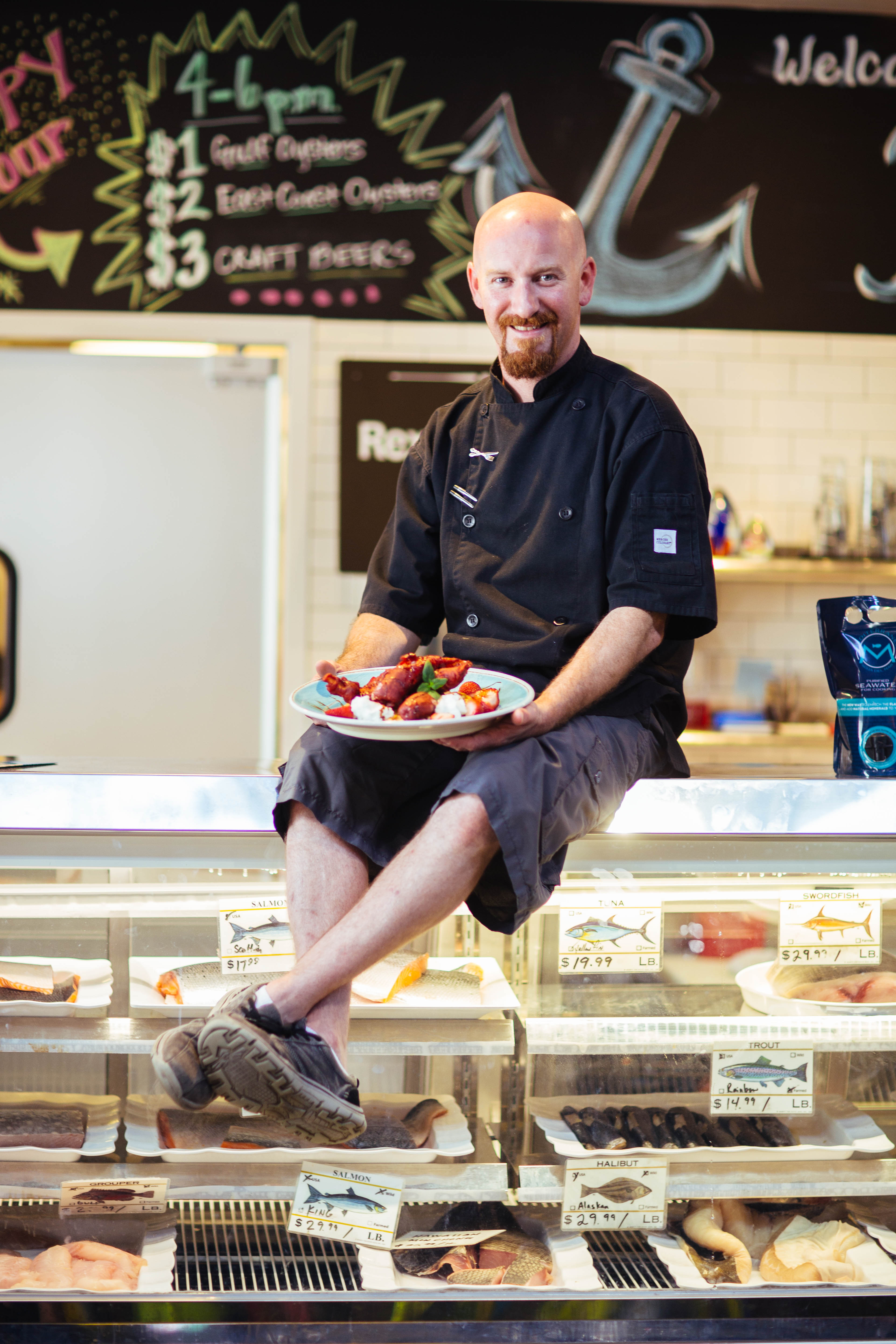 First off, can you just tell us a little about yourself?
I am 36 years old and have worked in the kitchen since I was 14 years old. I am currently the executive chef at Rex's Seafood at the Dallas Farmers market. We opened on December 11 of last year. We serve some of the freshest seafood in Dallas — if not the freshest. I have spent the last 22 years working in restaurants up and down the East Coast. I moved back to Dallas nine years ago, and I'm so glad to be back in Texas!
OK, now tell me about this latest creation of yours.
It's a called Fish 'n' Waffles. The dish features red velvet-battered fresh cod on top of a homemade Belgian waffle. It's then topped with fresh strawberries, Texas Olive Ranch's Figalicious Balsamic Vinegar and whipped cream.
How would you describe the flavors of the dish?
It's not what you'd expect at all! The red velvet really hits home for Texas and complements the cod extremely well. Instead of using a syrup, we went with the "figalicious" vinegar since traditional fish 'n' chips are served with a malt vinegar. Our vinegar is condensed and externally sweet, but still has the bitter acidic flavor associated with fish 'n' chips.
So how'd this idea come about?
Late at night, after having a few beers with a customer. We wanted to come up with a very unique, Texas-themed brunch item. This is what I came up with.
What was your inspiration?
Texas, fish and breakfast. Brunch has become such a popular cuisine in Dallas, so we basically wanted to put together our seafood version of chicken and waffles.
I imagine this dish draws some crazy reactions. Got any favorites?
I would say the compliments and the "oohs" and "aahs" that come after indulging in the dish.
How many other versions did you come up with of this dish before settling on this one?
None. We hit a home run the first time.
What's next, then? Has this idea spawned any others?
Maybe red velvet battered shrimp!