How To Properly Spike a Watermelon.
So. Summer. It's basically here, right? Basically. Which means it's time to start making plans to lie out by the pool and/or indulge in some backyard barbecue bashes.
Once you've done that, the next item on your to-do checklist should be figuring out a way to turn these affairs up a few notches. And there's at least one surefire and fairly cost-effective way out there for you to impress your friends and family members this summer.
I'm talking about a spiked watermelon, of course. Because not only is it a simple way to make fruit consumption a lot more fun than it normally is, but because it's basically the best and most delicious way to kick off summer.
Here's the deal with spiked watermelons, though: You'll need some patience and a few days of advanced warning if you're going to pull these off right. Thing is, it's totally worth it!
What You'll Need: A big-ass watermelon, a sharp knife, a spoon, a funnel, a clear alcohol of your choice and some paper towels.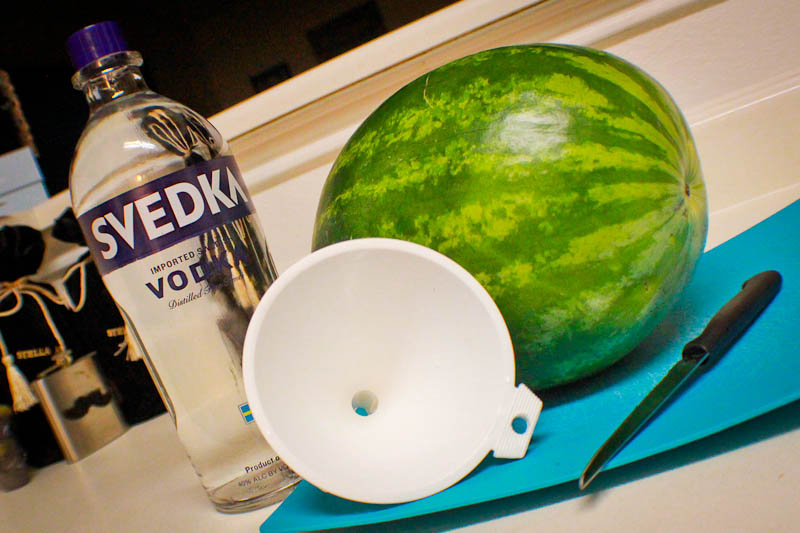 Directions.
1. Buy a hefty-sized watermelon at your grocery store and then head on over to your local liquor store to buy whatever happens to be your favorite kind of clear alcohol. Rum, vodka, tequila, grain alcohol — it all works.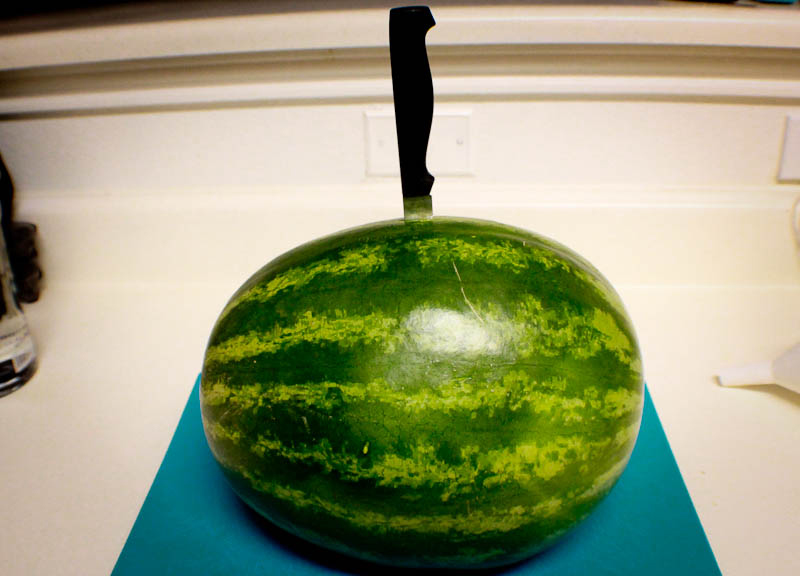 2. Lay down some paper towels on an even surface in your kitchen and place your watermelon on top. Cut a hole in the center of the watermelon, making sure to cut straight through the fruit, but not so far that you piercing the rind on the opposite end of your insertion. Just make sure the hole is large and deep enough for you to fit either a funnel into it, or maybe even the bottle itself. Then spoon out some of the watermelon flesh so you can jam that funnel or bottle deep down in that sucker and so that there will be room for your booze inside.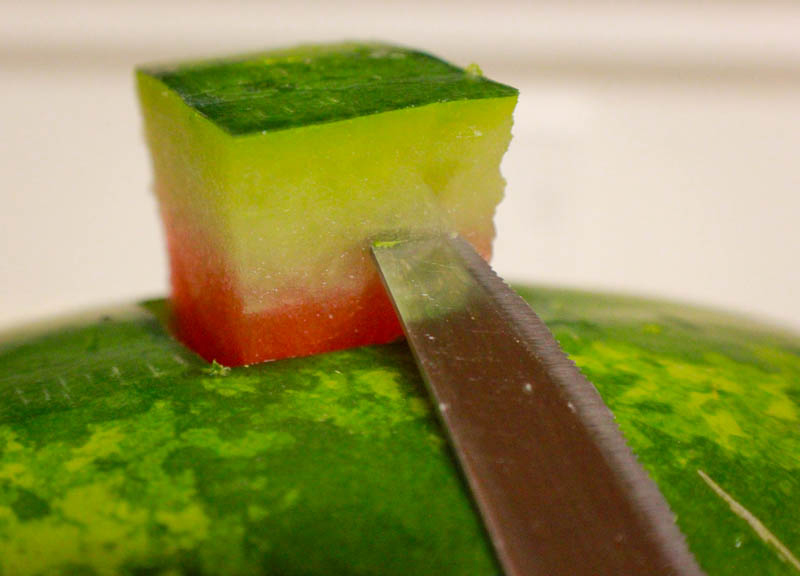 3. Jam that funnel or bottle deep down in that sucker. As deep down as you can — although, again, you need to be mindful not to piece the other side. Let the booze flow in. Pour in as much as you can get in there. As the watermelon absorbs the liquor, the alcohol will slowly start blending into the fruit itself.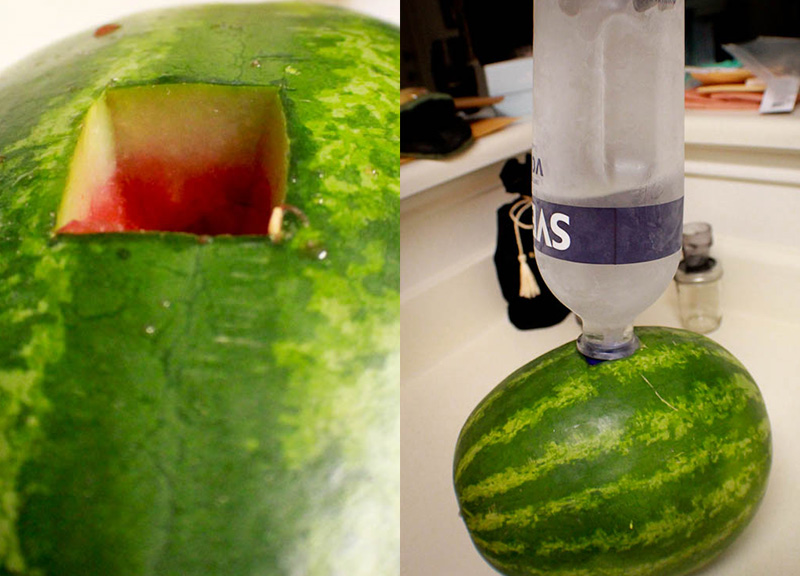 4. Clear out some room in your refrigerator and drop your watermelon, now fully loaded with booze, onto a shelf, with the hole aimed upwards so as to keep this beast from spilling. If you used your whole bottle, you're going to need to leave your watermelon in place for two or three day so it can be absorbed. Throughout the course of this waiting period, feel free to pour more booze into the hole as the watermelon soaks up what you'd put in there previously.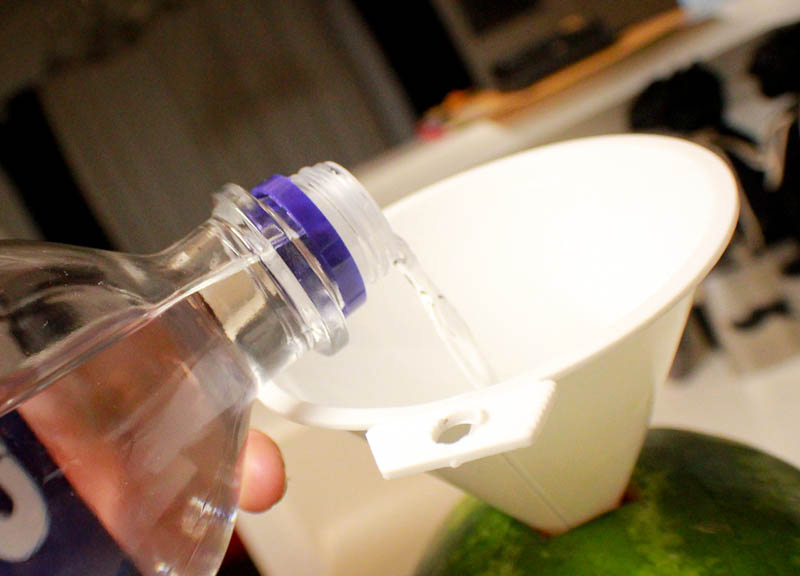 5. Cut that beauty open and serve it — chilled! Pro tip: When you cut your watermelon, do so outside so as to avoid a lengthy clean up process.
6. Bask in your summer glory!
Optional Steps.
7. Kick things up a notch and top your slices off with some chili lime seasoning. Along with the natural fruit flavoring this will help counteract the cutting taste of all that booze some.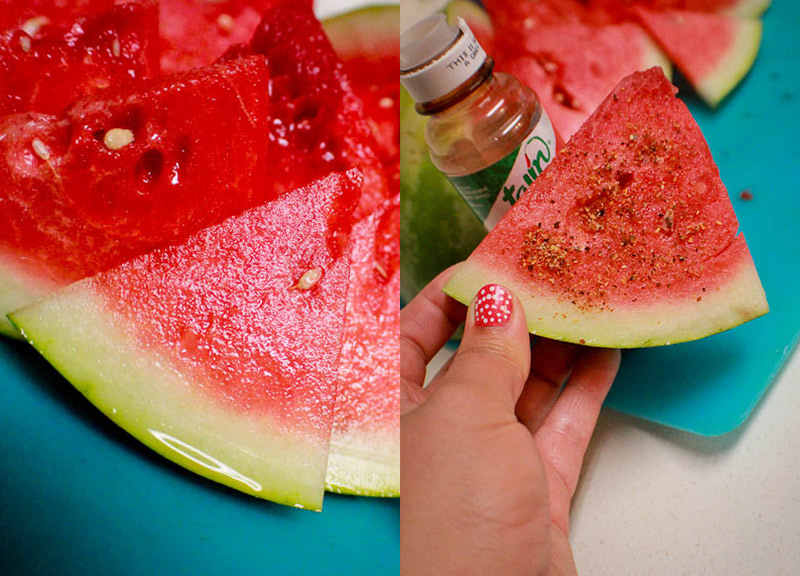 8. Were your eyes bigger than your stomach and/or liver? Did you end up with more watermelon than you could handle? Take your leftovers, toss them into a blender, then strain the results and save your boozed-up smoothie for a later date.