The 10 Most Instagrammed Dishes in Dallas.
These days, everyone seems to be an Instagram user. And why not? It's pretty much the easiest way to stalk your ex or their ex or maybe even your soon to be ex.
Oh, and it's also a pretty decent way to see all the cool things your friends are doing and to, in turn, show them all the cool things that you're doing, blah, blah, blah.
But, really, the most common way people seem to use Instagram, as has been parodied online many a time at this point, is to take photos of the dishes they're proudly eating at various restaurants.
Hey, we get it. Dallas in particular is a pretty awesome food town. This city serves up some of the best tasting, best looking and most photogenic meals of any around.
But, hell, even if it didn't, it's not like it would matter.
A study released earlier this year revealed that Dallasites eat out 70 percent more times per week than the average American, anyway. So, yeah, we love eating out.
And now that everyone with a smart phone believes themselves to be a professional photographer thanks to those nifty photo filters, we Dallasites have more than done our share to flood Instagram with the images of our gluttonous habit.
It's nothing to be ashamed of. Everyone does it. It's just time we admitted and embraced that fact.
So, to that end, we spent the past few weeks engaged in some very serious research, trolling Instagram pretty much incessantly, all in an effort to find Dallas' 10 most Instagrammed dishes.
Now, in no particular order, we present those dishes to you.
Be warned, though: This story (and its accompanying images) will make you hungry.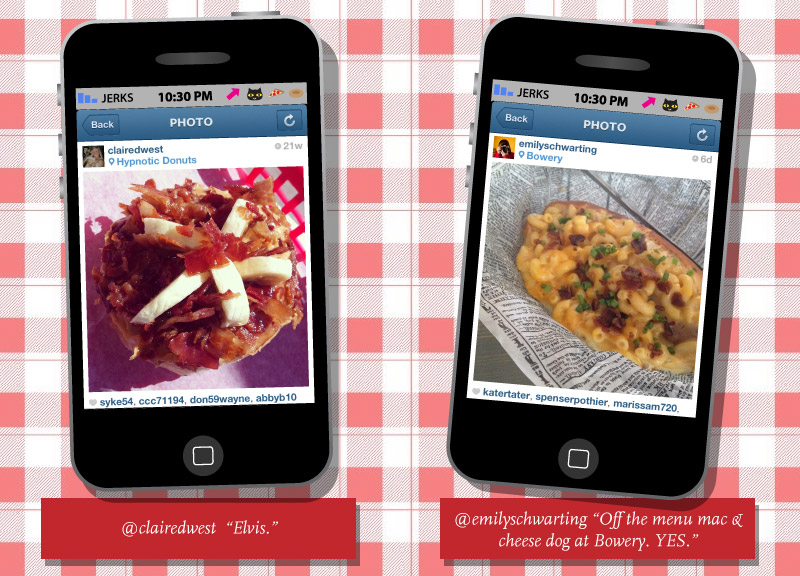 Hyponotic Donuts' Evil Elvis. Calling a glazed doughnut topped with peanut butter, bacon, banana and honey just makes sense. Elvis' death, after all, is rumored to have been caused by his obsession with overeating. So? All hail the King and raise a doughnut in his name!
Bowery's Off the Menu Mac & Cheese Dog. A hot dog covered in macaroni and cheese, plus bacon and green onions? After seeing this, it really seems stupid to eat mac and cheese any other way.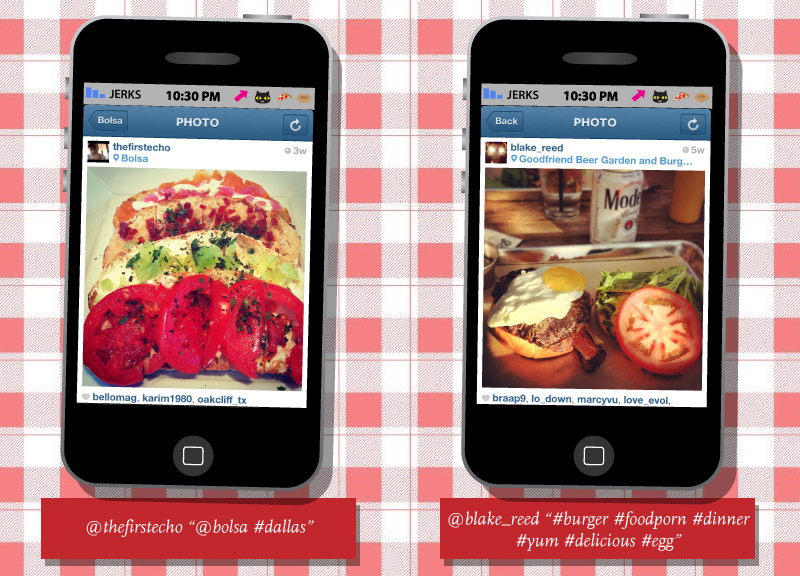 Bolsa's Bruschetta Tasting. This dish features four different bruschetta options, and they're all crazy good. Plus, gluttons like us tend enjoy variety. So, yeah, good job, Bolsa!
Goodfriend's The Coop. It's just a burger, right? Hardly. This bad boy is topped with lettuce, tomato, an over-easy egg, grilled bacon and brie. Goodfriend Beer Garden & Burger House might be known as a family-friendly establishment, but this dish is straight-up food porn.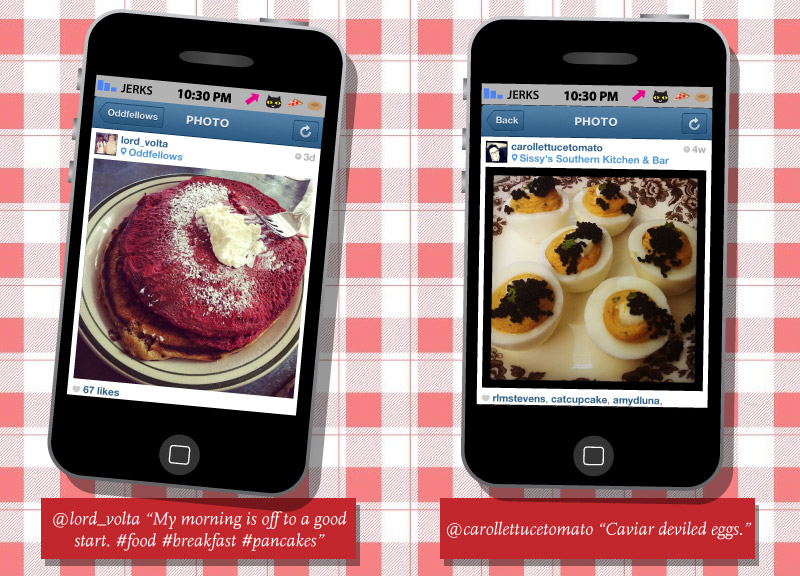 Oddfellows' Red Velvet & Gingerbread Pancakes. Mix and match these amazing pancakes, both of which are served with cream cheese butter and syrup. Trust us and try both.
Sissy's Southern Kitchen's Deviled Eggs. You got us, Sissy's. By filling your eggs with creme fraiche and tobiko caviar, we got all classy without even knowing it. I guess we can forgive you.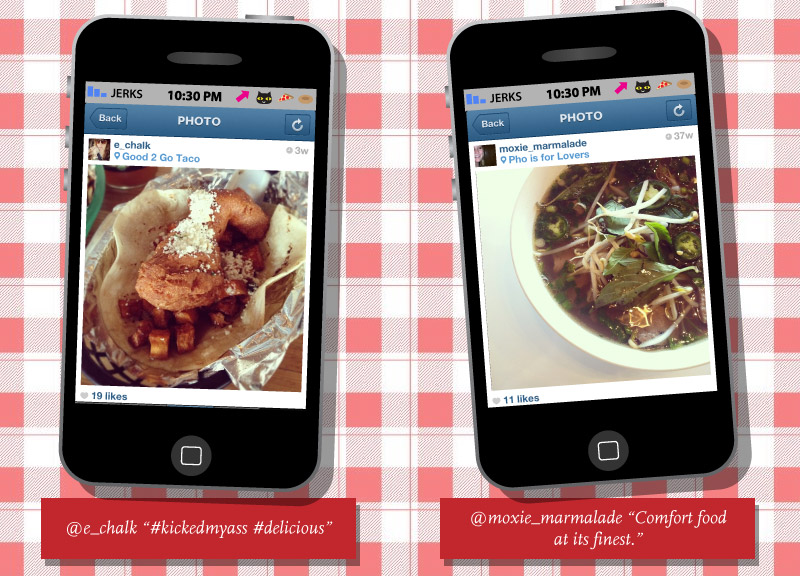 Good 2 Go Taco's Hotlanta. A taco only by name, this tortilla-encased offering is stuffed with waffle battered chicken, sweet potatoes and honey butter. Props to Good 2 Go for reminding us that rules were meant to be broken.
Pho is for Lovers' Chicken Pho. This traditional Vietnamese offering is filled with rice noodles and shredded chicken, and, as if that wasn't enough, it then gets garnished with green and white onions, cilantro, basil and beans. Don't be intimidated just because it seems exotic. It isn't really. In case you didn't know: Pho is just a hipster term for "really good soup."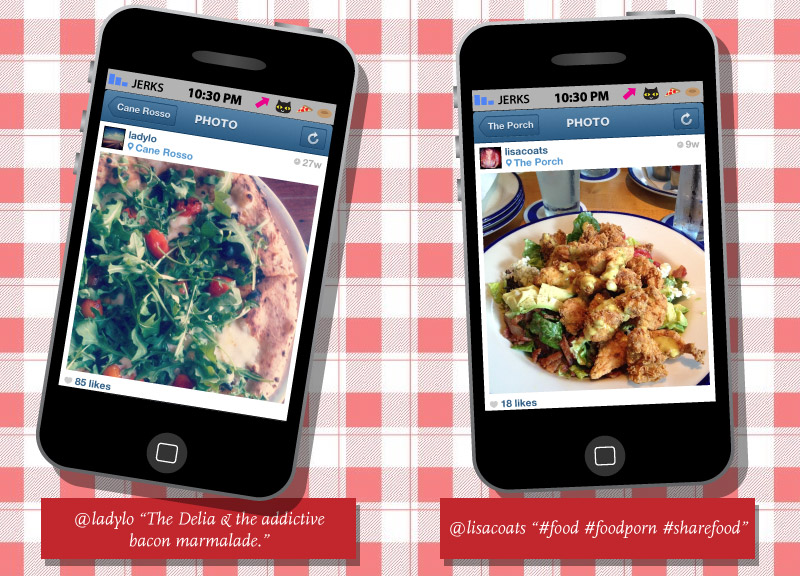 Il Cane Rosso's The Delia. Just a regular pizza with fresh mozzarella, roasted grape tomatoes, arugula and, yup, spicy bacon marmalade. In other words: This is basically a pizza with bacon jelly thrown on it. Amazing.
The Porch's Buttermilk Fried Chicken Cobb Salad. Fried chicken, tomatoes, avocado, apple wood smoked bacon, blue cheese and toasted honey mustard dressing come together to form this delightful dish, which features, by far, the best use of lettuce in Dallas — mostly because its only role here is to serve as a bed for the fried chicken and the avocados.