The Recurring Event In Which Dallas Hip-Hop Heads Break Down Seminal Rap Albums Returns June 25 With A Look At Jay-Z's The Blueprint.
Nine months after wrapping up its second-season run at the Deep Ellum venue Wits End last fall, Dallas' esteemed Hip-Hop Book Club brand is set to return for a third season later this month with a fresh crop of seminal rap records to break down and — even more notably — in a new venue.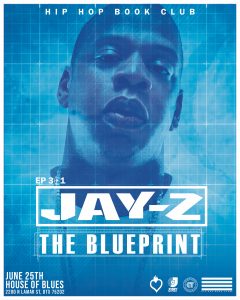 This upcoming run of the esteemed, recurring event in which Dallas hip-hop heads gather to intellectually discuss in detail rap albums will kick off on Tuesday, June 25, at the House of Blues with a talking session centered around Jay-Z's iconic 2001 LP, The Blueprint. The event, housed in the new host space's Cambridge Room, will begin promptly at 7 p.m.. All comers are welcome to show up and share their thoughts on the album at no cost; attendees are simply asked to register for the event in advance in order to guarantee their admission.
Since launching at Josey Records in 2017, Dallas' Hip-Hop Book Club has grown not just in size but in acclaim, as its four-pack of hosts — Attah Essien, Sobechi Ibekwe, Terrance Lee and Kenny Reeves — have earned praise from a variety of local media outlets, as well as such out-of-market publications as The Source. The hosts have also been tapped to take their shows outside of city limits to lead discussions in Houston and even on campus up at the University of North Texas.
Just as its name implies, the event takes a "book club" approach to its discussions of single-album releases. That unique perspective is, of course, noteworthy in an of itself: Despite its enduring popularly and influence on culture at large, societal gatekeepers still far too often box hip-hop out from being recognized as the truly great and unifying American art form that it is; the Hip-Hop Book Club, which prides itself on treating this art with its due reverence, in many ways exists as a direct (if also remarkably high-minded) shot across those old-timers' bow.
Plus, it's also just a dope as fuck concept.
That's why we're stoked to announce that Central Track is officially coming on board as the media partner for the third season of the Hip-Hop Book Club, which will continue hosting events at the House of Blues on a regular basis through at least the end of 2019, if not beyond. We'll hold our tongues for now on what, exactly, our involvement in the event might mean for its presentation, but suffice it to say we have some neat tricks planned that we're excited to unveil. More than anything else, though, we're just eager to align ourselves with such a forward-thinking offering — and honored that its organizers would have us.
To that end, we very much hope you'll join us at the House of Blues' Cambridge Room for HHBC's S3 kickoff on June 25. Furthermore, we hope that you come primed and ready to discuss along with some serious area rap connoisseurs an album that, in no uncertain terms, cemented Jay-Z and Kanye West's artist-producer relationship and essentially set the table for — oh, y'know — just the last two decades or so of rap is all.
The Hip-Hop Book Club discusses Jay-Z's The Blueprint at 7 p.m. on Tuesday, June 25, at the House of Blues. Head here to RSVP for the event and guarantee your free admission into it.
Cover photo via Hip-Hop Book Club's Facebook page.